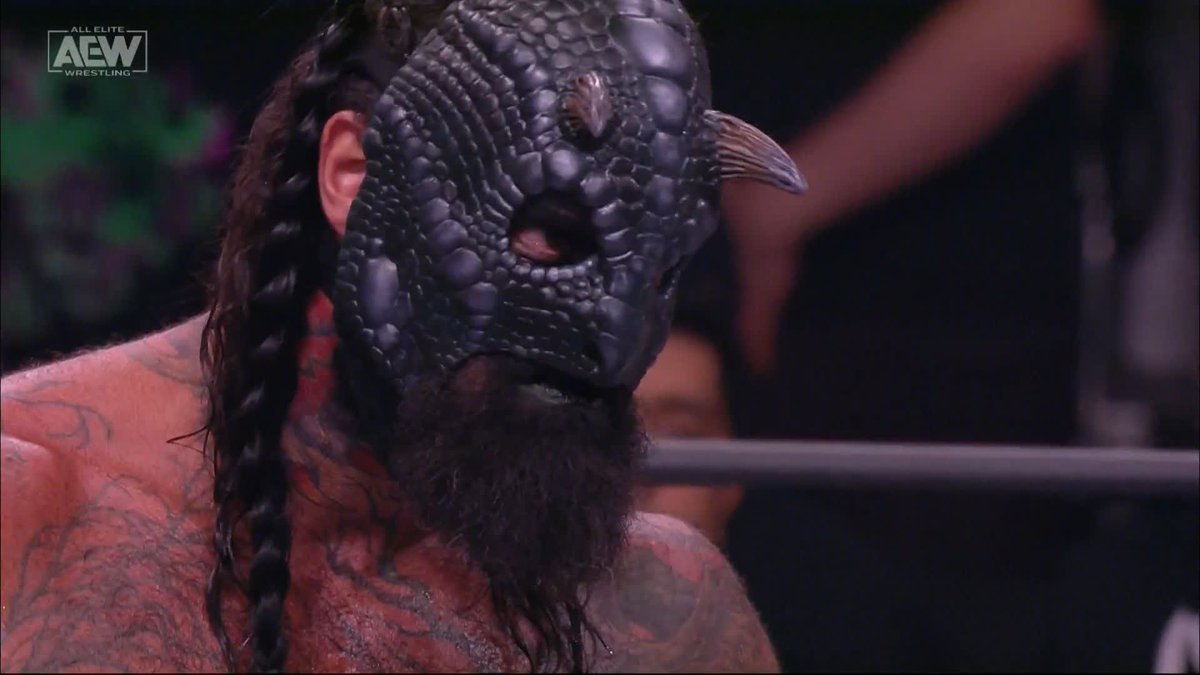 Welcome to another edition of #FinisherFriday! This is Wreddit_Regal bringing you a short review of our favorite dinosaur's submission finisher.
Feel-good stables exist on a promotion's roster so that the fans can take a break from the serious, borderline crazy stuff that other badass stables do. And AEW is no exception: you have Dark Order, a cult that stuck to the values of being a tight-knit family after its founder passed; Best Friends, a group of laidback dudes who just want to do their stuff inside and outside the ring; and my absolute favorite, a unit which aims on taking you on a blast to the past—the Jurassic Express.
Originally called A Boy And His Dinosaur in the indies, Jungle Boy and Luchasaurus sought to stand on top of AEW's tag team division (alongside the perennial Marko Stunt), which they finally did by defeating longtime champs the Lucha Brothers earlier this year. But nothing lasts forever, as the Young Bucks eventually beat them five months later. Adding insult to injury, Christian Cage broke up the team and took the group's muscle with him as his enforcer.
Since his initial turn to Christian Cage's side, Luchasaurus has definitely shown off his vicious side in his move set (which to me is what a dinosaur cosplayer should be doing regardless of alignment):
His finishers amplify the big guy image that he portrays, which are:
A tombstone piledriver facebuster called Tombstone Age
A classic chokeslam
And this article's focus, a snare trap with a shoulder claw named Tar Pit:
Just look at that poor chap Serpentico, taking damage from a guy that weighs two tons and a Master's degree.
Using my Regal Rating, I would give the move a:
8/10 for aesthetics. Although people would argue that Luchasaurus is a learned relic of the past, my headcanon says that during his choice of submissions, he ultimately went the "THIS CAUSE PAIN, I USE THIS" route in his one. The foot trap to a shoulder hold is not the smoothest transition that I've seen, but for a wrestler who takes pride in raw strength and wrestling knowledge (which I'll explain later), it's more than enough to cover for those rough spots.
8/10 for damage. The shoulder claw is in kayfabe one of the most painful holds in all of professional wrestling, but there's one aspect of this submission that I very much appreciate: Luchasaurus wrapping the opponent's arm on their neck, which is called a gift wrap in BJJ circles.
Mostly done from a front-to-back mount approach, Luchasaurus has eliminated that tedious approach and went for the simpler leg trap of the STF. But the gift wrap isn't limited to that: you can either punch away with an immobilized opponent, or transition to advanced stuff like chokes and whatnot.
With Luchasaurus's IQ, I know that he could come up with some unique tricks to make the hold more effective and painful for his unfortunate opponents.
And that's it chaps, my short review of Luchasaurus' Tar Pit! Do you think he and Jungle Boy could make amends, and restart the Jurassic Express? Let us know in the comment section below!
*****
Wreddit_Regal is the resident finisher fanatic of Reddit's wrestling forum, r/squaredcircle. From the most basic of punches to the most intricate double-team maneuvers, he can explain them within the realm of human anatomy and physics, because when doing absolutely nothing wrestling-related, he also happens to work as an operating room nurse.