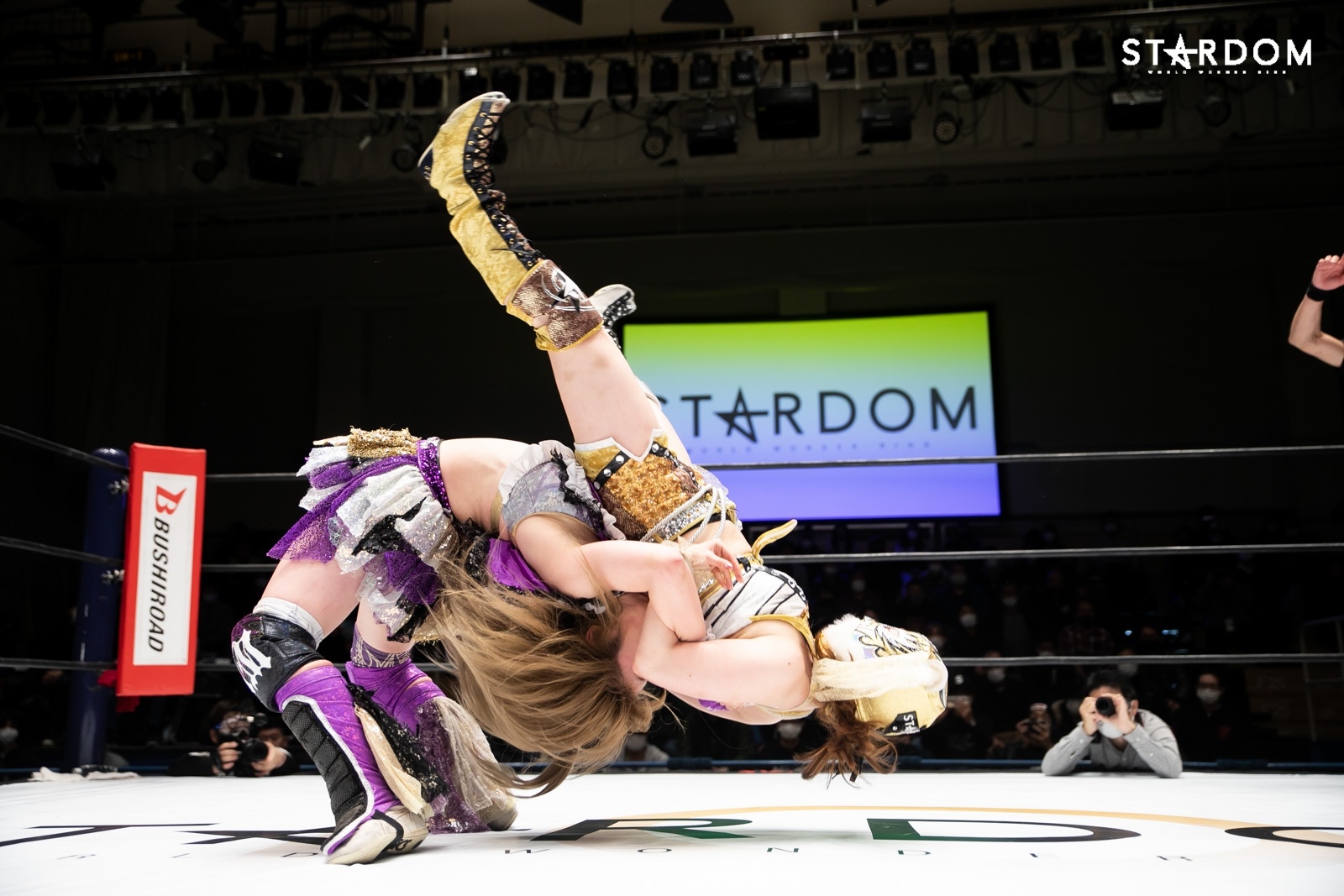 Welcome to another edition of #FinisherFriday! This is Wreddit_Regal bringing you a short review of the finisher of STARDOM's Violet Kung Fu Girl.
The world of joshi is a gold mine of high-octane matches and world-class talent for wrestling enthusiasts who are looking for a breath of fresh air. As such, promotions such as STARDOM become the go-to recommendation for anyone who wants their piece of the action. And within the promotion, one of the names you'll probably be hearing a lot as one of their top talents is the Violet Kung Fu Girl, Tam Nakano.
For many wrestlers, a period of four years isn't entirely enough to establish their character and dominance in the territory they just landed in. But Nakano is an entirely different unit: in the span of four years, she has not only received two accolades on STARDOM's most prestigious annual tournament (5★Star GP Technique and Best Match Award), but she has also bagged the promotion's trios championship three times and the secondary championship once (while avoiding getting her hair shaved bald).
I've said in a previous article that in terms of striking, my bet goes to Miyu Yamashita. But in terms of creativity and that aura of menace inside the ring, Nakano in my opinion surely takes a piece of the pie (if not the whole dessert).
She has a couple of moves up her sleeve to serve as finishers, which are:
A running knee dubbed as Violet Shoot:
A Blue Thunder Driver named Glorious Driver:
A freaking Steiner Screwdriver called the Violet Screwdriver:
And this article's focus for the week: a unique take on a tiger suplex hold which she calls Twilight Dream:
Breaking down the move into chunks:
Nakano goes for the initial right arm wring to a hammerlock (you know, that primitive lock you instinctively learn as a kid when fighting with your younger sibling/cousin/friend)
She momentarily releases her right hand's hold on the hammerlock and sandwiches it between her belly and the opponent's back.
She then takes her right arm out and does a wrist clutch on the opponent's left forearm.
The tricky part now consists of her hooking the opponent's left arm (like a Tiger suplex), and reaching for the sandwiched right arm to regain control of the hammerlock.
The move ends with Nakano performing a Tiger suplex hold.
Using my Regal Rating, I'd give the move a:
7/10 for aesthetics. The missing three points are attributed to the length of time it takes to secure the hold: a normal tiger suplex would take about three seconds less from setup to execution, and this short time frame can be easily exploited by an opponent who still has some fight left in them to escape or counter. Otherwise, the move enjoys the eye candy equally shared by its easier variations.
9/10 for damage. Aside from the usual head and neck injury dealt by this move, Twilight Dream attacks another integral part of the human anatomy - the shoulder. Keeping the opponent's shoulder in a hammerlock during the full course of the move increases the tendency of the opponent dislocating their shoulder or rupturing that important shoulder capsule tenfold. This effectively reduces an opponent's strength by a quarter (should we think of each extremity as 25%) in terms of attacking and defending, especially when raising their shoulder to break a pinfall attempt.
And that's it chaps, my short review of Tam Nakano's Twilight Dream! Do you think Nakano could bounce back to the top of the Wonder of Stardom mountain? Let us know in the comment section below!
*****
Wreddit_Regal is the resident finisher fanatic of Reddit's wrestling forum, r/squaredcircle. From the most basic of punches to the most intricate double-team maneuvers, he can explain them within the realm of human anatomy and physics, because when doing absolutely nothing wrestling-related, he also happens to work as an operating room nurse
.