Welcome to another edition of #FinisherFriday! This is Wreddit_Regal bringing you a short highlight of one of the stars of last Sunday's Revolution PPV.
Aside from bangers like Mox/Danielson and Page/Cole, the PPV's audience received a huge payoff that was years into the making: Wardlow, insurance policy to a dastardly MJF (and winner of the Face of the Revolution ladder match), decided that enough was enough. Called like a slave to come to Max's aid during his dog collar match with CM Punk, he seemingly had no idea where the diamond ring was, but then gave it to Punk to end the bloody feud with MJF's own trick. This long-brewing face turn, coupled with his PPV win, instantly turned a bodyguard of a few words to a made man in the eyes of everyone who tuned in.
As an informally-inducted member of the Internet wrestling community's "Big Meaty Men Slapping Meat Society," Wardlow performs all the moves a big boy does and more. He doesn't mince his moves inside the squared circle: every strike, lift, and slam is done with the intent of knocking the lights out of everyone that tries to throw hands with him: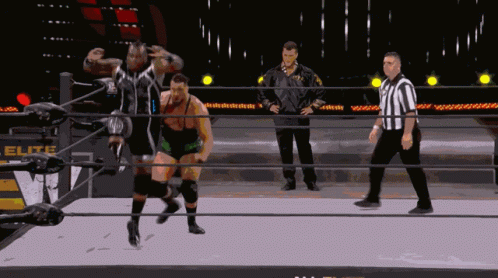 Aside from being a powerhouse (sorry, Hobbs), this guy also owns the sickest set of finishers in the entire AEW roster. Take a look at these gems:
A string of powerbombs called Powerbomb Symphony (fun fact: Wardlow credits Chris Jericho with this move's inception!)
A beefed-up version of the F-5, called F-10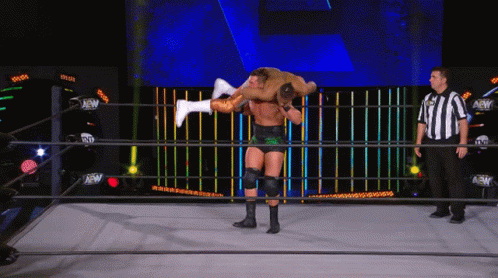 And a devastating knee lift to an opponent on the second corner rope called Casualty of War (thanks, u/JoppaFallston for the additional info!), which is greatly identical to a certain move on Street Fighter:
Using my Regal Rating, I would give each of these finishers a:
10/10 for aesthetics. Big meaty man + big moves that flaunt his strength and ferocity = 100% eye candy.
10/10 for damage. He slams, throws and knees people without thinking much of their welfare. In the first place, why would he think of such things? He's Mr. Mayhem, for Christ's sake.
And that's it chaps, my short review of Wardlow's trinity of finishers! Do you think our wardog has what it takes to snatch the TNT Championship out of Scorpio Sky's hands? Let us know in the comment section below!
*****
Wreddit_Regal is the resident finisher fanatic of Reddit's wrestling forum, r/squaredcircle. From the most basic of punches to the most intricate double-team maneuvers, he can explain them within the realm of human anatomy and physics, because when doing absolutely nothing wrestling-related, he also happens to work as an operating room nurse.