Welcome to another edition of #FinisherFriday! This is Wreddit_Regal bringing you a short review of our rising protagonist's flying finisher.
One of the beautiful aspects of professional wrestling is you can integrate parts of your usual self onto your character to make it more organic. The end result is a natural vibe that you feel from a wrestler's aura—from the moment they do their entrance to when they return to the locker room. Whether it's a reference to your career outside the ring (Dr. Britt Baker, DMD), the culture of your hometown (Ridge Holland), or any other aspect, these additions make a wrestler stand out from the average joes of the squared circle. One performer, however, has decided to go all out and lived out their love of anime and cosplay in all of their matches.
As the "protagonist of professional wrestling," Kidd Bandit has been making waves in the scene with their incredible story of progress and chasing your dreams, as well as their energy and charm that will turn even the smarkiest of crowds into passionate supporters. A product of the Santino Bros. School and the Nightmare Factory, Bandit incorporates several elements of anime into their whole persona, from their looks to mannerisms inside the ring.
This love of anime also translates to their moveset: they describe their style as "RVD's kicks mixed with Jeff Hardy's daredevil aerial style mixed with Kenny Omega's geeky anime references mixed with Asuka's martial arts".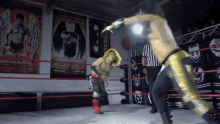 "Leaf Hurricane" was supposed to be Bandit's finisher, but the move took a toll on their knee
Angel Killer, which is a nod to Kenny Omega's "One-Winged Angel"
Did you know that Kidd Bandit thought of the Naruto run on-the-spot in this match?
Their finisher is a nifty top-rope Phoenix Splash:
Fun fact: QT Marshall helped Bandit in perfecting their execution of the Phoenix Splash (QT also does a pretty decent one, too):
Using my Regal Rating, I would give the move a:
10/10 for aesthetics. A moveset consisting of flashy stuff and flippy shit should have an equally-badass finisher to complete the visual. The Phoenix Splash complements Bandit's moveset well, and serves as the ultimate flippy shit to end all flippy shits they showed in the match.
10/10 for damage. A body falling on top of another body from an elevated distance could easily give blunt force trauma to the receiving party that easily garners a three-count. But this degree of reward comes with an absurd degree of risk, considering the initial setup and the whipping motion that Bandit's upper body undergoes when completing the splash.
And there you have it chaps, my short review of Kidd Bandit's Phoenix Splash! Do you see them making their way onto Dynamite and Rampage in the future? Let us know in the comment section below!
*****
Wreddit_Regal is the resident finisher fanatic of Reddit's wrestling forum, r/squaredcircle. From the most basic of punches to the most intricate double-team maneuvers, he can explain them within the realm of human anatomy and physics, because when doing absolutely nothing wrestling-related, he also happens to work as an operating room nurse.