Welcome to another edition of #FinisherFriday! This is Wreddit_Regal bringing you a short review of our favorite everyman's finisher.
Fighting spirit. Samurai will. Never say die. These are some codes that Japanese wrestlers (and audiences) uphold to a high degree. Wrestlers clinging to these values like their lives depended on it have garnered them success on several occasions, even managing to capture gold in select moments. But what happens when the summit seems to be always out of reach, despite dedicating a good chunk of your years into the craft?
YOSHI-HASHI embodies that frustration that all of us feel when our end goal becomes lost in a dense fog. This is a man who did not make it into the New Japan dojo in his first two tryouts. He had to wrestle over 50 times before finding victory (in a tag match), and almost a year and a half before he won a singles match. He went through three failing gimmicks (Nakamura Lite, Monkey King, Headhunter), before settling on the "GET BACK UP" mantra which he adopted after returning from a brutal head injury (which occurred when he
slipped and fell during a run-in—
talk about bad luck).
A 13-year veteran, this guy is technically sound in all of his matches, but you feel a sense of forced intensity from his entrance to exit. This probably stems from the reinforced notion that no matter how he changes his gimmick or ups his arsenal, gunning for the gold is something to be only dreamt of. This visible lack of motivation in his matches has garnered him the reputation of being a sort of comic relief from the audience. Not the kind of comic relief that Toru Yano does, but being the "out-of-place guy" or the "guy who's only there because he's buddies with CHAOS." He knows he's being jeered and made fun of, but he shows up in every match and delivers to the best of his ability despite the doubts and self-deprecation clouding his mind. At best, he personifies the Japanese "Don't give up" meme: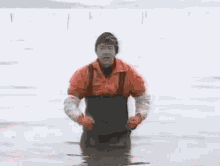 Sure enough, the gods of wrestling have rewarded his efforts last year, reigning as one-third of the NEVER Openweight Six-Man Tag Team Champions, and we hope of him getting those bags in the years to come.
As unenthused as his face looks in the ring, his arsenal says otherwise:
He employs four finishers in his weaponry:
Butterfly Lock
Kumagoroshi
Loose Explosion
And this article's focus, Karma:
If you are wondering where in NJPW have you also seen this, it's because Shingo Takagi also uses this finisher, naming it Made in Japan (Shingo pauses for a bit before the downward scoop):
I don't really consider YOSHI-HASHI's version a power move on pure visual observation, but it does serve its purposes as a quick pin move, making sure that at least one arm is rendered incapable of raising up.
Using my Regal Rating, I would give this move a:
7/10 for aesthetics. When you compare YOSHI-HASHI's execution side-by-side with Shingo's, it becomes apparent that YOSHI-HASHI sort of lacks the strength to prop up the opponent, and instead opts for the immediate drop.
7/10 for damage. Because he can't maintain the starting position that Shingo does, he unknowingly reduces the move's impact because the head and neck are dropped from a lower height than if it was propped upwards at first.
And that's it chaps, my short review of YOSHI-HASHI's Karma! Do you think YOSHI-HASHI has what it takes to grab championship gold on his own, not riding on CHAOS's coattails? Let us know in the comment section below!
Wreddit_Regal is the resident sports kinesiologist of Reddit's wrestling forum, r/squaredcircle. From the most basic of punches to the most intricate double-team maneuvers, he can explain them within the realm of human anatomy and physics, because when doing absolutely nothing wrestling-related, he also happens to work as an operating room nurse.