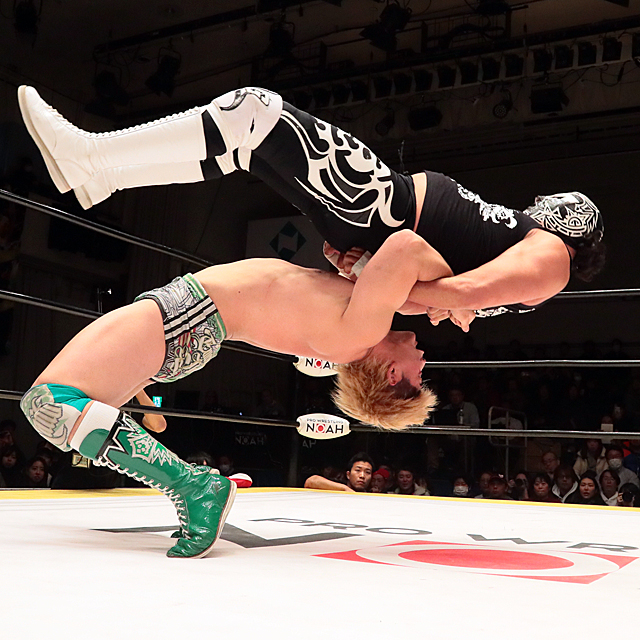 Welcome to another edition of #FinisherFriday! This is Wreddit_Regal bringing you a highlight of one of the most satisfying bridges of the modern period, as well as my take about these types of finishers.
The world of pro wrestling is filled to the brim with wrestlers that have the potential to make it big at some point in their careers. However, only a select few have the ability to accomplish that feat in such a short amount of time. Kaito Kiyomiya is what you would call a once-in-a-lifetime genius: in the span of three years, he went from a fresh high school graduate to a GHC Heavyweight Champion and a GHC Tag Team Champion, all in the same third year. What's more impressive is that he reached the summit being just 22 years of age.
Not wanting to be called an "ace by default," Kiyomiya has seemingly proven his grit and determination to "walk the talk" by fighting (and losing) a gruesome match against NOSAWA, becoming a bloodied mess due to multiple chair shots:
Drawing inspiration from Mitsuharu Misawa, he has incorporated some of the legend's offense into his arsenal of moves:
His finisher is a high-angle bridging tiger suplex named King's Road:
I get that a lot of people don't gravitate much to finishers like these, especially when they get used to watching Western wrestlers like Brock Lesnar use suplexes like this to throw opponents all over the ring without garnering more than a two-count. However, finishers like this work in puroresu due to the following reasons:
1. Puroresu matches are more focused on damage piling rather than the killing blow. Ring psychology in puroresu focuses on telling a compelling story by dealing and receiving damage at various points of the match. This reinforces the thought to the audience that it doesn't matter what finisher they have, as long as they can deal enough damage to not entirely rely on the finisher (case in point: WALTER and his ability to finish matches with virtually any move).
2. A logical progression of damage and proper selling from both sides at various points of the match is what makes the finisher legit (and protects it in the process). At this point, a finisher may only serve as icing on the cake, but the icing must also taste great. This is why on big false finishes, you can easily backtrack why one wrestler managed to kick out or why didn't the opponent deal enough damage to end it. In short: the finisher doesn't build you; you build the finisher.
Using my Regal Rating, I would give this move a:
9/10 for aesthetics. See Kiyomiya's bridge? The arc doesn't collapse despite having his head bounce off of the mat reminiscent of an inverted DDT drop. That is dedication to form, which makes the move beautiful in its own right.
7/10 for damage. It isn't the most impactful suplex out there, but Kiyomiya makes sure that the opponent cannot kick out, as he interlaces both of his hands while securing the opponent's arms in an underhook position, and doesn't let go until after the three-count.
And there you have it chaps, my short review of Kaito Kiyomiya's King's Road! Do you think Kiyomiya can still be a fearsome contender for the GHC Heavyweight Championship? Let us know in the comment section below!
Wreddit_Regal is the resident sports kinesiologist of Reddit's wrestling forum, r/squaredcircle. From the most basic of punches to the most intricate double-team maneuvers, he can explain them within the realm of human anatomy and physics, because when doing absolutely nothing wrestling-related, he also happens to work as an operating room nurse.