Welcome to another edition of #FinisherFriday! This is Wreddit_Regal bringing you a finisher that is as brutal as it is by name.
Although the WWE has had its fair share of MMA fighters who transitioned into professional wrestling in the past (Ken Shamrock and Dan Severn to name a few), only in recent years has there been a sudden influx of established cage fighters trying to play their hand onto the squared circle. Names that easily come to mind include Matt Riddle, Jessamyn Duke, Marina Shafir, and Ronda Rousey. However, one name seems to be missed out by many, prompting me to dedicate this week's article: Sonya Deville.
The judoka/MMA fighter was a contestant on the 2015 edition of Tough Enough, and from there has made waves on the NXT/RAW/SmackDown roster as a competitive wrestler (also the first openly gay female wrestler on the WWE roster! 🏳️‍🌈).
In terms of movesets, Sonya Deville is criminally underrated. I mean, look at how smooth her attacks are in this GIFs: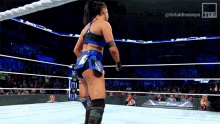 Her latest finisher is a textbook vertical suplex-to-swinging side slam:
It should be noted that when Sonya debuted this finisher, it caused some confusion among fans since it looks like Naomi countered it into a DDT, but with Sonya getting the pinfall victory. But worry not, this wasn't a botch in the slightest bit: old fans will remember this move as Matt Morgan's Hellevator:
But the way Sonya does it is very prone to DDT counters. In this GIF, she fails to remove Naomi's left arm off of her neck during the whole duration of the move. A quick-minded opponent would have clasped both of her arms and tried to shift the fall's direction a little to the left, and it would have ended as a DDT counter.
If I may propose a slight change, she should try to emulate the ending position that Hirooki Goto does in his Shoten Kai, which removes all possibilities of an opponent being able to do a counter mid-air:
Using my Regal Rating, I would give this move a:
7/10 for aesthetics. It starts with a vanilla vertical suplex. Suddenly Sonya turns up the awesomeness notch to full and puts the opponent on a Viking ride to hell!
8/10 for damage. This move uses the opponent's legs as a sort of pendulum in order to generate that wide-ass swing. As both feet rise upward, the attacker then drives the opponent's entire body onto the mat. Having one arm trapped in the vertical suplex hold and both feet thrown in the air, the opponent is left lacking with any efficient means to cushion the fall, and thus takes extra damage to the head, neck, and upper torso.
And that's it chaps, my short review of Sonya Deville's Hellevator! Who do you want to be featured on next week's article? Let us know in the comment section below!
Wreddit_Regal is the resident sports kinesiologist of Reddit's wrestling forum, r/squaredcircle. From the most basic of punches to the most intricate double-team maneuvers, he can explain them within the realm of human anatomy and physics, because when doing absolutely nothing wrestling-related, he also happens to work as an operating room nurse.