Welcome to another edition of #FinisherFriday! This is Wreddit_Regal giving a highlight to a ferocious wrestler and his equally-brutal finisher.
When you think of a wrestler with a vicious kick-based arsenal, the names that might pop up in your mind would be the likes of KENTA, Daniel Bryan, Kota Ibushi, and Katsuyori Shibata. Probably 90% of the IWC would have thought of those names too, but allow me to put one of the most aggressive kickers of the modern era on your shortlist, and on this week's spotlight: Yukio Sakaguchi.
Not wanting to ride off of his father and brother's prestige, Yukio Sakaguchi has made quite a name for himself in the Japanese mixed martial arts scene with his swift stand-up and ground game. And as if that wasn't enough, he ventured into the world of puroresu, which would shake up the whole DDT roster with his weaponry of kicks, establishing himself as one of the promotion's deadliest strikers:
I would have dropped dead on the first kick
Shades of "The Wrestler"
I wonder why they call this a leg lariat, when it looks like a Busaiku Knee
Test big boot what?
For a second, that looked like Bryan Fury's combo


At times he likes to choke out his opponents to victory, but seems to enjoy finishing off his opponents with a running knee, calling it Kami no Migi Hiza:
...and using the English translation when hitting a dazed opponent in the corner (Right Knee of God):
There's no rocket science involved in this finisher, so I will go straight into my Regal Rating, giving this move a:
8/10 for aesthetics. That's about the highest score I can give to a running knee, but I probably like this one better than Kenny Omega's V-Trigger.
Yes, I said it. Sakaguchi doesn't go too theatrical or goes crazy with the motions and all; he just runs, jumps, and delivers the knee with killing intent (and definitely looks badass after execution).
10/10 for damage. Surely you have watched that Masvidal-Askren match that saw the effectiveness of a running knee as a legitimate match ender. Although not as precise as a punch, the sheer explosiveness and unpredictability of this move definitely make up for its shortcomings when used in an opportune time.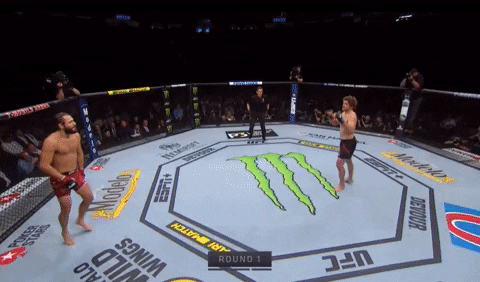 And there you have it chaps, my short highlight of Yukio Sakaguchi's finisher. With the groundwork for the 14-man tag match between DDT (led by Sanshiro Takagi) and NOAH (led by Kenoh and the KONGOH faction) laid down, do you think Sakaguchi and the DDT men would come out as victors? Let us know in the comment section below!

Wreddit_Regal is the resident sports kinesiologist of Reddit's wrestling forum, r/squaredcircle. From the most basic of punches to the most intricate double-team manoeuvres, he can explain them within the realm of human anatomy and physics, because when doing absolutely nothing wrestling-related, he also happens to work as an operating room nurse.