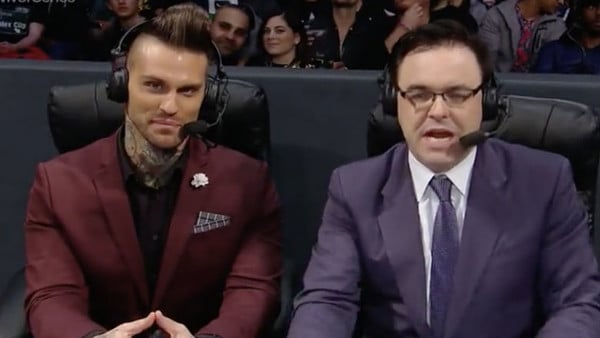 Welcome to the Grapevine! This section of
Smark Henry
is where we round up all the founded and unfounded rumors abound the pro wrestling scene that you may have missed over the week. Remember to take everything with a grain of salt!
We hear Mauro is doing better:
NXT announcer Mauro Ranallo is doing better after taking time off last week. Mauro had to skip calling Survivor Series and last week's episode of NXT reportedly due to tweets Corey Graves made during NXT Takeover: WarGames, but is still not final for this week's episode. Graves has since made an apology via his podcast After the Bell and also claimed he was furthering the brand warfare storyline the entire company was going through at the time. (Source: Wrestling Observer Radio)
We say: We really do hope Mauro is feeling better, as the show is just not the same without him.
Matt Hardy and WWE are still apparently negotiating on a new deal. Matt, who has returned to RAW last week, is angling to be used better on the shows as his contract winds down and ends on February next year. While he is reportedly thankful to WWE for bringing he and Jeff back, he wants more meaningful booking as his in-ring career may be ending soon. (Source: PWInsider)
We say: We're probably long past the glory days of the Broken/Woken Matt character, and we're not exactly sure it has a place in such a loaded roster like the WWE. It wasn't really the same either when they got their hands on it, so it might be a better idea for Matt to pursue it elsewhere—maybe even back at the place where it all began, now that it's doing much better than before?
Vince McMahon was said to be not happy with the Survivor Series main event. The WWE chairman was truly disappointed with awkward spots and flat reactions to the match, which was reportedly heavily practiced during rehearsals. The idea of the result was to push NXT Women's Champion Shayna Baszler for an eventual RAW or SmackDown run in 2020, but those plans are still not set in stone. (Source: WON)
We say: The match wasn't terrible, but it did suffer from following the emotional rollercoaster that was the men's Survivor Series match. The idea of having it main event was noble, but not everything is gonna work, unfortunately.
Let us know what you think of today's news in the comments!
Photo from WWE