Welcome to the 31 Days of Wrestling, ladies, and gentlemen. Once again, we're at that point where we take a look back at the past 11 months of pro wrestling (and as much as possible, the last month as well) and cherry-pick one match for each day of December from a list of bouts that defined the year in our beloved sport. Most matches will be good, while some may not be; what matters is that they helped build the perception and reputation of the kind of wrestling 2019 produced for us.
There's no denying that 2019 has been PWR's biggest year so far. How can it not be when they started the first quarter of the year with a Match of the Year candidate right off the bat? In a match so good that it almost overshadowed the subsequent Path of Gold main event, the Queen of Philippine Wrestling, Crystal, rocked the ring with Japanese legend and sexy Freddie Mercury cosplayer, Emi Sakura.
Thank the wrestling gods I don't have to recap how the match went down because you can re-experience the match right here. Go watch it; it's worth everyone's time.
When I said they rocked the ring, I wasn't exaggerating. PWR GM and ring announcer Poch leading everyone to a "We Will Rock You" frenzy certainly helped set the mood. T
he Revo-Nation
showered
Tita
Emi with love and adulation like no one else deserved it more. She probably received the loudest pop of the night, although anyone else present could try and correct me on that. And once the bell rang, we were off to the races.
There's really no animosity between these two, but it's not like they needed it. It was the friendliest of friendly matchups, with Crystal even sparing some time to teach Tita Emi how to do the splits. Awww. Really, it's like seeing an actual tita have a match with her equally talented niece, but don't think for a second that it was all child's play. And I just realized I'm starting to recap the match. Just go watch the full match above, damnit!
While I'm no historian, this match was the catalyst for PWR's #NeverMissAShow campaign. In a span of one year, they managed to book three AEW stars, two DDT wrestlers, one former ROH World Television Champion, a host of talented wrestlers from Singapore and Malaysia, and a former WWE Cruiserweight Champion that doesn't spit green mist. PWR working hard to get that international recognition, it seems. And they're crushing it!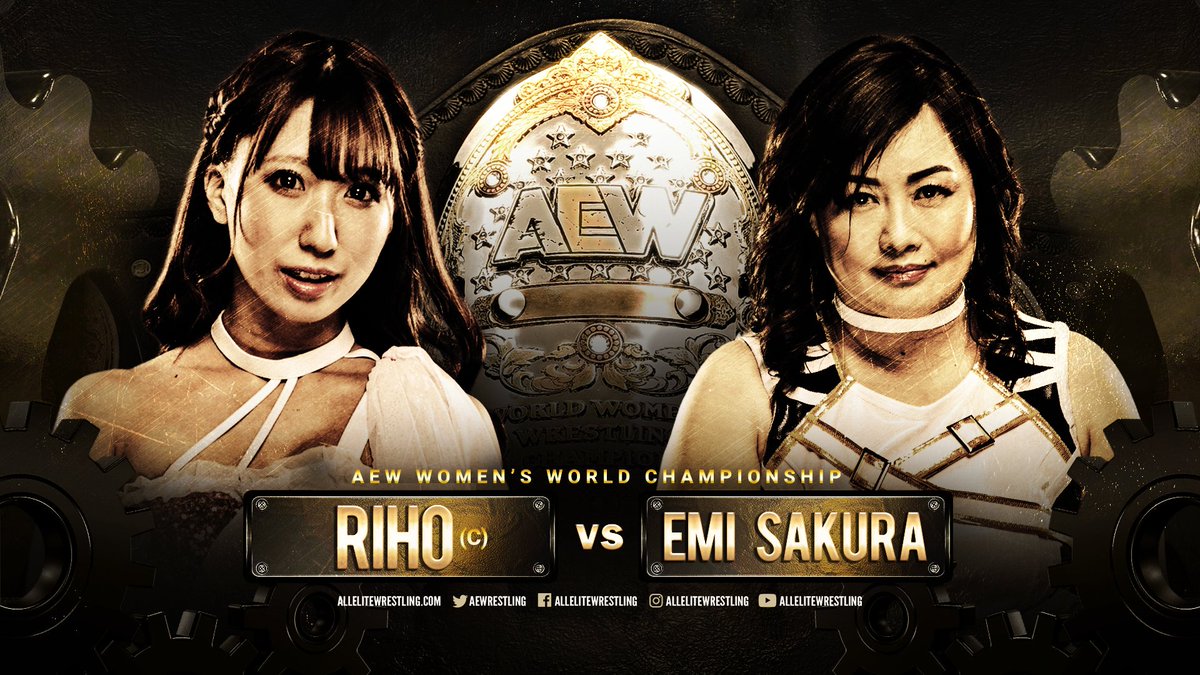 I don't need to tell you how Emi Sakura's 2019 went. I mean, you can just tune in every Thursday (Manila Time) and watch her kick butts on AEW Dynamite. She recently had her most prolific match to date when she faced her student, AEW Women's Champion Riho, in an emotional roller coaster at AEW Full Gear. And just this week, she put over Big Swole in the latter's AEW debut. She's still the caring tita in the big leagues, putting over new talent whenever possible.
And as for Crystal, her match with Emi Sakura, as big as it sounds, was only the beginning of her explosive year. She went on to share the ring with Riho, Thailand's own Jibzy, and show-stealer Jaye Sera in yet another MOTY candidate at PWR Live: Championship Spirit. She was also a standout in the first WWE tryout held in China, together with Jake de Leon and Ken Warren. Beating the monstrous Desi Derata at PWR Homecoming in the second-best match of the night was just icing on top.
— Crystal 👑💎 クリスタル (@CrystalMNL) October 27, 2019
As if that wasn't enough, she nabbed her first international title, the Wrestle Square India Dangal Ke Soorma (WINDKS) Women's Championship. To end her calendar year with a bang, she defeated Nor "Phoenix" Diana to become the second female MyPW Wrestlecon Champion at PWR Vendetta. And for good measure, she became Crystal 2 Belts, bitches! And did I mention she made her Gatoh Move debut before that? I didn't? Jeez, how foolish of me.
She's slowly conquering the international scene and who knows, we just might see her on NXT one day. In 2019, Crystal basically solidified her claim as the Queen of Philippine Wrestling. While it may not be exactly accurate, it's probably thanks to her phenomenal performance at PWR Path of Gold. Let's see who's going to step up next year.
31 Days of Wrestling is Smark Henry's way of celebrating the matches that helped define wrestling in 2019.
Read our previous entries:
1. The Man Stands Tall at
WrestleMania (Becky Lynch vs. Charlotte Flair vs. Ronda Rousey, WrestleMania 35)
2. The Game Changes (
Chris Jericho vs. Kenny Omega, AEW Double or Nothing)
3. Still the Ace
(Hiroshi Tanahashi vs. Kenny Omega, Wrestle Kingdom 13)
4. #KofiMania
(Kofi Kingston vs. Daniel Bryan, WrestleMania 35)
5. Starting With A Bang (The Premiere of
AEW Dynamite)
6. Let's Start A War (The Premiere of
NXT On The USA Network)
7. For You And Me! For All Of Us!
(Jake De Leon vs. TJP, PWR Homecoming)
8. It Takes a Bird and a Villain
(G1 Climax Finals: Kota Ibushi vs. Jay White)
9. The Fall of Bray Wyatt and the Rise of the Fiend
10. Johnny Champion
(Adam Cole vs. Johnny Gargano, NXT TakeOver: New York)
11. Do You Wanna Yeet a Four-Man?
(QUATRO vs. Chris Panzer vs. Jeff Cobb, PWR Homecoming)
12. From Purveyor Of Violence To Death Rider (Jon Moxley in NJPW)