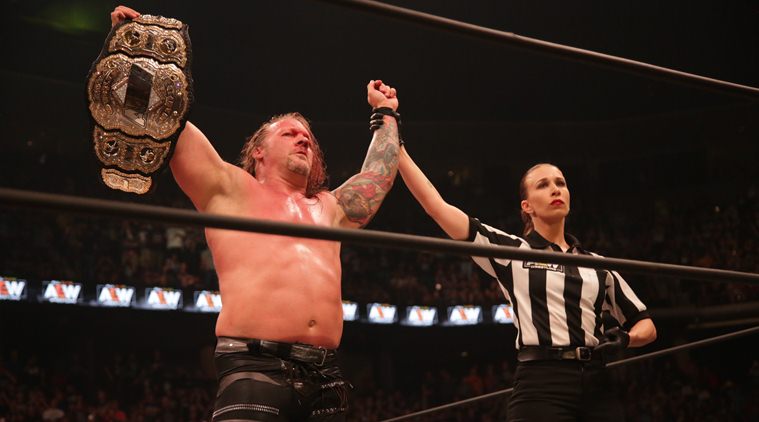 It's no secret at all that
All Out
is AEW's most important show yet. It's the last bastion, the final chance to set the entire table for the upcoming TV series next month. Whatever momentum the company manages to squeeze out from this PPV may very well coast them to the fall premiere.
It's a good thing, then, that
All Out
was a damn enjoyable (not to mention, concise) romp in four hours. There was not a single dragging match; even the main event—whose old school style stood out in stark contrast to how almost everything else was heavily influenced by Japanese and American independent wrestling—was sufficiently fueled by its drama.
I suppose the decision to go with Chris Jericho as the first-ever AEW World Champion heading into the TV debut bears discussing. Given the corner they've painted themselves into, it was the way to go. Between an up-and-coming name and unarguably the biggest star AEW has on its roster, it's no surprise that they've gone the credibility route and chose Jericho.
The way to go here is clear: somewhere down the line, after AEW TV has debuted and maybe around the time of their next PPV
Full Gear
, Jericho should lose the title to someone younger. Maybe Kenny Omega, maybe Cody, maybe even Jon Moxley when he gets better. It's sad that we've got to write Jericho down as a ploy for ratings nowadays, but then again, there's no shame in doing the business you're supposed to do.
Despite everything, I can honestly say that
All Out
made me excited for the AEW TV product. It's a shame that we still have to wait a month for it, but expect promotion to ramp up from here on out.
All Out 2019 Final Grade: A-
Match of the Night
If there was a truly subjective pick for Match of the Night, this would have to be it. It's not the most virtuosic match on the entire card, but it's arguably the best-told—I'm a sucker for all the storyline beats they hit, including the participation of Tully Blanchard, MJF, and Double-A himself. The only terrible thing about it, I guess, is that Shawn Spears didn't have to lose yet, as I wanted him to solidify his newfound standing on AEW even further.
Other observations
I got goosebumps from Luchasaurus's unexpected high-flying. He and Jungle Jack Boy are perhaps the low-key best team AEW's got right now.
I don't know exactly what it is, but I didn't feel that strongly about PAC vs. Kenny Omega, and it certainly wasn't from the fact that this was a last-minute matchup. Kenny seemed to not do as well as he usually does in the New Japan formula. It was certainly better than his outing with Jericho, though.
It's been a while since I saw a satisfyingly creative hardcore match until the Cracker Barrel match came along. Almost everything put a smile on my face without being too over-the-top.
Riho vs. Hikaru Shida was also lots of fun, getting really close until the end. Shida deserves a run with that AEW Women's Championship, but I do also think Riho should be the first. I've got a feeling Nyla Rose is probably winning it though.
Did anyone catch JR having to quickly clarify that they didn't know what Arn Anderson was doing out here?
All four men involved in the Escaler de la Muerte match are certifiably insane. So many bumps in that match were unnecessary; even though I just praised the Cracker Barrel match for being amusing, a lot of times it felt like the four were putting each other through hell just for the sake of it, instead of trying to win the ladder match. Then again, one can't say that that isn't the point of a ladder match, too. I guess I just fear for their well-being given how much chaos took place.
With the addition of the Tag Team Formerly Known As The Latin American Xchange, the AEW tag division is now deeper than ever, and that should be fun.
Photo from AEW
Romeo Moran (@roiswar) is the Editor in Chief of Smark Henry and one of the three hosts of the Smark Gilas-Pilipinas Podcast. He gets by in this hard knock life through working in publishing. Smark Henry was his and Stan Sy's original vision of a watering hole for local wrestling fans. He roots for the undersized guys who hit hard, but really hates Davey Richards with his entire soul. He likes taking your wrestling questions over on his CuriousCat account.