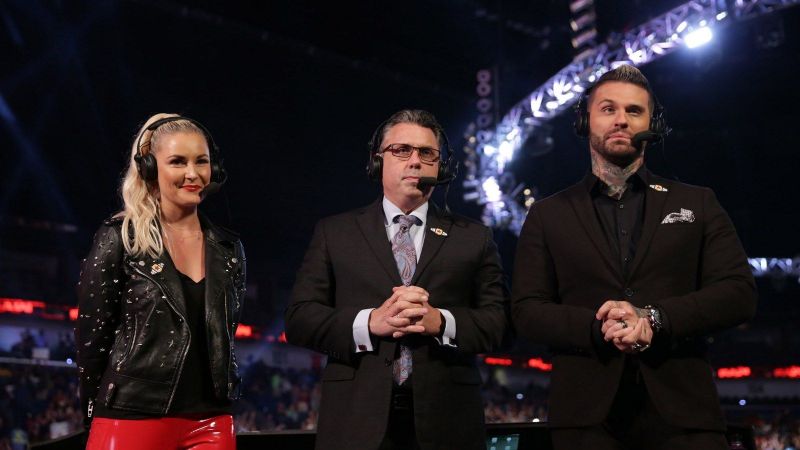 Welcome to the Grapevine! This section of
Smark Henry
is where we round up all the founded and unfounded rumors abound the pro wrestling scene that you may have missed over the week. Remember to take everything with a grain of salt!
Last week we reported talks of a WWE Draft, but it looks like announce teams are switching up too:
The RAW and SmackDown announce teams may be changing when the latter moves to FOX in October. There are talks of moving Michael Cole and Renee Young to SmackDown Live, as well as keeping Corey Graves exclusive to SmackDown. Other rumors include 205 Live and NXT UK's Vic Joseph moving to RAW, and the return of two-person announce teams. (Source: @Wrestlevotes on Twitter)
We say: Well, it certainly seems nothing's final yet, but we are in favor of switching things up. Graves staying on one show only will do wonders for people already being tired of him, though we're not so sure it's a good idea to keep him with Renee. Vic Joseph must have impressed in his one-episode stint on RAW if he's to be promoted.
Kevin Owens is teasing a move to NXT after being on-screen fired from SmackDown Live. There are no rumors to support this speculation, only a cryptic tweet saying "14-24-20," which correspond to the letters N-X-T.
We say: The timing is certainly suspect, and we wouldn't rule out a surprise return even if it's only for one night. It would definitely help the viewership for the premiere.
Triple H is claiming that 205 Live and the cruiserweight division may be joining the NXT Universe. In a recent interview with Newsweek, the Executive Vice President of Talent, Live Events and Creative and head producer of NXT stated that their plans were to slowly shift the division toward NXT. (Source: Newsweek)
We say: That certainly seems to be better for the division, and we'd love to see a Cruiserweight Championship match get Takeover minutes than main show PPV minutes.
Let us know what you think of this week's news in the comments!
Photo from WWE