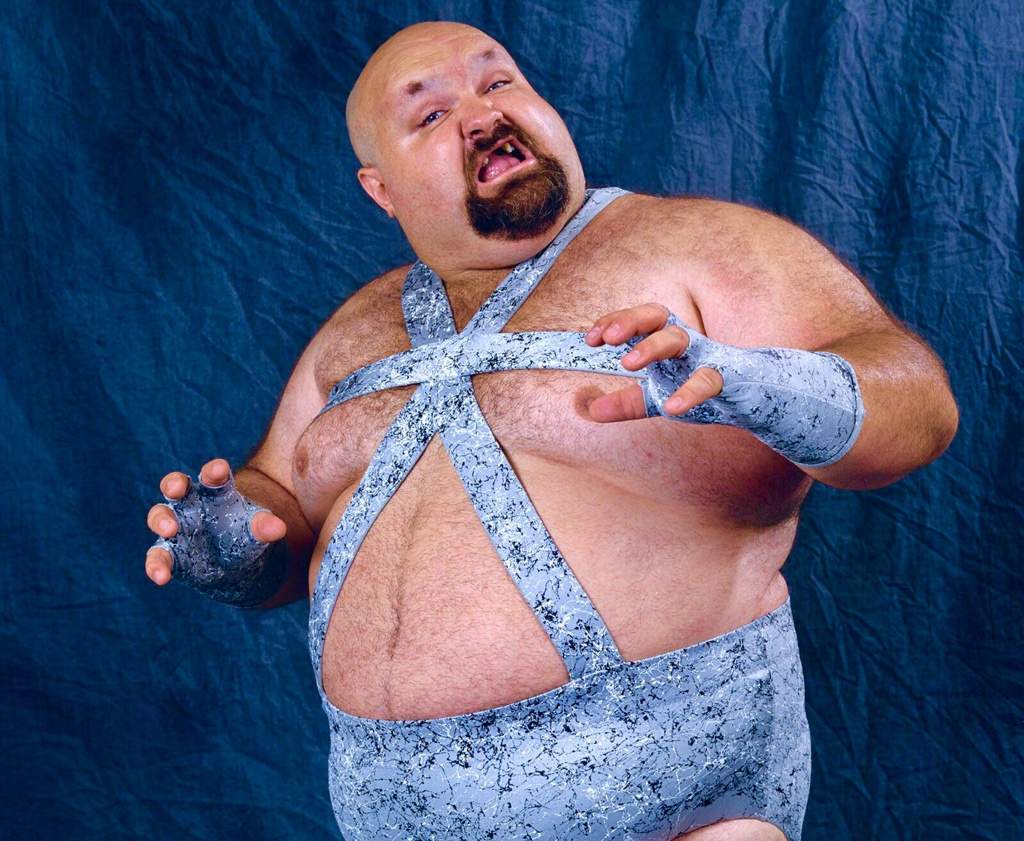 Welcome to another edition of #FinisherFriday! This is Wreddit_Regal giving a very short analysis (since I will be out of town for a couple of days) of a finisher rivaling the Stinkface in terms of being disgusting.
Mike Shaw was a man of many faces in the wrestling days of old. Taking up identities like Klondike Mike, Makhan Singh, Norman the Lunatic, Trucker Norm, Aaron Grundy, Friar Ferguson, it was only when he took up the name
Bastion Booger
that he became widely known—mainly for disgusting reasons.
Shaw played the role of an unkempt, slovenly and gluttonous man who often ate snacks like grinder sandwiches during his matches. Having a character like this meant that his career path was never going to rise like Owen Hart (which he once beat
cleanly
, just before Hart had his main event push). He had a program with Bam Bam Bigelow and Luna Vachon, and from there he became a jobber to the stars.
A vile wrestler needs to have a vile finisher, and a very vile one he had indeed. He called this one,
Trip to the Batcave
:
Yup, the girl's reaction says it all.
Do I really need to analyze this? Imagine yourself laying down on the center of the ring. A 400-pound man who probably hasn't taken a bath for a week stands near your chest. He does his little dance, and BAM! All of his weight drops down onto your chest, blowing all the air out of your lungs. And what's worse, his undercarriage comes in contact with either your nose or mouth (or God forbid, both), letting you inhale odors that you would normally smell at a gasoline station bathroom stall.
Trip to the Batcave is one of the most perfect finishers for all the wrong reasons. Using my
Regal Rating
:
4/10 for aesthetics
. Bastion Booger's character surely does not think of making his finisher look good when he does this. Even the Barney-esque dance that he does is purely for his own entertainment. He's just there to make opponents eat his nuts, and then go home to eat more sandwiches.
10/10 for damage and practicality
. The act of sitting on the opponent's torso eliminates the opponent's ability to raise both of his shoulders, thereby not being able to break the pin. (Sometimes, I wonder why the big guys don't employ this strategy on their matches). The opponent can also easily break a few ribs in the process, so it's a relatively dangerous to be at the receiving end of this move.
And that's it chaps, Trip to the Batcave analyzed! Do you know of more weird wrestling finishers? Let us know in the comment section below!
*****
Wreddit_Regal is the resident sports kinesiologist of Reddit's wrestling forum, r/squaredcircle. From the most basic of punches to the most intricate double-team maneuvers, he can explain them within the realm of human anatomy and physics, because when doing absolutely nothing wrestling-related, he also happens to work as an operating room nurse.