We've gotten two new championships in the world of pro wrestling this past week, so you know what time it is: it's #SGQ time!
The WWE 24/7 Championship
Let's get the ugly out of the way first. On the May 20, 2019 episode of
RAW
, Mick Foley came on the show to reveal a brand new midcard title, which would end up being the 24/7 Championship that's already going viral for more than one reason.
It's the old Hardcore Championship, but not physically—the concept of having to defend it anywhere, anytime as long as there's a referee present remains.
But the most important question we have about it is:
what is that thing?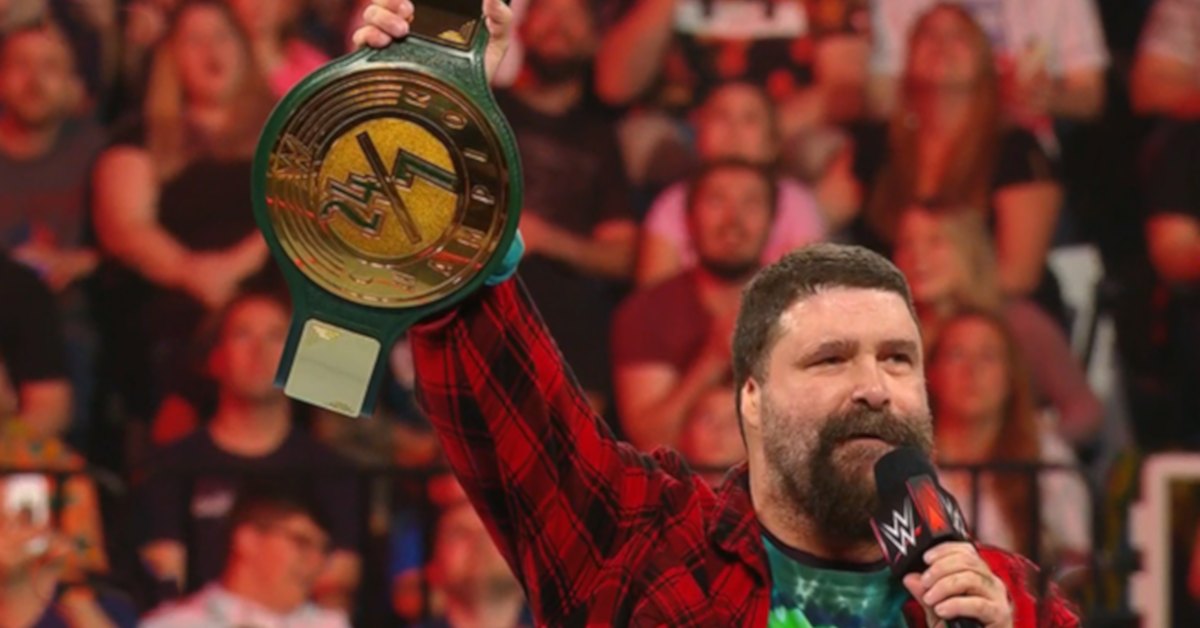 The 24/7 Championship belt is a hideous number. It's a green-and-gold affair with a plain centerplate and a comically thin strap (made even more prominent by how big the centerplate is). Who designed this thing? Why did Vince McMahon approve it? Why did everyone think this title was a good idea?
Let's break it down one by one.
First, the color-scheme. Objectively, the green-and-gold colorway isn't terrible by itself. The problem with it is its utter lack of context—none of the WWE's other belts have a strap that isn't black nor white, so there's nothing to suggest that the 24/7 Championship fits in that pantheon. It's immediately the green-headed stepchild, and if the idea was that it should stand out, it might also backfire by making it seem it doesn't belong.
Next is the large centerplate. Again, nothing wrong with a huge centerplate by itself, but the design is rather plain. It's a plain circle, with nothing etched on the plate except for the words 24/7 Championship. That's it. Maybe it's supposed to look like a clock, but there's nothing remarkable about it at all.
It also apparently has sideplates, but they're completely plain as well. Not sure if they're designed to hold customized sideplates for the champion, but the title is meant to change hands so much that this likely won't be a feature.
Then we've got questions about the ridiculously thin strap. It's so thin that Mick Foley could wrap his single hand all around it. What gives? Is this title made to be worn by the huge wrestlers at all around their waist, or is it meant to be held up on the shoulder? The small stature makes the belt look more like a toy, which takes away from its prestige.
The 24/7 Championship itself may be a good idea—it's definitely going to end up creating a lot of content online—but it's pretty clear that this design was rushed to try and shore up the falling ratings. Not a good look at all.
The AEW Championship
Look at that thing. It's so... grand.
That's what a striking design looks like. It both looks and doesn't look like a pro wrestling championship belt at the same time, coming off as unique and impactful.
Allow me to explain: take a look at that centerplate. It doesn't follow a conventional shape, but it's ornate and sophisticated, and the reflective "AEW" letters in the middle remind me of a UFC championship belt.
There are two sets of what seem to be sideplates, but they don't look like your usual sideplates. Instead, they're cut in a way that follows both the shape of the centerplate and the smaller outer sideplates. Taken together, they form a huge central design, looking like what the Big Gold Belt would probably be if it were redesigned for 2019.
That's a lot of gold, and it's definitely something a wrestler would be proud to hold up in victory. I daresay it already looks a lot better than WWE's current world title design.
What do you think of these new championship belts? Which one do you like better? Is the 24/7 Championship better than we think it is? Let us know what you think!