A few days ago, PWR made a huge announcement in regards to their annual
Path of Gold
event: Masa Takanashi, one of Dramatic Dream Team's longtime veterans and popular stars, will be competing in his Philippine debut at the show.
For those who have been following the Japanese wrestling scene, this is certainly big news for Philippine wrestling that's blooming, one step further in establishing a major wrestling hub in the Southeast Asian region. And in many ways, this is already a big deal, especially when you look back at the baby steps taken to legitimize what the local wrestling scene has built for both fans and aspiring wrestlers.
But for other local wrestling fans, they may not necessarily be familiar with the work Takanashi has done, as well as his contributions to both the Japanese indy and Southeast Asian scenes. With
Path of Gold
2019 nearing, now is as good a time as any for us to give you an introductory primer on who he is and what you can expect coming into his debut match in the country.
Who is Masa Takanashi?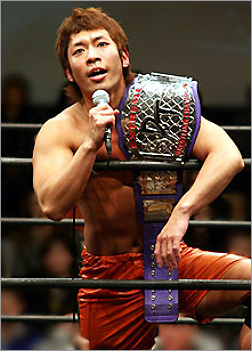 The 36-year-old Chiba-based Masahiro Takanashi is a wrestler currently competing for DDT Pro Wrestling, the biggest indy wrestling promotion in Japan—and for that matter, one of the largest wrestling promotions in Japan as far as equity goes
(which we previously covered)
. This is the same promotion that gave the likes of Kota Ibushi and Kenny Omega a chance at wrestling stardom, and also saw appearances from the likes of Hiroshi Tanahashi, Kazuchika Okada, Naomichi Marufuji, CIMA, Bob Sapp, Akebono, Minoru Suzuki, Meiko Satomura, and El Generico (who just so happens to know current WWE star Sami Zayn).
Takanashi has called DDT his home promotion since his debut in 2003. Throughout his entire stay in the company, he has held every single title available, including DDT's top honor, the KO-D Openweight Championship. He has been in different angles ever since then, from the most serious to the most bizarre, all in a day's work in DDT.
If there was any way to describe his wrestling style, it's quick, frantic, and risk-taking. Be it against an opponent of smaller or similar stature or one that is significantly bigger (which we'll get to later on), he generally fights with an aggressive pitbull-like mentality that has made him a true blue veteran throughout the years. That is most demonstrated with his finishing maneuver, a sunset flip bomb he calls the Taka Tonic.
Masa Takanashi has been in his own fair share of factions over the years, including the likes of Belt Hunter X Hunter (yes, the name is based on that beloved anime series), Familia, and the Monster Army. But one can argue that the most important faction he's ever been in is a faction he's currently been with for the last five years, at least until the group disbands temporarily this coming April: Shuten Doji, a faction that was bonded over their love for alcohol. Alongside his fellow members, the hard-hitting KUDO and second-generation wrestling star and former MMA fighter Yukio Sakaguchi, the faction became multi-time KO-D Six-Man Tag Team Champions (at one point defeating Ibushi, Omega, and Daisuke Sasaki for the titles) while having their own successes at individual championship gold.
While Takanashi calls DDT his home for the entirety of his career, he has made different appearances in different promotions, including Pro Wrestling NOAH, Heat Up, Ice Ribbon, Gatoh Move, and even SPW, where he defeated "The Statement" Andruew Tang for the SPW Championship. He was even at the 2018 Sawasdee Cup in Thailand, the same show where Jake de Leon, John Sebastian, and Crystal performed.
Matches to See
Over the course of his career, he's had many great matches, ranging from comedic to full-on serious, a testament to his prowess and experience. But if there was one match that would best display his talents, it is his match against BJW's Daisuke Sekimoto in 2010 for the KO-D Openweight Championship. It is one of the best matches of his career, and won the 2010 Japan Indy Best Bout Award, the same award won by Kota Ibushi and Kenny Omega over the years. You can watch this match alongside other great matches in
DDT Universe
, which is definitely worth your time. Highly recommended (besides his title matches) are his multi-man matches, which are always amazing to see.
You can also check out the previously mentioned match between Takanashi and Andruew Tang (another man we've already seen in a PWR ring) for the SPW Championship below:
And you can see him in this six-man main event during the 2018 Sawasdee Cup:
Who do you want to see Takanashi compete against in PWR Path of Gold? Sound off in the comments!
Images from PWR and respective sources
Disclosure:
Smark Henry
is independently managed and operated by a group of local wrestling fans, but includes members affiliated with the Philippine Wrestling Revolution.
PWR Path of Gold
takes place on Sunday, March 17, 2019, at 2 PM, and will be held at the Power Mac Center Spotlight, Circuit Makati.

Tickets are at PhP 399 each and are also available at PhP 1099 for a barkada bundle of three (3) until Saturday, February 16. Tickets will be at PhP 450 at the door on Sunday.

For ticket inquiries, visit ticket2me.net or email PWR at pwr.tickets@gmail.com.