Welcome to another edition of #FinisherFriday! This is Wreddit_Regal bringing you an analysis of our friendly (as of this week's
RAW
episode) neighbourhood Lunatic Fringe's finishing move.
The phrase "battle-hardened veteran" best describes Dean Ambrose more than any wrestler in today's WWE main roster. Before setting foot in Vince McMahon's kingdom, he has fought many matches at some of the most punishing promotions, including Full Impact Pro, Dragon Gate USA, and the ultraviolent Combat Zone Wrestling promotion. Surviving on those battlegrounds turned him into the unyielding, unnerving, unpredictable, sometimes sadistic wrestler that he is today.
This, in turn, helped him rise to the top of the food chain of every promotion that he competed in. His records include: being FIP World Heavyweight Champion, a two-time CZW World Heavyweight Champion, a one-time WWE World Heavyweight Champion, a three-time Intercontinental Champion, and a two-time RAW Tag Team Champion (with Seth Rollins). He was also the 2016 Money in the Bank ladder match winner and successfully cashed in his contract to become WWE World Heavyweight Champion. Upon winning the Raw Tag Team Championship in August 2017, Ambrose became the twenty-seventh Triple Crown Champion and the sixteenth Grand Slam Champion.
Unlike some top-tier wrestlers, Dean Ambrose usually does not go for flashy moves or that flippy stuff that is the theme of Drew Gulak's PowerPoint presentations. Instead, he prefers moves that are easy to perform and deliver crazy amounts of damage. Some of the notable finishers he's done in the WWE ring are:
STF
Midnight Special
Running knee lift
and the focus of our article today, Dirty Deeds
You might think that a wrestler as brash as Ambrose should get a brasher finisher than this (actually
this is what his original Dirty Deeds looked like
), but instead, he got this one. Anyway, here's a quick sequence of the move in progress:
the attacker kicks the opponent in their gut, forcing them to lean forward
the attacker secures both of the opponent's arms in a double underhook position
the attacker leans backwards and falls onto the mat, driving the opponent's head in the process
Although sometimes it looks rather clumsy and unpolished (compared to
Drew McIntyre's Future Shock DDT
) because of Ambrose rushing the process of executing his finisher, it somewhat fits his character of being unhinged and unpredictable, which I like. But what makes this type of DDT more dangerous than those regular DDTs with similar setups?
The answer is in the double underhook. The act of restraining your opponent's arms greatly diminishes (if not totally eliminating) their ability to cushion their head or brace the fall before their head is driven onto the mat.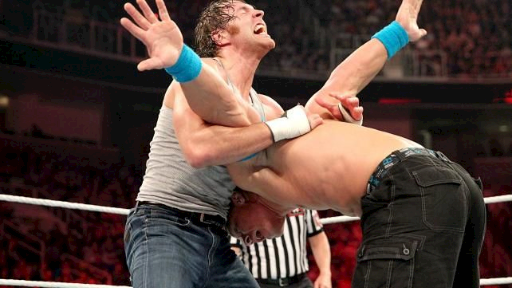 Even if Ambrose can't properly hook the opponent's arms, the opponent's capacity to break the fall won't be enough, as their arms cannot extend farther than their head—thus still receiving substantial damage.
And if you're a loyal reader of this weekly series, you might know by now that a direct blow to the head can cause the brain to bounce back and forth inside the skull, resulting in what we call today a concussion.
And there you have it chaps, Dirty Deeds deconstructed! As sad as the prevailing news may be, do you think that Dean Ambrose might have a change of heart post-
WrestleMania
, and decide to cancel his decision to leave WWE? Let us know in the comment section below!
*****
Wreddit_Regal is the resident sports kinesiologist of Reddit's wrestling forum, r/squaredcircle. From the most basic of punches to the most intricate double-team maneuvers, he can explain them within the realm of human anatomy and physics, because when doing absolutely nothing wrestling-related, he also happens to work as an operating room nurse.