Welcome to another edition of #FinisherFriday! This is Wreddit_Regal just giving recognition to our rowdy RAW Women's Champion.
It could be said that although many female superstars paved the way to what would become the current state of women's wrestling, Ronda Rousey's arrival on WWE soil had definitely shaken the promotion to its roots. It now meant that wrestling was going to get as high-octane and skill-based as it gets (compared to the previous eye-candy era, save a few legends). True enough, Rousey took the women's division by storm, capturing the RAW Women's Championship in less than a year. Since then, she grew into what you would call "the best of two fighting worlds," like a warrior weaving intricate art into their battles.
It should be noted however that since the current world in which she resides pays her to entertain people first and foremost, she has tweaked her finishing move so as not to cause long-term injuries to her opponents (but do note that the tweaks are STILL dangerous if applied with force). Take a look at these GIFs:
The first iterations of her armbar did not look like the standard armbar,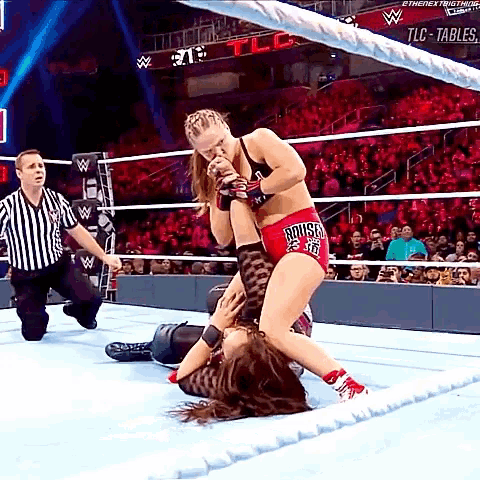 But when you look at it closely, this setup is actually a watered-down version of the Americana submission maneuver widely-used in MMA: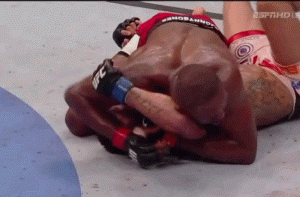 Although Ronda is noticeably missing out on a few key points on purpose, the extended lateral rotation of the forearm from the elbow joint (think about those lucky charm cats) should be more than enough to cause pain to the opponent, making them tap out.
Also, in her last match with Dana Brooke for the RAW Women's Championship, Ronda was seen performing the closest thing to her "actual" armbar:
For the first part of the armbar, Ronda is seen doing a textbook-form armbar (except for the "arm hug" and "hip push" for the opponent's safety). And while we all think that this was done gracefully, she suddenly shifts to another setup, which was actually a variant of her belly-down armbar:
Since the upper body can turn laterally more freely than it can bending backwards, Ronda can apply more pressure to the opponent's elbow, causing them to immediately go for the tap.
And there you have it chaps, Ronda Rousey's armbar analyzed! Did Ronda change her setup so Becky can't diss it on Twitter? Who knows. But one thing is for sure:
WrestleMania
will be a great armbar party to behold.
*****
Wreddit_Regal is the resident sports kinesiologist of Reddit's wrestling forum, r/squaredcircle. From the most basic of punches to the most intricate double-team maneuvers, he can explain them within the realm of human anatomy and physics, because when doing absolutely nothing wrestling-related, he also happens to work as an operating room nurse.