Welcome to another edition of #FinisherFriday! This is Wreddit_Regal presenting an analysis of another brutal move, to which we must give the innovator absolute
#RESPECT
for.
The "Black Sun" of Pro Wrestling NOAH has been said to be one of the greatest talents the promotion has had since its inception. His matches with Naomichi Marufuji, Katsuhiko Nakajima, Kotaro Suzuki, Low Ki, and Daniel Bryan have been rated as top-notch by most wrestling fans around the world. And if you're wondering if he ever gained gold, here are his achievements at NOAH: one-time Global Honored Crown (GHC) Heavyweight Champion, three-time GHC Junior Heavyweight Champion, three-time GHC Junior Heavyweight Tag Team Champion, one-time GHC Tag Team Champion, and winner of the 2012 Global League and the 2013 Global Tag League tournaments.
A star as bright as KENTA should be caught by WWE scouts; true enough, after a tryout at the Performance Center, he signed with the company as Hideo Itami from 2014 until news broke of him asking—and being immediately granted—for his release at the end of January 2019.
I'm actually bummed because as talented as he was outside of the WWE, he was not able to showcase his complete arsenal of skills in the five years that he was in the promotion. (Yes, I know that his injuries were somewhat part of the reason, but come on, chaps.) Just take a look at this montage and tell me that he doesn't deserve to be treated with more respect:
It's also saddening to think that his latest promos were about not getting the respect that he deserves; one can easily deduce that he was talking to the promotion as a whole and not to the WWE Universe.
Anyway, this is supposed to be a #FinisherFriday column, not a eulogy for Itami's run in WWE. So here is a crude tutorial on how to do his signature move, the GTS:
The attacker places an opponent in a fireman's carry
The attacker drops the opponent in front of them
While the opponent is falling, the wrestler quickly lifts the left/right knee up (depending on which side of the body the head is positioned), towards the opponent's face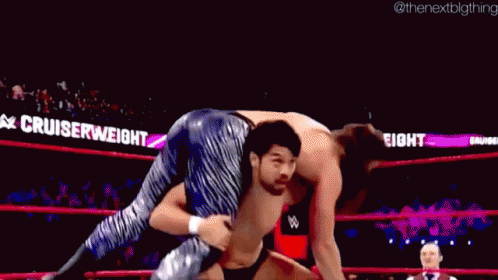 Pretty straightforward, which delivers excellent results in the ring. But it being an ordinary falling knee strike, how can it achieve power sufficient to knock an opponent out?
Two things come into play: gravity and the element of misdirection. As KENTA drops the opponent like "I'm tired man, we can do this later," the opponent's feet are noticeably perpendicular to the floor, as if he really wanted the opponent to land safely. This creates a subtle unconscious effort by the opponent to focus primarily on his feet to land safely, and lean slightly forward as he is landing to make sure that he can land on all fours in case he loses balance. Think of it like a cat falling from a high place, but landing on all fours.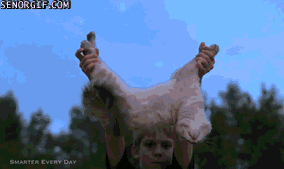 And as the opponent is engrossed in this minuscule act of survival, Hideo exploits this momentary lack of concentration and delivers a swift knee to the opponent's head. The velocity of his knee, combined with the short acceleration of a falling head, results in a blow capable of delivering concussive force. For another example which exploits an opponent's tendency to keep his footing, take a look at this GIF:
And there you have it chaps, the GTS deconstructed! If you are a KENTA/Hideo Itami fan, where do you think his next stop is: AEW, ROH, or NOAH? Let us know in the comments section below!
*****
Wreddit_Regal is the resident sports kinesiologist of Reddit's wrestling forum, r/squaredcircle. From the most basic of punches to the most intricate double-team manoeuvres, he can explain them within the realm of human anatomy and physics, because when doing absolutely nothing wrestling-related, he also happens to work as an operating room nurse.