Welcome to another edition of #FinisherFriday! This is Wreddit_Regal, bringing you an analysis of Jessamyn Duke and Marina Shafir's team finisher.
Over the course of four years (coincidentally), the Four Horsewomen of MMA have made their own moves in the sacred WWE ring, with Ronda Rousey leading the path as the current RAW Women's Champion. Shayna Bazsler followed suit on the NXT brand, becoming a two-time NXT Women's Champion. Jessamyn Duke and Marina Shafir had rather humble beginnings, serving as Bazsler's lackeys to ensure the Queen of Spades always has an advantage over her opponent.
Later in 2018, the two formally kickstarted their careers as tag team competitors, with most wrestling fans and critics voicing out their displeasure on the duo's in-ring abilities;
one reviewer even went so far as to comment that Duke and Shafir are better utilized as stooges
. Although one can attribute this certain deficiency to the process of adjusting from MMA to the pro wrestling world, it is safe to say that they need to improve their game double-time if they are to carry the Horsewomen title on their shoulders.
Recently, Bazsler and company made an announcement to the NXT Women's Division, taking out Vanessa Borne and Taynara Conti to warn to those who would dare block their path. After some punches, kicks, and Bazsler's aesthetically pleasing swivel gutwrench suplex (props to that), Duke and Shafir also showcased their team finisher, which for me seems pretty underwhelming:
— TDE Wrestling (@totaldivaseps) February 14, 2019
I usually rate finishers and tag maneuvers based on two aspects:
aesthetics
and
damage
. Without further ado, let me give you my rating of the move:
Aesthetics
. While eye candy cannot aid in any way to the overall effectiveness of a move, being pleasing to the eye gives a rudimentary level of psychology to the audience in which they can think that once you set the finisher up, it spells doom for the opponent. The fireman's carry to a flip is good, but Duke just standing there and delivering a kick just takes away the momentum of the flip. She could have run the ropes and give the gut kick for better effect. For this, I would give a 6/10.
Damage
. For two tall, muscular women who have legit striking skills, they should know that a kick to the abdominal area won't be enough to keep a battle-hardened wrestler down for the three-count. Although they made the right choice for Duke to be the main striker because of her long limbs, the impact from her stationary kick is usually just a little bit more than the usual "knee-to-an-opponent-bouncing-off-the-ropes-and-running-towards-them" spot. A running kick not only looks good, but it also delivers more destructive power compared to its stationary counterpart. For this, I would give a 7/10.
But let's put down the pitchforks, take a deep breath, and try to be more constructive with our words. How can this tag-team maneuver be improved to look aesthetically-pleasing and still be destructive as a combo based on their initial setup? A few ideas come to mind:
1. Shafir performs an
ushigoroshi
on the opponent, maneuvering them to land in a sitting position aided by the bent leg. While the move is being completed, Duke bounces through the ropes and either delivers a Shining Wizard or a big boot.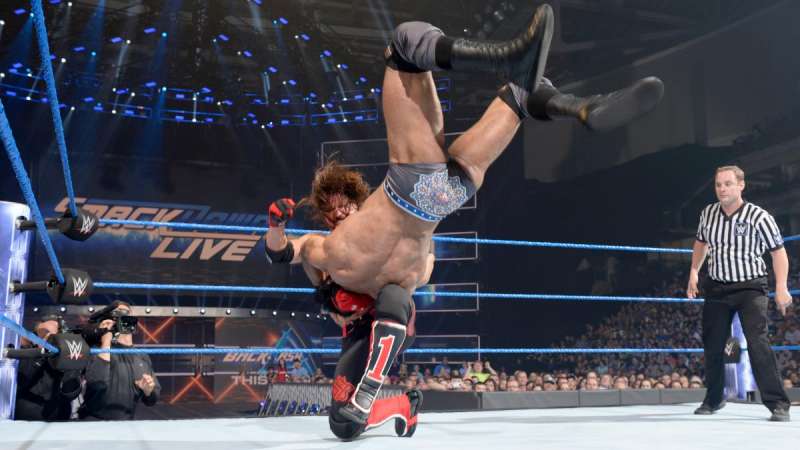 2. Shafir performs a fireman's carry to a backbreaker, pushing the opponent's torso upwards after the backbreaker is completed so that the opponent stands upright. Duke bounces through the ropes and delivers a big strike of her liking (big boot, lariat, etc)
3. Shafir simply drops the opponent similar to the Go To Sleep setup. Duke bounces through the ropes and performs a high-impact running knee similar to the V-Trigger
in sync with the opponent falling.
Of course, I am by no means any better than them in terms of formulating unique finishers. Being the optimist, I am also hoping that Jessamyn Duke and Marina Shafir can find their pacing quicker on the yellow brand, and give a solid backup to their statement last week.
And that's it for my critique of Duke and Shafir's move! Do you have a suggestion on what move to critique on the next article? Let us know in the comment section below!
*****
Wreddit_Regal is the resident sports kinesiologist of Reddit's wrestling forum, r/squaredcircle. From the most basic of punches to the most intricate double-team maneuvers, he can explain them within the realm of human anatomy and physics, because when doing absolutely nothing wrestling-related, he also happens to work as an operating room nurse.