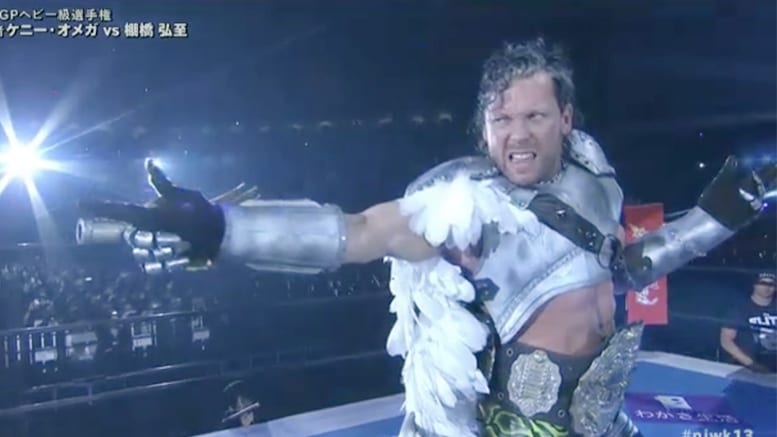 To be honest, it's hard to look at this year's
Wrestle Kingdom
—especially its results on paper—and not notice the huge shadow the All Elite Wrestling announcement casts over it.
While there's another substantial narrative in play—that of NJPW possibly returning to its core after a year of building up clout for a gradual Western invasion—AEW will always color it. If anyone were to use Occam's Razor (the simplest explanation has to be it) in determining exactly why guys like Kenny Omega, Cody, and Kota Ibushi all lost their titles, you can't go further than the exodus to AEW, right?
But that doesn't really explain the other non-Bullet-Club-involved results. Chris Jericho has nothing to do with Bullet Club, and neither does Zack Sabre, Jr. nor Tomohiro Ishii, nor even Taiji Ishimori's win, and he's technically Bullet Club.
Many will claim that All Elite Wrestling greatly affected
Wrestle Kingdom 13
, and while a part of that is true, what the whole thing really looks like is NJPW being done with its "introductory" period to the rest of the world. If 2018 was the year in which the company tried to bridge themselves to the rest of the world by putting the
gaijin
on their banner, 2019 seems to be the year they remind us all that the Japanese built NJPW and the foundation the
gaijin
stood on.
And who better to lead that charge than the Ace—the guy they keep going back to, almost to Tanahashi's detriment, as the guy's pretty beat up. Who better to be his second than Tetsuya Naito? Who better to represent the United States in NJPW than Juice Robinson, who never stops improving under the NJPW system?
Like with anything NJPW does, the world that's left after Wrestle Kingdom 13 is up to the fans now to take or leave. NJPW will carry on whether you like it or not; but the difference is they could carry that swagger WWE has never quite fully earned. One way or another, you'll keep watching, because this wrestling really is that damn good.
Wrestle Kingdom 13 Final Grade: A+
Match of the Night

It is extremely hard to pick a match from a card like Wrestle Kingdom 13, so this isn't really a Match of the Night per se but a gun-to-my-head personal favorite. I loved Kota Ibushi versus Will Ospreay for no good reason other than everything they did was stupid amazing, and also because Ibushi didn't risk his body too much. Heavyweight Ibushi is great, I can't lie.
Other observations
I don't know if it was just me, but I felt that this Wrestle Kingdom flew by much faster than others. I can't quite pinpoint what it is, but even at five hours (counting the preshow) it felt trim. Even the main event, said to be the longest in Wrestle Kingdom history, kind of flew by.
I'm not sure why Cody and Brandi keep pursuing the American-style antics, although this has been a thing with Maria Kanellis and Karl Anderson in the past. Not sure why NJPW continues to let it through as well despite knowing it doesn't really work for the Japanese crowd. The definition of insanity, everyone.
Little KUSHIDA with the ridiculously detailed bighead mask will haunt me forever. Look at those soulless eyes.
Interesting decision to have Okada come back at 100% (with trunks and everything) but still lose pretty clean to Jay White. I guess that means the redemption arc isn't over, so what does Okada still have to do? Is there another level, another evolution left to tap into? While it also means Jay White has come into his own as the next CHAOS star, I doubt the story will leave Okada unredeemed. That'd be just weird. I guess we'll have to wait and see.
Really interesting move to have Naito win after a belt shot and a Destino. It's not like Jericho needed the extra rub, but it does make him look legendary.
Photo from WWF Old School
Romeo Moran (@roiswar) is the Editor in Chief of Smark Henry and one of the three hosts of the Smark Gilas-Pilipinas Podcast. He gets by in this hard knock life through working in publishing. Smark Henry was his and Stan Sy's original vision of a watering hole for local wrestling fans. He roots for the undersized guys who hit hard, but really hates Davey Richards with his entire soul. He likes taking your wrestling questions over on his CuriousCat account.