Welcome to 2019's first #FinisherFriday! This is Wreddit_Regal bringing to you an analysis of the move that snatched the IWGP Heavyweight Championship from Kenny Omega.
Hiroshi Tanahashi has become a household name in Japan when it comes to
puroresu
. Such is his influence in the Japanese culture that he is well-known outside the squared circle. His electrifying performances, good promos, an indomitable work ethic which portrays what the ideal Japanese wrestler should be, and oozing charisma has definitely earned him the right to be called "Ace."
Having served the NJPW crowds for almost 20 years, he has also racked up numerous accomplishments along the way, most notably being: a former two-time IWGP Intercontinental Champion, a two-time IWGP Tag Team Champion, a three-time NEVER Openweight Six-Man Tag Team Champion, and the current and record-setting eight-time IWGP Heavyweight Champion.
While most wrestlers of the same calibre boast of flashy moves, Tanahashi has since proved to many a critic that simple works best. Some of his most notable maneuvers that helped him garner victories are:
1.
Slingblade
2.
Dragon Screw leg whip
3.
Bridging Dragon suplex
4.
Twist and Shout
5. And his finisher, the
High Fly Flow
As the #FinisherFriday tradition of explaining moves upholds, no matter how easy-looking or straightforward a finisher may look like, I am still going to enumerate the steps required to perform the move:
The attacker places a downed opponent about half the distance from the turnbuckle to the center of the ring
In true Tanahashi fashion, the attacker leaps outside the apron and proceeds to climb the top turnbuckle
Unlike most wrestlers, the attacker does not waste time by doing unnecessary poses or listening to the crowd's reaction, and immediately jumps
The attacker does a motion similar to a frog splash, adjusting his body should their bodies not be perpendicular as he jumps
The attacker lands belly-first on the opponent's upper body, with the final position facilitating an easy pin attempt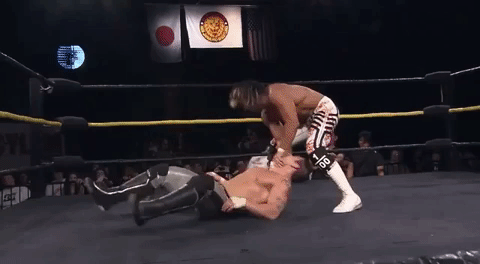 "That just looks like RVD's Five Star Frog Splash! What's so unique about that?" you might think. Well let me tell you something brother: there's a small aspect specific to Tanahashi that you might not easily notice.
Unlike most wrestlers who protect their landing using both their forearms and legs, Tanahashi actually bends back until he makes contact with his opponent, instead relying on physics (gravity, his body bending forwards, and ring recoil) to make the dive somewhat safer to him. This ensures more of his body mass would add up upon landing, which deals more damage to the opponent. (For a detailed explanation on how this stuff works,
check out my article about splashes and sentons
.)
But since he does not actively seek to cushion his fall, Tanahashi is at great risk of sustaining serious cerebral concussions (think of Benoit's diving headbutts for example) and whiplash injuries.
So there you have it chaps, the High Fly Flow deconstructed! With Kenny Omega's recent defeat and the news of him leaving NJPW, do you think that the Cleaner will finally set foot on WWE soil? Leave your thoughts on the comment section below!
*****
Wreddit_Regal is the resident sports kinesiologist of Reddit's wrestling forum, r/squaredcircle. From the most basic of punches to the most intricate double-team maneuvers, he can explain them within the realm of human anatomy and physics, because when doing absolutely nothing wrestling-related, he also happens to work as an operating room nurse.