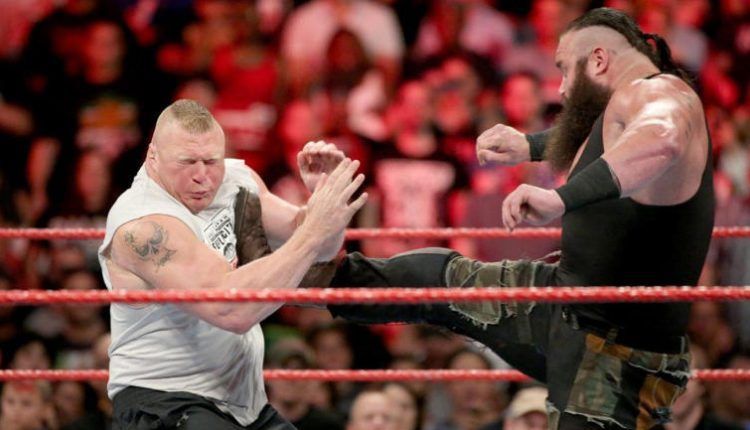 Good morning, and this is the Grapevine! This section of
Smark Henry
is where we round up all the founded and unfounded rumors abound the pro wrestling scene that you may have missed over the evening.
We have an update on
last week's Brock Lesnar story
:
Brock Lesnar is apparently not confirmed for any upcoming dates, including SummerSlam, as of now. He was rumored to be defending his WWE Universal Championship against Roman Reigns and reportedly dropping it to him, but that's reportedly not a done deal yet. (Source: WON)
We say: Well, that's why we always ask you to take these reports with a grain of salt. Although we feel like this is just a cover-up to swerve the possibility of this happening at SummerSlam. Be wary, as we've been fooled before.
It looks like James Ellsworth will be returning to the WWE at Money in the Bank this weekend. Ellsworth pulled out of an upcoming appearance on Chinese promotion Middle Kingdom Wrestling's June 17th show Eyes on the Prize, which is the same day as the PPV. He's been booked to defend his Intergender Championship on this show since February. Rumor has it that WWE had been working on plans to bring him back. (Source: PWInsider, Wrestling Inc)
We say: We guess it would make sense for him to come back on the PPV he'd become infamous for. Let's just hope it's just a callback to him taking the briefcase, or Asuka kicking his head in.
The Authors of Pain had appeared sporadically on RAW since getting drafted because one of them had a visa issue. The issue has since been resolved, but the team is reportedly being kept back as plans are to push the B Team and Ziggler and McIntyre at the moment. The plan is for the Authors of Pain to make an impact again when the time is right, as officials feel they're not just any other tag team on RAW. Meanwhile, Triple H was not part of the decision to split the team from their manager Paul Ellering; he says that he's looking for something for Ellering to do that isn't just another managerial role. (Source: WON)
We say: That's a shame, but we're glad to hear that they're not going to be thrown back into the mix just like that. We hope they find something for the Authors soon, because they really are pretty special.
Let us know what you think of today's news in the comments!
Photo from WWE