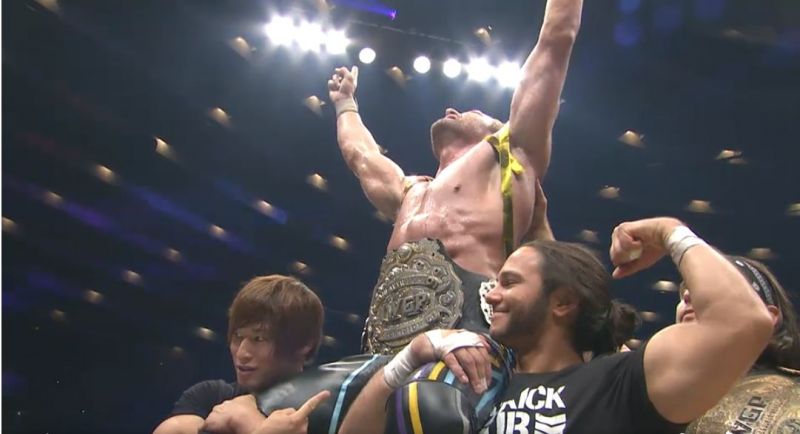 If you didn't catch last week's #MustWatchMonday on last year's Dominion match between Kenny Omega and Kazuchika Okada, then you're shit outta luck. NJPW's already pulled the free match from their YouTube account.
The good news, however, is we've already got last Saturday's bombastic main event online. Here you go. Thank the hardworking people at La mejor lucha en el mundo for the hookup.
If you thought that the previous title matches between Okada and Omega were already insane for going an hour, you haven't seen anything yet. With absolutely no time limits (and a million jokes about how we'd still be here, watching this match well into the morning) there was no way this wouldn't top the 60-minute draw.
If you're short on time, you might as well skip the first fall. Spoiler: Okada takes it, so that Kenny's chances are put in jeopardy. What better drama than a come-from-behind win, right? Even more so when the champion's got a rep of being ridiculously impossible to beat? What follows after Okada's 1-0 lead is a flurry of V-Triggers, dropkicks, and Rainmaker attempts.
The story is that the two out of three falls match with no time limits plays well into Kenny's cred as a ridiculously-conditioned athlete. Okada somehow can't close the deal; he could barely hit the Rainmaker from all the times Omega dodges it, and when he does, he's too exhausted to capitalize. He scored the first fall with a lucky pin reversal that Kenny couldn't kick out of, and after that he could hardly make it rain.
Meanwhile, the fighting spirit in Kenny is strong. He knows that he's had a year's worth of heartbreak chasing the IWGP Heavyweight Championship. He asked for this match, and he knew he had to bring out his own Stamina Monster (word to Akira Tozawa) to win. Kenny battered Okada down with as many knees to the head as possible, and some of them looked like he was using lethal force. Despite being an extraordinarily-conditioned athlete himself, as well as getting out of the One-Winged Angel whenever he could, Okada just couldn't recover in the long run.
This win's been a long time coming. NJPW storytelling is on a different level and timetable than anything else in modern pro wrestling—we believed Kenny was deserving of the title last year because we're so used to the WWE's fast-moving content machine. If NJPW is slow, it's only because they wanted to absolutely show, not tell, that Kenny Omega was going to be an important pillar of their company. Without a single doubt.
Sure, you could say that if they're catering to a western audience even more (only two titles are held by Japanese wrestlers after Dominion) they should start telling stories on a western scale—that is, a little faster. But if you want a real alternative to WWE, you better be ready to buy into their way.
In the meantime, we've got a changing of the guard to celebrate.

Photo from Sportskeeda
Romeo Moran (@roiswar) is the Editor in Chief of Smark Henry, one of the three hosts of the Smark Gilas-Pilipinas Podcast, and is associated with Philippine Wrestling Revolution. He gets by in this hard knock life through working in publishing. Smark Henry was his and Stan Sy's original vision of a watering hole for local wrestling fans. He roots for the undersized guys who hit hard, but really hates Davey Richards with his entire soul. He likes taking your wrestling questions over on his Curiouscat account.