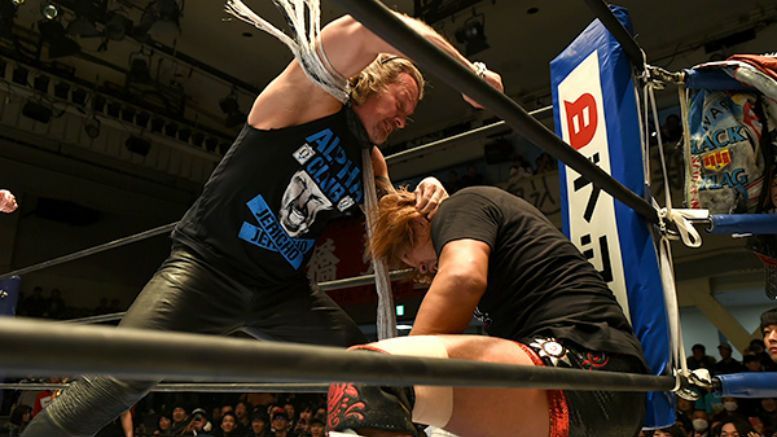 Good morning, and this is the Grapevine! This section of
Smark Henry
is where we round up all the founded and unfounded rumors abound the pro wrestling scene that you may have missed over the evening.
Is Chris Jericho headed back to NJPW tonight?
Chris Jericho is expected to return to NJPW this week at Wrestling Dontaku 2018. This is despite his own comments stating that he won't be working for the company again. He'll show up to build toward a match on Dominion on June 9, presumably with IWGP Intercontinental Champion Tetsuya Naito, whom he attacked earlier this year at New Year Dash, but those plans can still change. Jericho has been appearing for WWE on and off since. (Source: PWInsider)
We say: Good call for Jericho to downplay his future involvement with NJPW, if only to keep the surprise factor for his returns high. After a blockbuster match with Kenny Omega at Wrestle Kingdom 12, we're really looking forward to his match with Naito.
Sami Zayn was pulled from Greatest Royal Rumble apparently due to his Syrian ethnicity. Syria and Saudi Arabia cut ties back in 2012, and his appearance might cause even more controversy. This is the reason for the injury angle on the April 23rd RAW, in which Sami tells Kevin Owens he doesn't feel well enough to compete in the Rumble match. It seems that he knew he was being pulled from the show despite being advertised a week before, but not why. It's being reported that he still doesn't know why. There was apparently an instruction to not mention Sami's involvement at all until after the show was done, in order to avoid racial issues. (Source: WON)
We say: What a huge can of worms. It seems like they should've just avoided the show altogether, but Vince McMahon wouldn't say no to free money. Feels like a huge nightmare for the company's PR department.
Speaking of Greatest Royal Rumble, Corey Graves has some heat over comments he made during and after the show. Graves made some cryptic on-air comments expressing his reservations about WWE running a show in a place that forbids women's wrestling, as well as an Instagram post referencing the circumstances. While people agree with his comments, they reportedly feel that he should've just kept them to himself, as he is apparently not as irreplaceable as he thinks. (Source: WON)
We say: No, let him make his comments and stand up for what he believes is right. If he gets fired over them, he'll become a martyr, which they won't want. You do you, Graves.
Let us know what you think of today's news in the comments!
Photo from NJPW