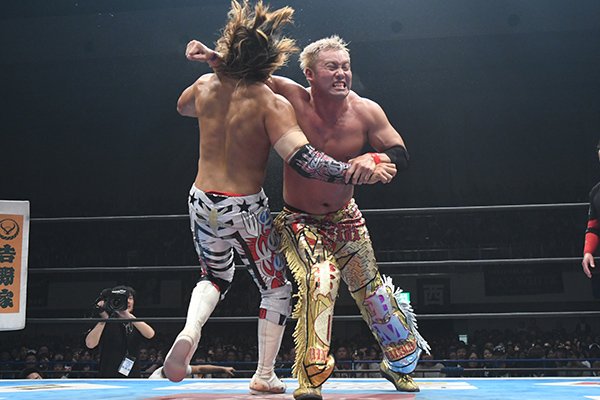 The eventful second night of NJPW's
Wrestling Dontaku
this year capped with a bit of an anticlimax: an IWGP Heavyweight Championship match between Hiroshi Tanahashi and champion Kazuchika Okada.
If you've been watching NJPW for quite a while, chances are you're already pretty sick of a Kazuchika Okada vs. Hiroshi Tanahashi championship matchup. Even though we haven't seen Tanahashi challenge for the title in over two years (yes, since
Wrestle Kingdom 10
back in 2016), it's not a fresh matchup at all—Okada's made his bones facing Tanahashi over and over.
For all intents and purposes, this matchup is NJPW's Cena/Orton, for lack of a better way to put it. It's the match they put on when they've got nothing much left in the imagination, or when they're saving bigger bouts for bigger shows. (The official match count between these two is now 11.) What makes the washed-up Okada/Tanahashi matchup important is what differentiates it from Cena/Orton, though: these two have incredible chemistry. Even if the conclusion is foregone, you know it's going to burn the barn down.
You, loyal NJPW fan, may be tired of this song and dance—moreso because you know the result like the back of your hand, Okada's not losing to Tanahashi now—but for the unseasoned viewer, it's a great entry point to what the company and their top champ is like. Hell, it's their two aces.
That, and it's much more nuanced: Okada needed this one more title defense to break the current record of 11 straight IWGP Heavyweight Championship retentions. The holder of said record? None other than Hiroshi Tanahashi.
Clocking in at around 30 minutes, it's a relatively shortened version of what a hardcore fan would expect from Okada and Tanahashi. You've got your slow, methodical start with some good old-fashioned technical wrestling, right before the champ takes over the older and more worn-down challenger. Just great wrestlers doing some great wrestling. He beats Tanahashi inside and outside the ring, even almost winning by a close countout.
Tanahashi fires up, comes back with his signature offense (that's sling blades and High Fly Flows for everyone) and the two of them trade their big moves. Tanahashi hits a tombstone piledriver, one of Okada's signature moves, on the outside, but it isn't enough. Eventually, he falls to the patented Rainmaker, but not before getting in Okada's face as he does the classic pose. It's not as crazy as a Wrestle Kingdom main event, but it's got the right amount of it.
The title match served its purpose. Okada gets to be the record-holder, and if there's anyone who doesn't believe that he's the current ace, there should be no more doubters now. Everyone gets a good match, as expected from NJPW. We get to move on now to the things that really matter—Kenny Omega finally winning the title. Well, hopefully.
Photo from NJPW
Romeo Moran (@roiswar) is the Editor in Chief of Smark Henry, one of the three hosts of the Smark Gilas-Pilipinas Podcast, and is associated with Philippine Wrestling Revolution. He gets by in this hard knock life through working in publishing. Smark Henry was his and Stan Sy's original vision of a watering hole for local wrestling fans. He roots for the undersized guys who hit hard, but really hates Davey Richards with his entire soul. He likes taking your wrestling questions over on his Curiouscat account.