Hello, and this is the penultimate
MMC With Smark Henry
column. I apologize that it's going up this late on Sunday night, but it's Holy Week, and we have some real lives outside of the keyboards we're banging on.
Pretty sure I've mentioned this last week, but you know how I've always complained about the
Mixed Match Challenge
being restrictive in their intergender action? Well, this week's episode, the tournament match between the Boss Club and Bobby Roode and Becky Lynch (subbing for an injured Charlotte Flair) is the best one yet—simply because Sasha takes it hard to Bobby Roode.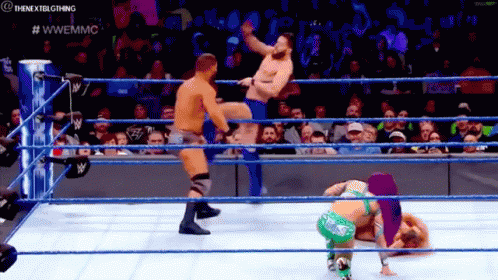 In the closing minutes of the match, Sasha dropkicks Roode out of the ring to set him up for a suicide dive, pretty much the only real wrestling offense between a man and a woman we've seen in this whole thing. It's like softcore porn; you pop (heh) when you finally get the nipples. It's what we came for, after all. But all of that kind of overshadows just how good this match is because all four wrestlers went all out. Becky Lynch is a good replacement; you guys did good, WWE Universe.
I'm just really surprised, however, that the Boss Club lost after Becky stole a pin. Even though it's clear that they wanted to set up a SmackDown vs. RAW matchup for the finals, at some point you have to figure that you need to set up a riveting final match for what's largely been a lackluster tournament. Becky gave Roode a much-needed spark he's been missing teaming with Charlotte this whole time, and I don't have high hopes in the original pairing anymore. With the way this match and their previous match turned out, don't tell me you wouldn't want to see Awesuka vs. Boss Club II.
That said, given what Roode was willing to take, maybe we'll see Asuka take it to him, and Charlotte take it to Miz. There's still some hope yet.
Mixes and Matches
Real nice touch with Becky roasting Sasha over what Bayley did to her on this week's RAW. Since all three women will be in the WrestleMania Women's Battle Royal, it's an added wrinkle they can play on in that match.
Two hot tags? Hot dog!
Beth finally makes a comment worthy of a color commentator, pointing out that Finn and Becky has history as the former trained the latter back in Ireland. That's the kind of relevant trivia that makes this match a little more must-see.
Michael Cole calls a Meteora a Meteora and Graves roasts him for it. The MMC is arguably the most fun these two are every week.
Also a great wrinkle to have Sasha's hubris cost Boss Club the win, right after Finn almost had it in the bag with a Coup de Grace.
I was so disappointed when Kurt Angle came out to reiterate the exact same thing the commentators keep hammering on in every broadcast just for the hometown pop. I thought there was some Dusty finish shit going on that I missed and that the match would be restarted, since I was pulling for the Boss Club to win. THAT WAS IT. THAT WAS IT.
Photo from WWE
Romeo Moran (@roiswar) is the Editor in Chief of Smark Henry, one of the three hosts of the Smark Gilas-Pilipinas Podcast, and is associated with Philippine Wrestling Revolution. He gets by in this hard knock life through working in publishing. Smark Henry was his and Stan Sy's original vision of a watering hole for local wrestling fans. He roots for the undersized guys who hit hard, but really hates Davey Richards with his entire soul. He likes taking your wrestling questions over on his Curiouscat account.