This past month,
Monday Night RAW
has been on fire and gave us great episode after great episode. You'd expect nothing less on the road to
WrestleMania
, after all. Unfortunately, it gave me high expectations for the last two episodes before the big day—which was silly of me because this week's episode surely disappointed me.
My favorite storyline is seeing John Cena bully a crippled old man into a fistfight. (That was a joke. Please laugh.) It pains me a little to say that it was actually the best part of the episode, and that's only because the rest of the show was
that
boring. It was Cena vs. Kane—who interrupted the former last week in defense of his brother, The Undertaker—in a No Disqualification match. Now, don't get me wrong, I truly
do
like this storyline, it was just the match that bothered me—it was obvious that a clearly-aged Kane had put on a lot of weight and was moving much slower than usual, which made the match feel a bit sluggish in general.
However, even though the match wasn't anything extraordinary, there's still some thrill there as we remain on the lookout for The Undertaker, who could appear at any moment. It's weird to me, though, how Cena didn't play detective in this and just abuse Kane to tell him about his brother's whereabouts, instead of, you know, talking to air. But hey, this whole thing with Kane is merely just filler, and their main hook to get people to tune in to
this match at
WrestleMania
is 'Taker not appearing.
I think if 'Taker had appeared already and did his usual schtick, we all would've found it so repetitive and we would've pushed for his retirement all the more.
An even edgier Cena kept mocking The Undertaker and kept using his moves during the match, and I honestly didn't know whether to be impressed or to laugh my ass off.
The second best thing about this episode was backstage segment between Bayley and Sasha Banks. The dude in the jacket and the glasses on the GIF below was Bayley, and I was that other dude screaming across the frame.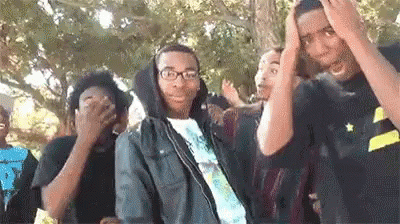 To see these girls try to kill each other backstage with a nice brawl was the most satisfying thing to watch, ever. I think it's safe to say that the friendship is finally over. However, I'm beyond pissed that these two have to face other girls in the Women's Battle Royal instead of settling it in a singles match—so now the rest can forget about having any type of memorable WrestleMania moment because all eyes and all focus will be on Sasha and Bayley.
Video packages have been released of Triple H and Stephanie McMahon training, and it's so ridiculous and ironic that it's actually pretty great. You see Stephanie trying to be all tough with her lil' personal trainer, while everybody knows Ronda Rousey can pretty much kill her with her bare hands—it's like a self-parody of sorts and it's why they make such cool heels. They embody the authority figures all too well: they were being absolutely cocky and delusional in their videos, blinded by their own power. It screamed over-confidence, which is a true trait of leaders.
Meanwhile, Ronda Rousey was in the ring with Absolution. It was completely filler, but gosh, Paige is seriously one of the best performers in that locker room and Rousey can't hold a candle to her in this industry. The MMA fighter-turned-WWE Superstar proved that all the more when she gave Mandy Rose a, once again, weird suplex that just looked awkward and slightly dangerous. Is Ronda
really
ready for this? Will she ever be cut out for this?
And last but not the least, we witnessed another savage beatdown from Brock Lesnar. What bothered me most about this segment was how they announced that Roman Reigns' suspension has been lifted, but
wasn't
going to be on the show. Uhh... wasn't the whole "not showing up to work" thing Reigns' problem with Lesnar in the first place? It would've been so hypocritical of Reigns not to show up to work. But lo and behold, he was there, and he came out of the crowd for some reason. Hello? Your suspension has been lifted—you can now go backstage like everybody else. Man. The little things, really.
The audience was still confused on who to cheer for and it's not a good look on Reigns right now. But I still believe the WWE did the right move in giving Lesnar the point this week, as opposed to giving it to Reigns which would've made a predictable retaliation segment. After all, people complain when Reigns looks too strong. They have to do their absolute best to make Reigns look super
kawawa
for his comeback to mean so much more and to give people so much more feels.
Well... Like I said, this episode of
RAW
was pretty underwhelming. I guess it's understandable, seeing as though they've already been doing a lot these past couple of weeks to all the storylines. I think it's safe to say that we've reached the point where there's not much else they can do, and that they're pretty much all set for
WrestleMania
. Now, we just have the go-home show left to really hype us up. I give this episode a
D
.
Quick Hitters:
You know that RAW wasn't going to be as eventful when the Cruiserweights came out to kill more time. (I'm sorry.) Although, I have to say, the match was ridiculously short, which made it look like even more of a filler.
Mickie James vs. Nia Jax was the most predictable booking ever, but, I mean, I guess it was still necessary. It was so logical that it almost felt like filler because there was nothing surprising about it.
Please fire whoever did Ronda Rousey's make up. She looked like she had pink eye.
Aaaaand the Oscar goes to... The Miz and the Miztourage for almost giving people a heart attack by teasing their breakup with such amazing acting. 10/10. *Wipes tears*
Photos by WWE