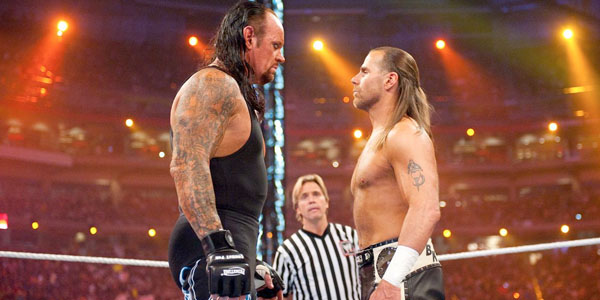 Good morning, and this is your daily Grapevine! This section of Smark Henry is where we round up all the founded and unfounded rumors abound the pro wrestling scene that you may have missed over the weekend.
Happy new year, and we're happy to bring back the Grapevine after taking December off for 31 Days of Wrestling!
Undertaker and Shawn Michaels's upcoming appearance at RAW at New Orleans next week is to promote possible Royal Rumble appearances by both men. Undertaker is rumored to be joining in the actual Royal Rumble match later this month, while HBK is due for an appearance since the PPV is in his hometown of San Antonio. The Taker appearance in the Rumble match is not yet confirmed, but it may be a way to set up whatever match he'll be having at WrestleMania 33. (Source: F4WOnline)
We say: Notwithstanding the fact that Undertaker claimed that SmackDown was his house (and this probably means that he transcends brands), him joining the Rumble match is very interesting, considering his physical status. We're curious, but more of in a morbid way, to see what he'll do.
John Yurnet, the jobber who got injured in his 205 Live debut, apparently went into the match hurt. Yurnet, who previously appeared in NXT as the Super Saiyan wrestler, started a GoFundMe to help with his medical expenses and it was heavily implied that his injury was mostly because of the 205 Live match against Mustafa Ali after blowing out his knee. It turns out that he had injured his knee weeks before, and wrestled indie events with a knee brace. Wrestling on 205 Live means he kept information of his injury from WWE. (Source: WrestlingInc)
We say: It's a typical old-school move to just suck it up for the opportunity (and the payday), and it's probably a good idea that Yurnet didn't ask the WWE for money. He wasn't signed anyway, and him going into the match hurt and not telling the company clears the company of any liability they might have for the injury.
Let us know what you think of today's news in the comments!
Photo from WWE