Welcome to the 31 Days of Wrestling, ladies and gentlemen. It's that time of year again when we take a look back at the past 11 months of pro wrestling (and as much as possible, the last month as well) and cherry-pick one match a day for each day of December from a list of bouts that defined the year in our beloved sport. Most matches will be good, while some may not be; what matters is that they helped build the perception and reputation of the kind of wrestling this calendar year produced for us.
Today, we look at a Match of the Year candidate—and the breakout party between two of the hottest stars on the Japan wrestling scene today.
Whether you are or have yet to become a follower of New Japan Pro Wrestling, it should definitely be a given to be hyped for the annual G1 Climax. A points-based round robin format spread over four weeks, the wrestling tournament is known for high-profile matches, and being the home for some of the best wrestling matches you will ever see in your lifetime, all for the prize of a contract for an IWGP Heavyweight Championship match at Wrestle Kingdom at the Tokyo Dome.
And this year wa
s not any different, as it featured a high stakes match up
between the new forebearers of the
New Japan
scene, all for a chance to be in the tourney finals. On one end, the villainous Kenny Omega, who has emerged this 2016 as the
gaijin
to watch out for, has breathed life back to the Bullet Club, and is looking to spread their reign of terror, this time on top of the pyramid. To serve as his foil, we were given Tetsuya Naito, a perennial upper midcarder who was given a makeover from heroic face to a now-dastardly, cunning heel, leading his own faction of Los Ingobernables De Japon, who seem to be taking the reins of being the hottest stable in Japan right now.
Interestingly, their eventual final Block B match would provide extra drama, as Omega was trailing Naito by a point, which meant Naito didn't even have to win to advance to the finals. He could simply take it to the match limit, and should the match have been declared a draw, Naito would still advance—which meant Omega needed the victory.
On paper, this match already was hype-worthy. And given the "loser goes home" storyline to provide the foundation for the matchup, to deliver a decent performance would already be sufficient enough as the icing on top of the cake. But as with the case with every G1 Climax match and the magic between both competitors, what we got was a Grade A battle of the year between both of the biggest heels in Japan today.
It was a high-intensity, greatly-paced, well-told story of a match that gave us moments of classic heel-versus-heel antics, great in-ring psychology of momentum swings, and amazing physical feats through big moves and i
ncredulous counters. W
ho could ever forget the springboard dive of Omega to Naito on the outside?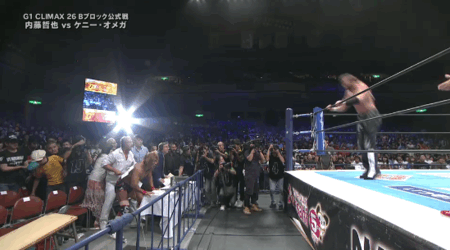 This match proved that despite the departure of the long-time mainstays of the NJPW, there was a crop of wrestlers—led by Kenny Omega and Tetsuya Naito—who were just chomping at the bit to showcase their in-ring mastery, great character work, and skill sets that they can use to both highlight themselves or further the match quality to which was given the rare five stars by Dave Meltzer.
A clear must-watch match for 2016.
Relive the highlights right here, folks.
Kenny Omega vs. Tetsuya Naito G1 Climax 26 Day...
by allbotcheverything

*****
31 Days of Wrestling is Smark Henry's way of celebrating the matches that helped define wrestling in 2016.
Read our previous entries: