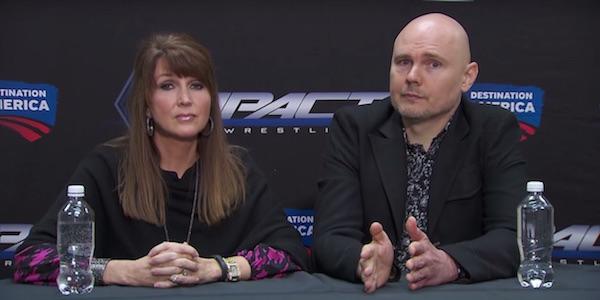 Good morning, and this is your daily Grapevine! This section of Smark Henry is where we round up all the founded and unfounded rumors abound the pro wrestling scene that you may have missed over the weekend.
A new rumor surfaces on the long-alleged TNA sale:
According to a story the New York Post ran about Billy Corgan and his plans to buy TNA, WWE and ROH have made bids for the company. Although Corgan is clearly the frontrunner to buy the company, the newspaper reports that both North American companies have tried to buy the ailing TNA. Billy didn't reveal how much he was going to buy the promotion for, but New York Post gave a really rough estimate of $40 million, which Dave Meltzer immediately shot down and suggested around $4 million instead. (Source: New York Post)
We say: Yeah, even with all the ex-WWE stars and the Hardys, even with all the hype Matt Hardy has managed to generate for the dying brand, nobody is going to pony up $40 million for TNA. It's good to see that it's getting a second chance at life, though, and hopefully that means a renaissance for the far #2 in America.
Dash Wilder seems to be suffering a leg injury. The NXT Tag Team Champion came out in a crutch during yesterday's NXT live event in Minnesota and did not wrestle. (Source: WrestlingInc)
We say: It doesn't seem bad if there's only one crutch and they haven't been stripped of the titles yet, but we hope for his speedy recovery. The Revival is still the best tag team down there and one of the best teams in the company, and this would be a shame.
Former NXT superstar Bull Dempsey has recently debuted for Ring of Honor. The man now known as Bull James debuted at an ROH live event in New York, in a battle royal for a shot at Adam Cole's ROH Championship. (Source: WrestlingInc)
We say: Bull Dempsey and ROH seem like the weirdest pairing ever, but hey, if Mike Bennett and Moose made it work, who's to say that Bull won't? Interested to see where this one goes.
Let us know what you think of today's news in the comments!
Photo from TNA