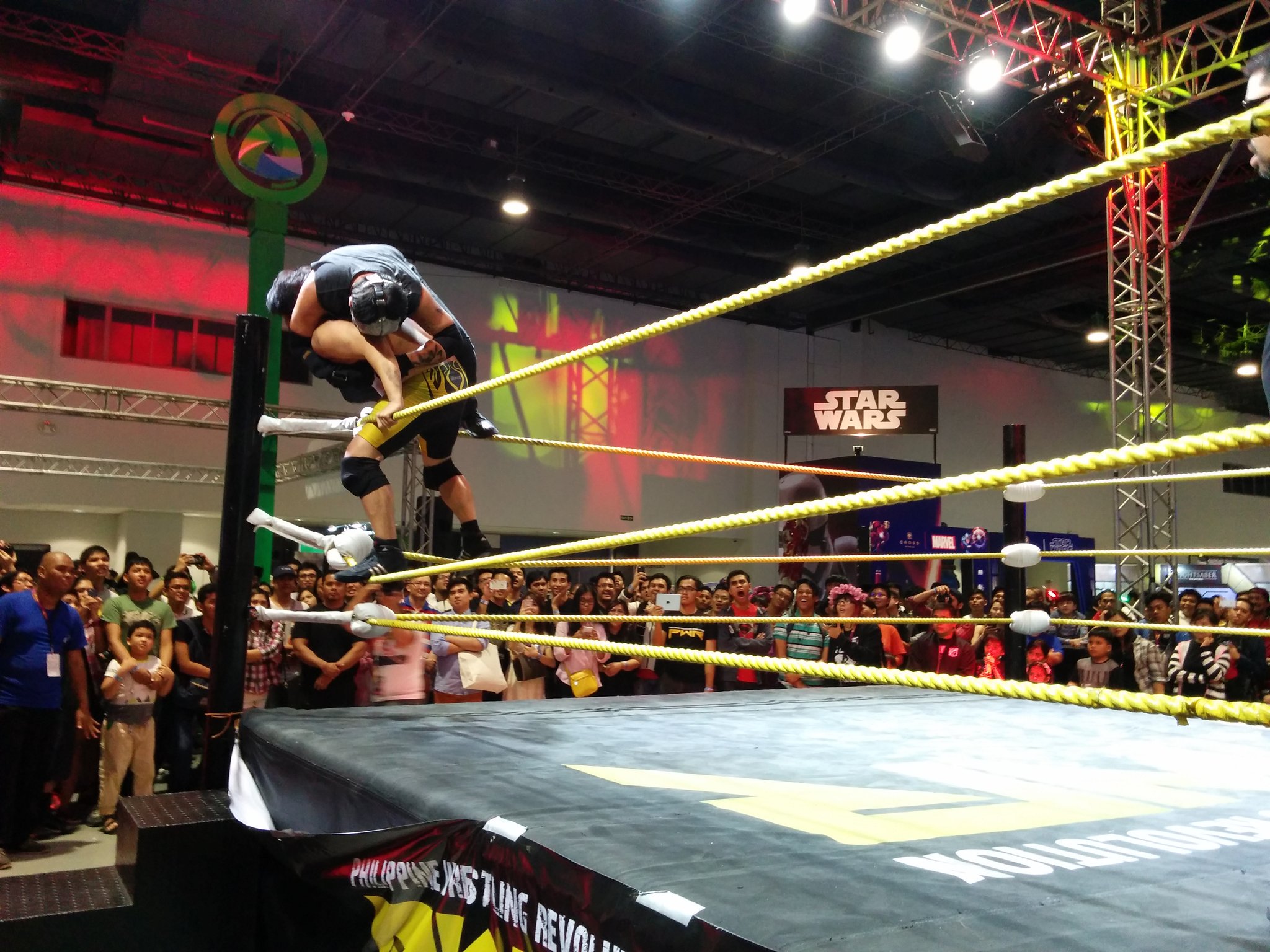 Too much wrestling for one weekend? No such thing! The Philippine Wrestling Revolution just completed its third and final day of all-out warfare at the massively-popular AsiaPOP Comicon yesterday, August 28, at the gleaming SMX Convention Center in Pasay City, and what a card it was. New debuts, championship matches galore, and tons of crowd-pleasing moments marked this as one of the most momentous points in PWR's young history.
Couldn't catch the action live? We've got full results for you right here, Revo-Nation. Let's get to it!
Match 1: Ken Warren vs. Trabajador Maximo
Former PHX Champion Ken Warren was in a foul mood after coming up just short in his quest to become PWR Champion against Jake De Leon the night before. Unfortunately for him, he had the physically-imposing Trabajador Maximo to contend with after his Day 2 heartbreak.
The young rookie put up some decent resistance, but was no match for the veteran savvy of the self-proclaimed Human Trending Topic. Warren picked up the win with a devastating Wi-Fi superkick to the back of his masked foe's head.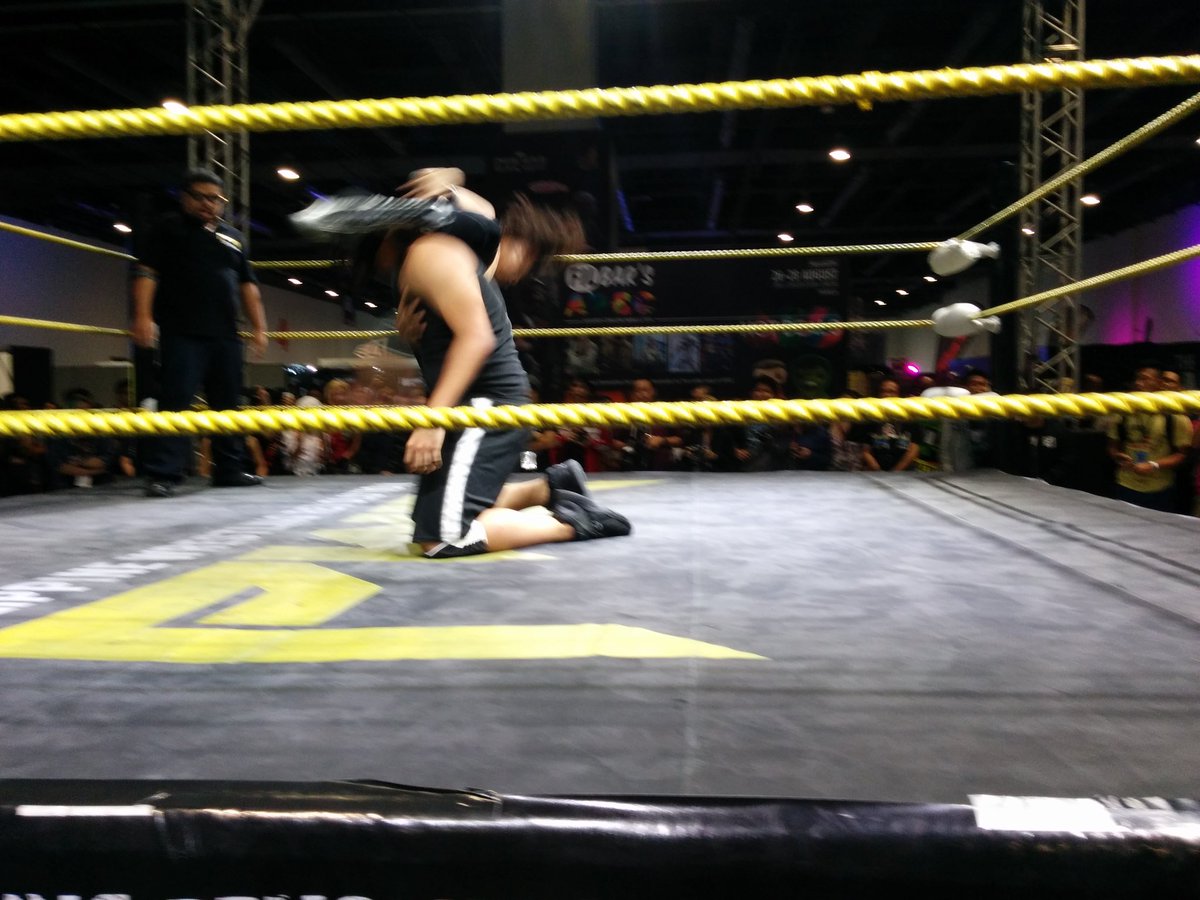 Winner: Ken Warren via pinfall
Match 2: "The Walking Death" Mike Madrigal vs. Vintendo
The "Fighting Gamer" Vintendo may be winless in PWR as a singles competitor, but if there was any place perfect for him to break through, it was at AsiaPOP, surrounded by his fellow pop culture fanboys. Garbed in Megaman-inspired gear, Vintendo was a huge hit with the audience in attendance, and seemed poised for a stunning win against the talented but untested Madrigal.
Video game theatrics aside, it was Madrigal's night to shine. One crisp Go To Sleep was enough to knock the Fighting Gamer out for the count.
Winner: Mike Madrigal via pinfall
Match 3: Vlad Sinnsyk vs. Robynn
The parade of PWR rookies continued, with the unstable Vlad Sinnsyk—the man who got tongues wagging with his debut upset win against former PWR Champion Ralph Imabayashi last month—facing down with the colorful Robynn.
— PWR (@pwrofficial) August 28, 2016
Robynn showed some fast-growing confidence after her third match in as many days, but was no match for the unsettling Sinnsyk. One pounding Muscle Buster was enough to put the rainbow-haired warrior down for the bearded madman.
Winner: Vlad Sinnsyk via pinfall
Match 4: Delirium (Dan & Dax) vs. Ralph Imabayashi & Rederick Mahaba
Delirium may be two of the best physical specimens in PWR today, but would they have the skills to go toe-to-toe with two of the most popular stars in PWR today, Ralph Imabayashi and Rederick Mahaba?
The young guns were out for blood, but were simply outclassed. Mahaba blew the roof off of SMX with a top-rope plancha to the upstart tag team, and after an assisted Sonic Crusher by Imabayashi and a face-melting Jaccolade by Mahaba, Delirium fell once more in defeat.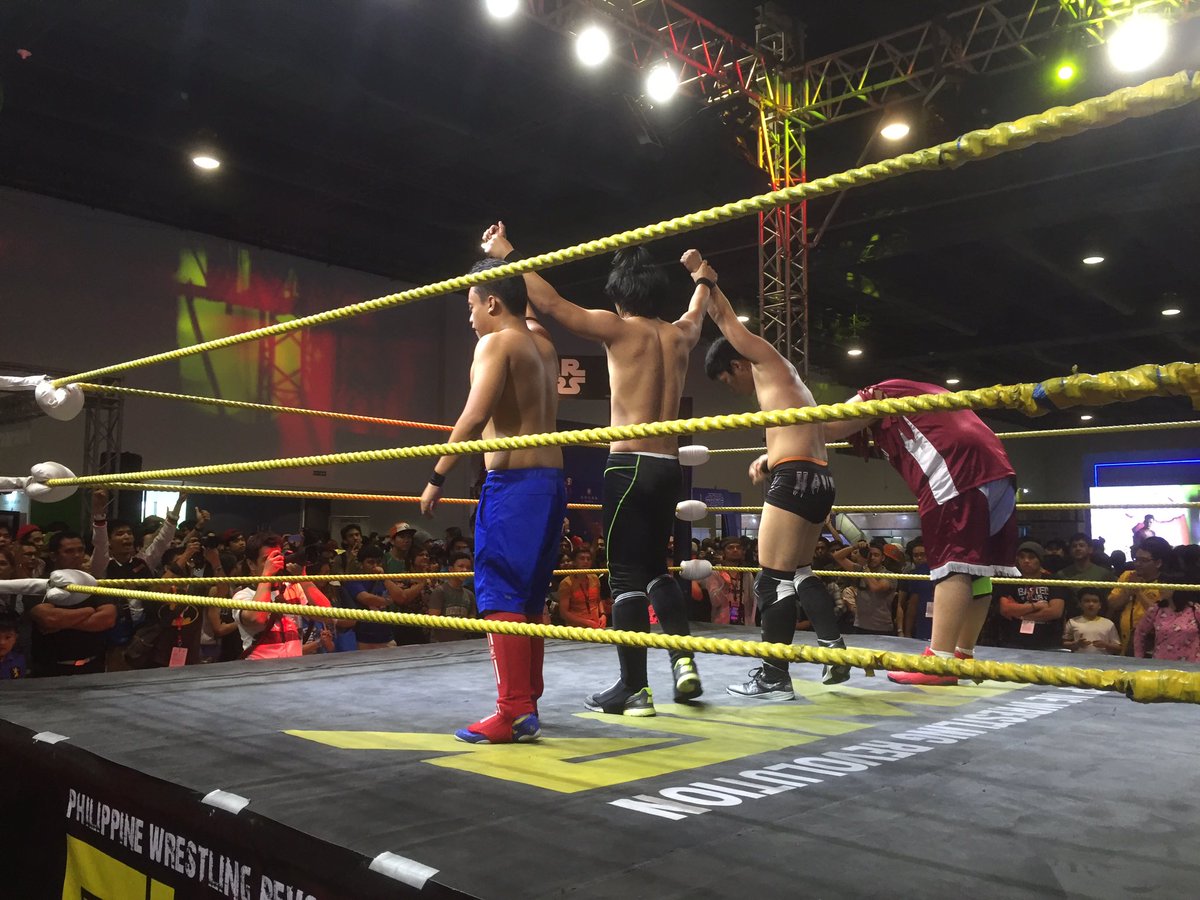 Winners: Imabayashi and Mahaba
Match 5: Martivo vs. Main Maxx (c), PHX Championship Open Challenge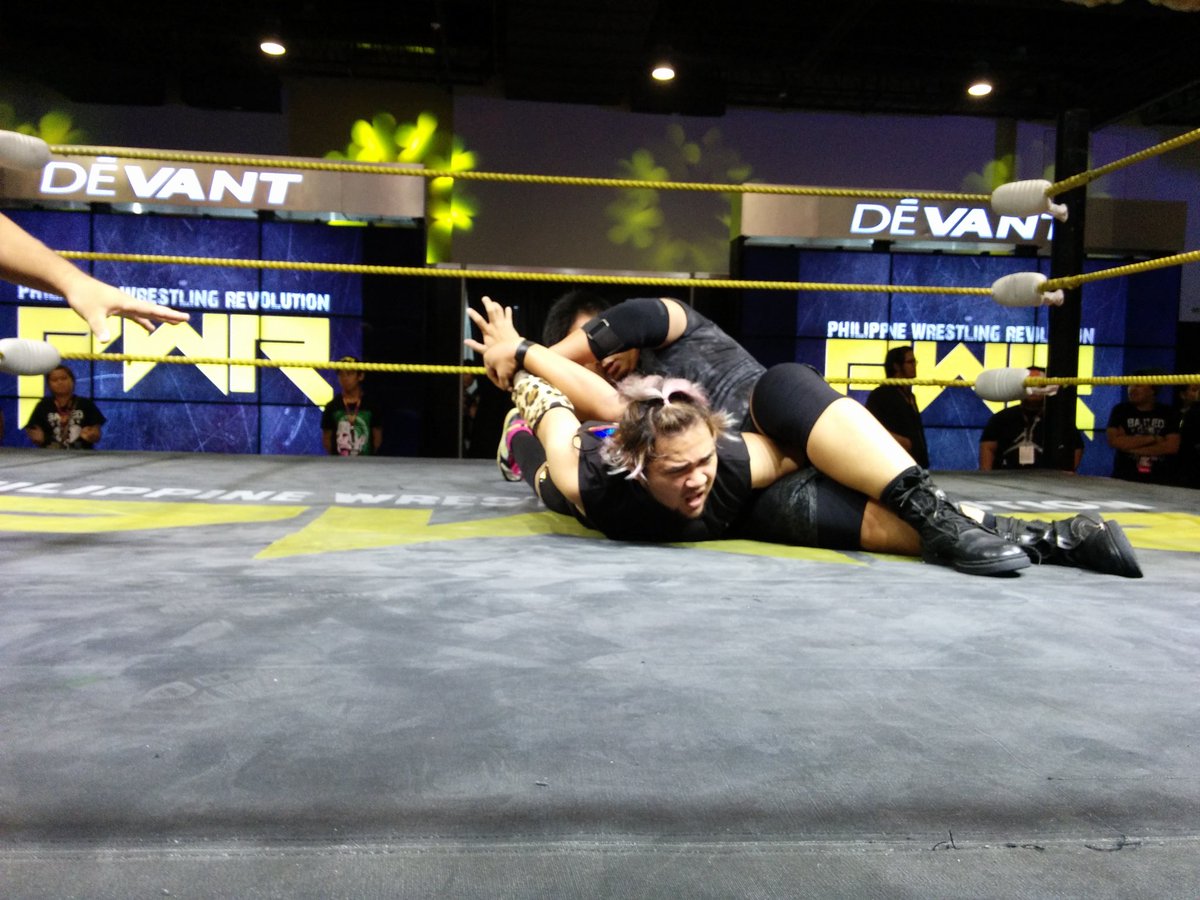 Martivo was feeling frisky one night after emerging victorious in six-man tag action, and answered the gargantuan PHX Champion's open challenge for the night's semi-main event.
The leader of the Rainbow Squad looked like he'd be taking the back door to gold after an initial flurry of offense that left his 280-pound foe reeling. Maxx came back with his trademark juggernaut offense, and made the Man-Doll tap out to the Maxximum Mutilation.
Winner: Main Maxx via submission
Match 6: Chris Panzer & Crystal vs. The Royal Flush (John Sebastian & Peter Versoza)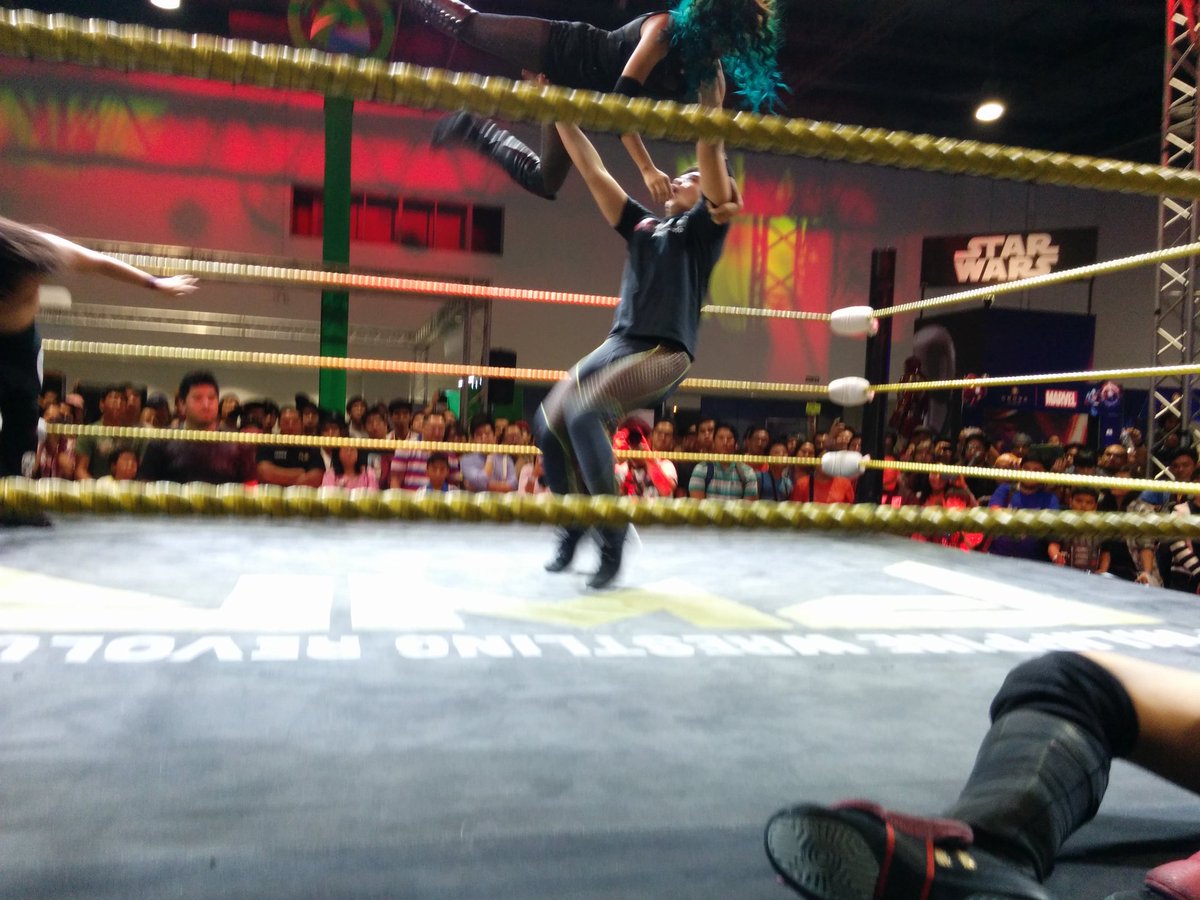 John Sebastian was still hobbled by the ankle injury he suffered against SANDATA the day before, leaving his team potentially ripe for a shock defeat against his nemesis Chris Panzer and the never-say-die Crystal.
Both teams put on a highly-entertaining match, with the Flush dominating Crystal early on. Chris Panzer tried to make a fight out of it, but couldn't stop Crystal from falling to Peter Versoza's Karne Norte gutbuster for the pinfall.
Winners: John Sebastian & Peter Versoza via pinfall
Match 7: The Apocalypse vs. Jake De Leon (c) for the PWR Championship
If there was one night that "The Senyorito" Jake De Leon would be ripe for the picking, this was it. The popular PWR Champion was weary after seeing tough action against both Ken Warren and Ralph Imabayashi over the past two days, while The Apocalypse was red-hot after securing a rarely-seen knockout win against Imabayashi the night before. Could the masked horror finally claim the PWR Championship?
Fireworks were flying from the opening bell, with the husky PWR Champion showing off the all-around skills that made him a two-time kingpin, while the Apocalypse was a force of nature seemingly impervious to pain.
In the end, it took a ring-shaking Super Alipin Drop from De Leon to leave his foe immobilized for a crowd-popping three-count.
Winner: Jake De Leon via pinfall
*****
What was your favorite match from the three-day wrestling extravaganza, Revo-Nation? And which rookie excited you the most? Let us know in the comments section below, and we'll see you all at PWR's second anniversary show,
Renaissance 2016
, next month.