Welcome to another edition of #FinisherFriday! This is Wreddit_Regal bringing you a short analysis of the X Division Champion's weapon of choice.
Despite its whoopsies and setbacks in the past, Impact Wrestling has brought gifts that made its mark on the professional wrestling landscape. One of its greatest contributions was, in fact, the reverse battle royal X Division: a unique classification that held the motto "It is not about weight limits, it is about no limits." True enough, since its inception in 2002, we have seen nothing short of innovation, skill, and tenacity in all of the division's matches. The modern-day era iteration is still brimming with talent, with a purple-haired wrestler named Ace Austin sitting at the top.
A veteran of multiple indy federations including CZW, MLW, AAA, WXW, and House of Hardcore, the self-proclaimed "One True Ace" found himself stepping in Impact territory in early 2019. From there, he started to steamroll through the entire X Division in just a couple of months, and become a three-time X Division Champion.
With his offense consisting of creative ways to deal damage to an opponent, one can easily infer that Ace was made for the X-Division—or that the X-Division was made to be his natural habitat.
His finisher is one that easily baffles our minds no matter how many times we watch it: a whatchamacallit-move called The Fold:
Some wikis classify his move as a corkscrew neckbreaker, which might be the case at first glance:
But when you put them side-by-side, you start to immediately notice a big difference: with a corkscrew neckbreaker, the opponent's body spins laterally (think of a barrel roll), while with Ace's variation, the opponent basically performs a back bump. A more accurate description of the move's initial motion would be the standard running flipping neckbreaker, commonly known as the Blockbuster :
It becomes more evident when we analyze the move being done at a slower pace, the GIF below showing Ace's body in a more vertical position.
Just before they both fall down, Ace releases his left arm's hold on the opponent's neck and focuses on the final maneuver: he places his right arm under the opponent's left arm and does a corkscrew. This results in him landing on his belly or side, and the opponent landing on their head/neck/back. In essence, it starts as a Blockbuster and ends like a standing release Shiranui:
Using my Regal Rating, I would give this finisher a:
9/10 for aesthetics. Ace has managed to add some flair to an already explosive move, which makes the flippy shit connoisseur in me glad.
8/10 for damage. When you objectively think about it, a pull-down back bump isn't going to deal that much damage. However, there are those times when Ace overshoots his hold, resulting in the opponent landing gloriously on their head.
...which would then look like a front flip DDT.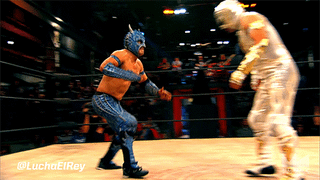 And there you have it chaps, my short review of Ace Austin's The Fold! With all of the participants of Slammiversary's Ultimate X unveiled, do you think our card boy will still retain his gold? Let us know in the comment section below!
Wreddit_Regal is the resident sports kinesiologist of Reddit's wrestling forum, r/squaredcircle. From the most basic of punches to the most intricate double-team maneuvers, he can explain them within the realm of human anatomy and physics, because when doing absolutely nothing wrestling-related, he also happens to work as an operating room nurse.