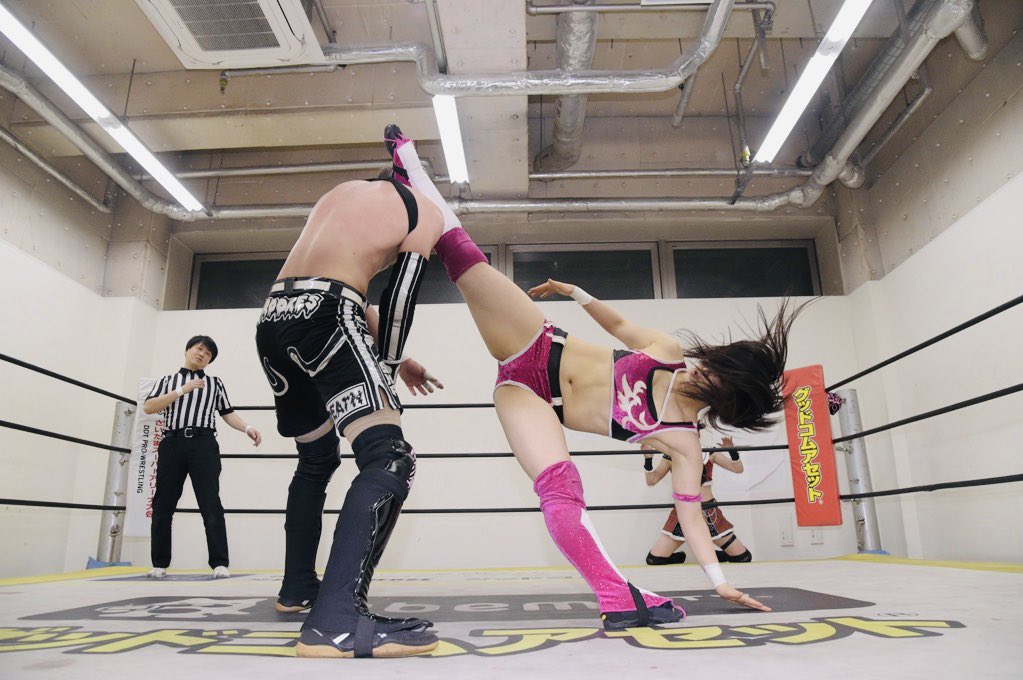 Welcome to another edition of #FinisherFriday! This is Wreddit_Regal bringing you a short feature about one of my favorite strikers in the world of joshi.
Everyone has their own pick for the best strikers in the joshi business, and their preferences are well-justified. From Takumi Iroha to Meiko Satomura (and all wrestlers in between), they bring their own flavor, intensity and form to a multitude of kicks that often brings people to conclude that "joshis are built different." But for this article, let me showcase to you my pick: the "Pink Striker" Miyu Yamashita.
A veteran of DDT and its sister company TJPW, Yamashita has been touted as the joshi promotion's ace. And it's for a good reason: she delivers only the best product in all of her matches, whether it be against new blood, legends, or the opposite sex. This work ethic has led her to hold the Tokyo Princess of Princess title for a combined total of 1,065 days over the course of three title reigns, both records in the promotion.
Her training in kyokushin and other martial arts disciplines has led her to build most of her moveset based on kicks. And bah gawd, how immaculate her work is when her kicks do the talking inside the ring:
A Brazilian kick that can rival Arisa Hoshiki's
Miyu Yamashita and Yukio Sakaguchi are probably two of my favorite wrestlers when it comes to thrust kicks
As if soccer kicks can't get any more painful
Remember that kick Anthony Pettis did to Ben Henderson in WEC? This is a better version of it
This is something Jack Evans or Kidd Bandit would have done
Imagine the sheer flexibility and hip power needed to reach an opponent's head situated from that height
Aside from one submission hold, Yamashita takes pride in two of her match-finishing kicks:
Crash Rabbit Heat
Skull Kick
Using my Regal Rating, I would give her whole kicking arsenal a:
10/10 for aesthetics. You can nitpick any of her kicks, and find out that it isn't your colloquial "slap to the thigh" in terms of execution; you can feel the intensity and spirit emanating from each strike she delivers to her unfortunate opponents, and I love it.
10/10 for damage. It's a no-brainer that a well-timed and powerful kick to one's head can render any person unconscious upon impact. Miyu Yamashita's Crash Rabbit Heat and Skull Kick delivers that and more to the competition.
To this day, whenever "head kick KO" is brought up in MMA circles, Edson Barbosa's work almost always is the first spot to mention
And that's it chaps, my short review of Miyu Yamashita's repertoire of kicks! With her appearance on Dark Elevation, how fast do you think the Pink Striker could blaze through the entire AEW women's division? Let us know in the comment section below!
Wreddit_Regal is the resident sports kinesiologist of Reddit's wrestling forum, r/squaredcircle. From the most basic of punches to the most intricate double-team maneuvers, he can explain them within the realm of human anatomy and physics, because when doing absolutely nothing wrestling-related, he also happens to work as an operating room nurse.