Welcome to another edition of #FinisherFriday! This is Wreddit_Regal bringing you another short review of a finisher only a machine could make devastating.
Lucha Underground, Impact Wrestling, All Elite Wrestling, the indies—it doesn't matter where you discovered Brian Cage, it's almost a guarantee that one match alone can make a fan out of you. The 17-year veteran has forcefully carved a path of destruction in every promotion he's stepped foot in, and stood at the top of piles of his unfortunate opponents' bodies.
As with Chris Dickinson, Cage lives as a walking wrestling cheat code. Watching his matches, you'd always think to yourself "Machines aren't supposed to move like that!" But with every match he fights in, he always finds a way to make us change our minds.
Aside from his Drill Claw, his other finisher that managed to catch my attention is this one: a Gory Special transitioned to a reverse STO named Weapon X:
As unique as the move may be, it has also been done by other wrestlers in the independent scene: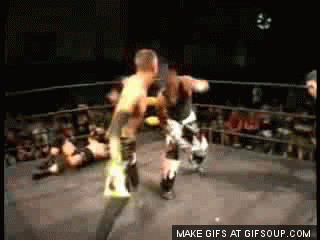 Who's this dude?
Teddy Hart
What's nifty about this variation is Cage can simply choose not to finish the move and just continue bending his opponent like a pretzel until they submit, making it a two-pronged attack.
Using my Regal Rating, I'd give this a:
8/10 for aesthetics. Although it takes a tad bit too long to set up, Cage back-bumping himself like a madman and injuring his opponent in the process makes up for the delay.
9/10 for damage. Cage makes sure that the opponent's head/face takes a rough descent by violently falling back to the mat. The opponent painfully contorted into the Gory Special position serves another purpose: disabling the opponent's ability to stop or cushion the fall using his legs.
And that's it chaps, my short review of Brian Cage's Weapon X! Is it a matter of time before he chimes in as a legit threat on AEW's World Championship landscape? Let us know in the comment section below!
*****
Wreddit_Regal is the resident finisher fanatic of Reddit's wrestling forum, r/squaredcircle. From the most basic of punches to the most intricate double-team maneuvers, he can explain them within the realm of human anatomy and physics, because when doing absolutely nothing wrestling-related, he also happens to work as an operating room nurse.