Hey bro, welcome to another edition of #FinisherFriday! This is your main bro Wreddit_Regal, and today we're gonna take a look at a submission that looks so dope, bro!
*clears throat* Okay, that was a terrible attempt at bro-speak. I'll leave that for the real bros, and let's move on to the rest of the article.
Matt Riddle is certainly one of the MMA people who have successfully transitioned to pro wrestling and went on a spree of domination, joining the ranks of Ronda Rousey and Shayna Bazsler (I'd like to include Marina Shafir and Jessamyn Duke on that list, but they haven't really won gold since their debuts). Leaving the MMA scene with an impressive record of 8-3-2 on 2013 due to... you know what I'm talking about, Riddle has since trained to transition as a pro wrestler, and started to steamroll the independent scene in the span of three years, winning the Evolve Championship, WWN Championship, PWG World Tag Team Championship, and Progress Atlas Championship in the process. It would only be a matter of time before WWE would notice this specimen and invite him to compete in a new battlefield in which he would also excel, becoming a one-time NXT Tag Team Champion with Pete Dunne, and in last week's Elimination Chamber PPV, usurping from Bobby Lashley the US Championship.
Utilizing his MMA expertise, Matt Riddle employs a lot of his submission game into the ring, most of the time preferring to have his opponents worn down (and possibly tap out):
Notable is his seemingly wonky finisher, which he calls the Bromission:
.
I have seen people online refer to it as a "poorly-executed rear-naked choke" or a "neck crank with a virtually nonexistent body hook." Although the second description is somewhat true, both of them are certainly far from what the Bromission really is.
In Brazilian jiu-jitsu circles, the Bromission is actually the pro-wrestling version of one of the most unforgiving submissions to have been invented: the twister. Popularized by Eddie Bravo, this mean son of a gun targets a lot of joints in the opponent's spinal column. And by a lot, I mean almost all of the spinal column. Unlike your standard neck crank which deals damage to only the neck (duh), the twister cranks your head to one side, and your lower body to the opposite side, like twisting an Oreo cookie in opposite directions.
This causes lower cervical lateral flexion, upper thoracic lateral flexion, and lower thoracic/lumbar axial rotation, the damage summed up in this hilarious Simpsons GIF: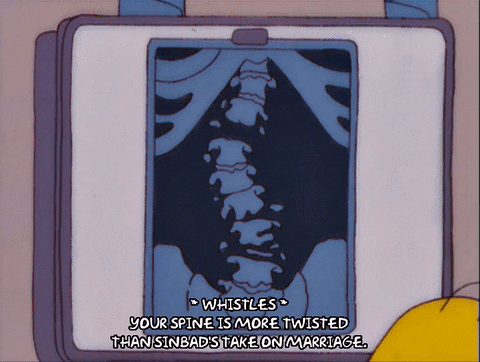 Fun fact: only TWO people in the UFC have successfully won a match via twister, the Korean Zombie and Bryce Mitchell, which is sort of a testament to how hard this move is to set up:
Using my Regal Rating, I would give this finisher a:
7/10 for aesthetics. I have to admit that the move itself isn't the most elegant of submissions, but once the attacker pulls on the opponent's head like a madman, the eye candy shoots up to 9/10.
10/10 for damage. Aside from risking a slipped disc or two, the twister attacks all of the muscles and ligaments that keep the spine in a healthy position. Who would want to not be able to walk (temporarily or permanently) after being on the receiving end of this submission?
And that's it chaps, My short analysis of Matt Riddle's Bromission! Do you happen to have any wrestling finishers that you want analyzed? Let us know in the comment section below!
Wreddit_Regal is the resident sports kinesiologist of Reddit's wrestling forum, r/squaredcircle. From the most basic of punches to the most intricate double-team maneuvers, he can explain them within the realm of human anatomy and physics, because when doing absolutely nothing wrestling-related, he also happens to work as an operating room nurse.