Welcome to another episode of #FinisherFriday! This is Wreddit_Regal bringing another indy wrestling maneuver to the spotlight.
Over the years, this series has featured some of the independent wrestling scene's most iconic finishers, including:
It just seems like wrestlers haven't run out of creative material yet on how to potentially turn their opponents into cripples for life!
This time, we're featuring a finisher that seems to be an upgrade to a move that had a fair share of love and hate since its inception. That move in question is Christian's Killswitch (initially known as the Unprettier):
Truth be told, it seems very telegraphed from start to end, and most of us would agree that it doesn't deal that much damage for it to be a deadly weapon. But what happens when you give an indie guy enough time to tinker with this move and turn it into murder material? This becomes the result—behold, Derek Frazier's version, called Kamikaze:
Let's take another look at how the poor bloke spins to his immediate doom so that we can digest what just happened:
It looks like Frazier used the fusion card on Killswitch and
Nick Berk's Berkocet
, which shares the same wide swinging motion (and head spike to boot):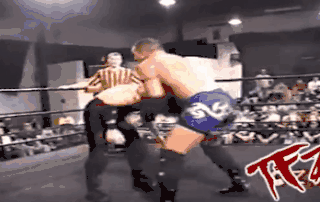 This solves the fundamental problem with the Killswitch, which is preventing the opponent's legs from reducing the impact taken. With Kamikaze, the opponent is forced to spin and match the attacker's timing, so as not to risk damage to his shoulder joints. This results in having both of the opponent's legs airborne, unable to take some of the force when they crash onto the mat.
Using my Regal Rating, I would give this move a:
8/10 for aesthetics. There's a common stereotype in wrestling finishers that implies "the greater the swinging motion, the worse the move does" (I'm looking at you, Overdrive and Skull-Crushing Finale). Kamikaze breaks that mold by using that insanely wide swinging motion to produce a move that embodies that grace and recklessness of a top-grade indy finisher. Although I would still argue that the move is still largely telegraphed, I'll shut my mouth for now and just appreciate the move.
10/10 for damage. This manoeuvre can mess up your shoulders big time, and if you don't want that kind of pain, you can avoid it and still get spiked in the head. It sucks to be at the receiving end of that move.
And that's it chaps, my short review of Derek Frazier's Kamikaze! Have you seen other indy finishers that you think deserve to be spotlighted here on #FinisherFriday? Let us know in the comment section below!
Wreddit_Regal is the resident sports kinesiologist of Reddit's wrestling forum, r/squaredcircle. From the most basic of punches to the most intricate double-team maneuvers, he can explain them within the realm of human anatomy and physics, because when doing absolutely nothing wrestling-related, he also happens to work as an operating room nurse.