Welcome to another edition of #FinisherFriday! This is Wreddit_Regal bringing you a short spotlight of my new favorite elbow strike-based finisher.
One of the youngest rising stars of Malaysia Pro Wrestling (MyPW), Australia's Professional City Wrestling (PCW), and Melbourne Championship Wrestling (MCW), Emman the Kid has been making many an audience member drop their jaws in awe since he started wrestling at the age of 13. A veteran of eight years, he has already experienced the feeling of having gold wrapped around his waist, being the first MyPW Wrestlecon Champion—and he expects to win more championships as he grows older inside the squared circle.
Although small in stature, he makes up for it by upping his speed and agility to make flashy moves, choose an optimal way to attack, and counter his way out of sticky situations:
His finisher is a sight to behold: he stands in the corner, patiently waiting for a dazed opponent to absentmindedly face him, and runs like a madman, delivering a jumping high elbow straight to the opponent's skull.
With the eye candy alone, this move easily takes the top spot in my personal list of elbow strike-based finishers!
Granted, it is very telegraphed unlike Chris Jericho's Judas Effect, which could be done at any point of the match: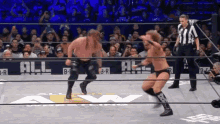 And it doesn't generate as much kinetic energy like Wade Barrett's Bullhammer:
But it is sure deadly in its own way. Have you noticed how Emman's point of the elbow travels from top to bottom? (Well, it's more of a diagonal path, but you get what I mean, chap.) That kind of trajectory has gravity working in the attacker's favor and gives Emman that needed extra force to deal damage enough for the opponent to stay down for the three-count.
Using my Regal Rating, I would give this finisher a:
10/10 for aesthetics. It gives you the same feeling of anticipation as you would have when waiting for Shinsuke Nakamura's Kinshasa to connect, and the move itself is very explosive like KENTA's Busaiku Knee. What more could you ask for in a running elbow?
8/10 for damage. I only gave 8 points because the "perfect" version of Emman's elbow strike is a lot deadlier:
Elbow strikes that travel downward in a perfectly straight line are called 12-6 elbows, and are generally banned in the UFC for obvious reasons:
Imagine the amount of damage Emman could deal to his opponents if he found a way to make his elbow travel a 12-6 path!
And that's it chaps, my short review of Emman the Kid's finisher! Do you know of other wrestlers who have elbow strikes as their finisher? Let me know in the comment section below!
Wreddit_Regal is the resident sports kinesiologist of Reddit's wrestling forum, r/squaredcircle. From the most basic of punches to the most intricate double-team maneuvers, he can explain them within the realm of human anatomy and physics, because when doing absolutely nothing wrestling-related, he also happens to work as an operating room nurse.