Disclaimer: The point of this article is not to degrade any wrestling team's finisher in any way, but to objectively point out any advantages and disadvantages of the said finishers from a one-man version of it.
Welcome to another edition of #FinisherFriday! We are currently on the ninth Friday of the "TFTCHBDWOG" series, and if you haven't caught up with the previous articles, you can read them here, here, here, here, here, here, here, and here. Today we take a look at a former WWE tag team's finisher.
Honestly, I have never seen a tag team in any promotion that has enjoyed the same kind of tenure and longevity as Primo and Epico had in the WWE (well, until the mass layoff happened). From starting as Primo and Epico, to being renamed as Los Matadores, to reverting back to their old characters as The Shining Stars, to simply being called The Colóns, these two have found job security in a time when a dip in the audience's interest could mean danger for your tenure. Although it can arguably be attributed to the Colón family's influence, the real reason lies in their workrate and effectiveness as a tag team, which has given them gold on one occasion. (Primo, with his brother Carlito, became the first Unified WWE Tag Team Champions, but that story is for another article.)
When working as a unit, Primo and Epico employ the tactics of your usual luchador tag team: fluid transitions and beautiful attacks that make their bloodline proud:
Their finisher is a powerbomb to Backstabber combo, which has not been given a proper name to this day:
Fun fact: Blake and Murphy also has the same finisher when they teamed up in NXT:
Yup, you don't need a lot of guessing to figure out this one.
If you are an avid fan of NXT or PWG, you'll quickly notice that this combination move is in fact, a two-man version of Tommaso Ciampa's finisher, Project Ciampa:
Even if it fits the TFTCHBDWOG category, Primo and Epico's version still holds an advantage if:
1. The guy doing the Backstabber just lies down and secures his knees in place, much like how Stu Grayson performs his Knightfall:
2. The powerbombing guy does a "full swing" like how Ryback ragdolls his opponents, and not letting the Backstabbing guy impede the swing by holding the opponent's back beforehand: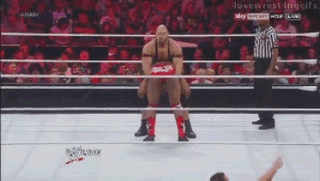 Final verdict: It could be done by one guy, but making it a two-man finisher could make it more efficient and deadlier if done with the right physics in mind.
And there you have it chaps, part nine of "Tag Finishers That Could Have Been Done With One Guy!" Do you have suggestions on what tag finisher to cover next? Let us know in the comment section below!
*****
Wreddit_Regal is the resident sports kinesiologist of Reddit's wrestling forum, r/squaredcircle. From the most basic of punches to the most intricate double-team maneuvers, he can explain them within the realm of human anatomy and physics, because when doing absolutely nothing wrestling-related, he also happens to work as an operating room nurse.