Disclaimer: The point of this article is not to degrade any wrestling team's finisher in any way, but to objectively point out any advantages and disadvantages of the said finishers from a one-man version of it.
Welcome to another edition of #FinisherFriday! We are currently on the seventh Friday of the "TFTCHBDWOG" series, and if you haven't caught up with the previous articles, you can read them here, here, here, here, here, and here. Today we land again on WWE territory, looking at a former tag team's finisher.
Jason Jordan and Chad Gable were two wrestlers brimming with potential, and putting them together in a team was the catalyst that converted that potential into kinetic energy—kinetic energy that brought gold to their waists. During the short period that they bonded, they became one-time NXT Tag Team Champions and one-time SmackDown Tag Team Champions. This made them the only tag team to have won tag team championships in both NXT and WWE's main roster in the same year.
I don't know about you, but American Alpha screams Team Angle 2.0 to me. I mean, look at their moveset, passion, and wrestling acumen—it freaking gives out the aura of Intensity, Integrity, and Intelligence! (Well, there's also the fact that Kurt Angle introduced Jason Jordan as his son, but let's save that for another article...)
Their finisher consists of a belly-to-back pop-up by Jordan into a bridging high-angle belly-to-back suplex by Gable, called the Grand Amplitude:
Upon examining a couple of the move's clips, here is what I observed:
Chad Gable doesn't add any "throwing force" as he catches the opponent. He merely secures the waist and falls down with the opponent, hooking the right leg in the process.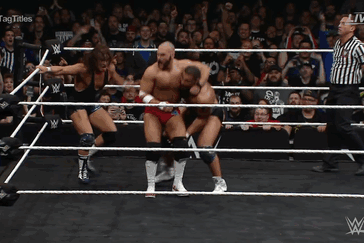 Remember that in order to produce the backward momentum needed for a powerful German suplex, the attacker must start the motion from the bottom (imagine how you swing a kettlebell):
Since Jason Jordan usually throws the opponent at a height higher than his teammate, Chad Gable has to jump and catch the opponent mid-air, effectively rendering him unable to add a backwards throw. Looking at another angle:
With that said, either Gable or Jordan can perform the German alone, and still obtain a pinfall victory. My final verdict is that Grand Amplitude falls into the "TFTCHBDWOG" category.
And there you have it chaps, part seven of "Tag Finishers That Could Have Been Done With One Guy!" Do you have suggestions on what tag finisher to cover next? Let us know in the comment section below!
*****
Wreddit_Regal is the resident sports kinesiologist of Reddit's wrestling forum, r/squaredcircle. From the most basic of punches to the most intricate double-team maneuvers, he can explain them within the realm of human anatomy and physics, because when doing absolutely nothing wrestling-related, he also happens to work as an operating room nurse.