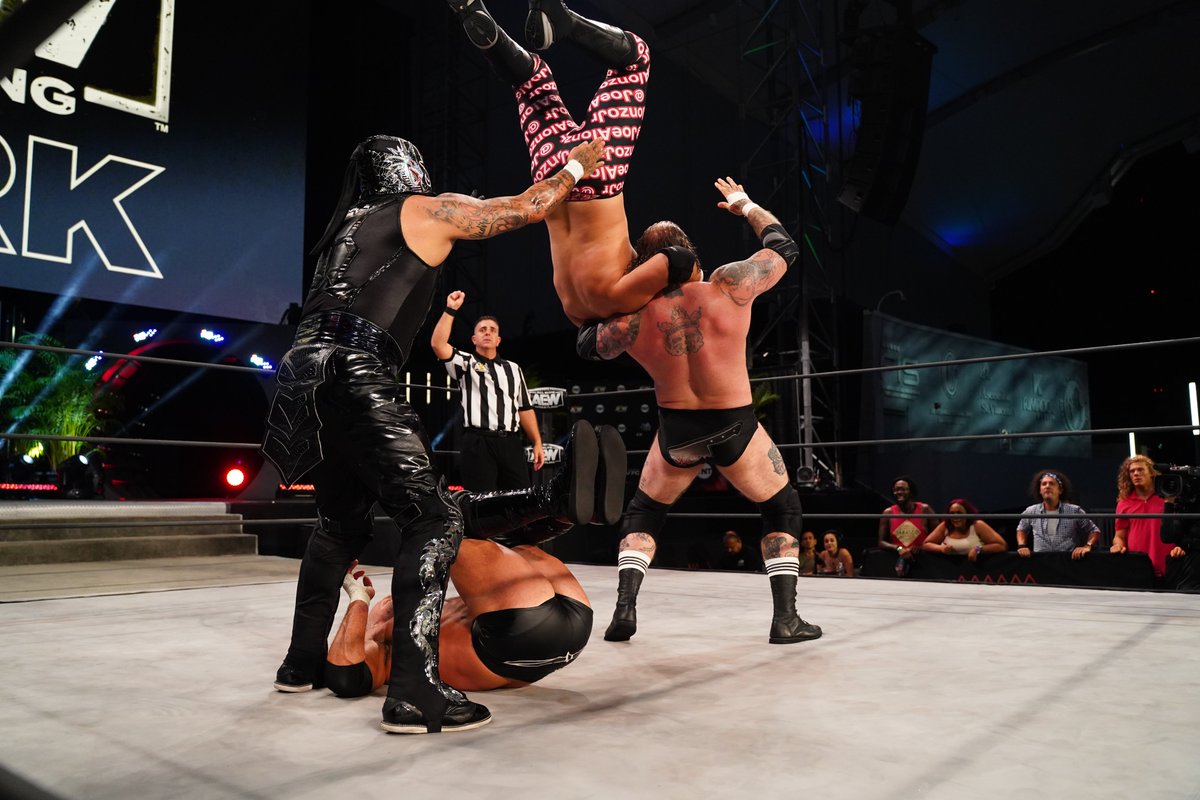 Disclaimer: The point of this article is not to degrade any wrestling team's finisher in any way, but to objectively point out any advantages and disadvantages of the said finishers from a one-man version of it.
Welcome to another edition of #FinisherFriday! We are currently on the sixth Friday of the "TFTCHBDWOG" series (I told you I'd use that initialism), and if you haven't caught up with the previous articles, you can read them
here
,
here
,
here
,
here
, and
here
. Today we move from NJPW to the AEW roster, looking at a menacing tag team's finisher.
The Butcher and The Blade have been frequenting the independent scene since 2017, and rose up the ranks by wreaking havoc until finding their way to All Elite Wrestling. So far we haven't seen them winning tag team gold in the fed, but their wrestling style is more than enough of a testament to their potential as being the future AEW Tag Team Champions.
Their collective name suggests that one is a bruiser type and the other one is more athletic, which results in a well-mixed cocktail of brutality and grace inside the ring. This holds true when we take a look at their tag team offense...
...with their finisher consisting of a vertical suplex to knees in the opponent's back, which they name Full Death.
Does it look familiar? It sure does.
Roderick Strong has been using a one-man version of this, called End of Heartache:
The only advantage Full Death has over this is that the former doesn't involve releasing the hold over the opponent in mid-air. This means that Andy Williams can use the full generated force of a vertical suplex to drive the opponent onto Braxton Sutter's knees as hard as possible, compared to Roderick Strong just relying on gravity because he releases the hold. Accuracy might be another advantage, since The Blade can fully anticipate where the opponent might land, and place his knees to where it can deal the most damage.
Final verdict:
Yup, this fits the criteria of a TFTCHBDWOG.
And there you have it chaps, part six of "Tag Finishers That Could Have Been Done With One Guy!" Do you have suggestions on what tag finisher to cover next? Let us know in the comment section below!
*****
Wreddit_Regal is the resident sports kinesiologist of Reddit's wrestling forum, r/squaredcircle. From the most basic of punches to the most intricate double-team maneuvers, he can explain them within the realm of human anatomy and physics, because when doing absolutely nothing wrestling-related, he also happens to work as an operating room nurse.