Disclaimer: The point of this article is not to degrade any wrestling team's finisher in any way, but to objectively point out any advantages and disadvantages of the said finishers from a one-man version of it.
Welcome to another edition of #FinisherFriday! We are currently on the fourth Friday of the "Tag Finishers That Could Have Been Done With One Guy" series, and if you haven't caught up with the previous articles, you can read them
here
,
here
, and
here
. Today we analyze another NJPW tag team's finisher to see if it can be done with one guy while yielding the same results.
The Guerillas of Destiny have continually proven themselves to be one of the forces to be reckoned with in the NJPW tag team division. As members of the Bullet Club stable, they are the current and six-time IWGP Tag Team Champions and former three-time NEVER Openweight 6-Man Tag Team Champions with various Bullet Club teammates. They also appear in the US-based promotion Ring of Honor (ROH), where they are former ROH World Tag Team Champions, making them overall seven-time World Tag Team Champions between NJPW and ROH.
As their name implies, this tag team specializes in prioritizing their use of teamwork to disrupt the opponent's timing and inflict cumulative damage over time, making their father Meng proud...
...culminating in a double-team finisher known by the name of Guerilla Warfare:
From first glance, anybody would say that it's a two-man version of Randy Orton's rope-hung DDT, but on a closer look one can infer that it's not the case:
Fun fact: Raven, and Drago (of AAA and
Lucha Underground
fame) both have a scarier version, doing it on the freaking top rope!
The primary difference is the way they secure the opponent's head and upper body. In Orton and Drago's case, they only do a headlock which allows the opponent to use their arms to brace the fall, but Tama Tonga does a double underhook. This way, he greatly diminishes the opponent's ability to cushion their head or brace the fall before their head is driven onto the mat. Add to that the height in which GoD suspends the poor victim, and you have a very controlled finisher that can match (or even exceed) the damage dealt by a brainbuster or a piledriver. (For more info about the double underhook DDT, read
here
!)
Final verdict: It's really not the same. In this case, two heads are better in dealing damage than one because there is more precision and control involved. However, if it was Oney Lorcan and Danny Burch's version, then I would say it would be better off with one guy: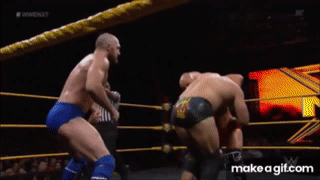 And there you have it chaps, part four of "Tag Finishers That Could Have Been Done With One Guy"! Do you have suggestions on what tag finisher to cover next? Let us know in the comment section below!
*****
Wreddit_Regal is the resident sports kinesiologist of Reddit's wrestling forum, r/squaredcircle. From the most basic of punches to the most intricate double-team maneuvers, he can explain them within the realm of human anatomy and physics, because when doing absolutely nothing wrestling-related, he also happens to work as an operating room nurse.