Welcome to another edition of #FinisherFriday! This is Wreddit_Regal giving you a second edition of my own tier list of kick-based finishers used in professional wrestling.
The first tier list (which you can read
here
) was composed of kicks that were done to standing opponents. Now our second list will consist of kicks executed to opponents who are on the ground. (My clairvoyance tells me that we have the same kick put in the top spot, but read the whole article just to be sure.)
The same criteria will be used on this article: accuracy and damage. I removed "risk to self" in the criteria because these types of finishers rarely give opponents a chance to evade, or give the performer a risk of getting countered.
Without further ado, here is my new top five list of kick-based finishers:
5. Ken Warren's Wi-Fi
The "Social Media Sinister" grabs fifth place in this list, because he changes the trajectory of his kick: he can hit you in the back of the head one time, and unexpectedly swing his leg like a scythe and hit you on your temple or chin the next time.
Accuracy: 10/10
Damage: 7/10
Risk of getting left behind in a flight: 8/10
4. Masahiro Chono's Yakuza Kick
Mr. Black Jack was doing Test's big boot even before Test thought of doing it. The only difference is that Chono has added that gangster swag when doing the move—be it a standing or a kneeling opponent, hence it being named as the Yakuza Kick or the Kenka Kick.
Accuracy: 10/10
Damage: 8/10
Risk to self: 0/10
3. Katsuyori Shibata's PK
An intense wrestler such as Shibata would need an equally-intense finisher, and the PK does just that. He sees the opponent as a soccer ball, but in this situation there is no goal post in which to feed the ball onto. Shibata just likes to kick the shit out of the ball.
Accuracy: 10/10
Damage: 9/10
Risk of...you know what I'm going to reference next: 9/10
2. Shinsuke Nakamura's Bomaye/Kinshasa
Shinsuke Nakamura is known as "The King of Strong Style" all over the world, and for a good reason: he gives and receives strikes like he was the protagonist of a delinquent manga. No blocks and parries, just take it like a man and duke it out until one is left standing. With that in mind, he made sure that an opponent can't stand after taking his finisher, roughly translated as "Kill him!" in Lingala.
Accuracy: 10/10
Damage: 10/10
Risk of getting watered down in the WWE: 10/10
1. Randy Orton's Punt Kick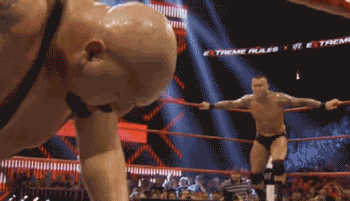 I do hope we were thinking about the same move for the top spot. Randy Orton, as smooth as he is in the ring, can be as brutal as the unhinged of wrestlers. Take a look at his punt kick. This kick is so brutal, legend has it that it rattled Husky Harris's cerebral matter and turned him into Bray Wyatt:
Accuracy: 10/10
Damage: 10/10
Risk of permanently cancelling the "E&C Pod of Awesomeness": 10/10
Honorable mentions in this list include:
TAJIRI's Buzzsaw Kick
Keiji Mutoh's Shining Wizard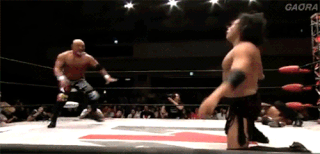 And that's it chaps, my second tier list of kick-based finishers! Did I miss any finisher/s, or you want to argue about the rankings? Let me know in the comment section below!
*****
Wreddit_Regal is the resident sports kinesiologist of Reddit's wrestling forum, r/squaredcircle. From the most basic of punches to the most intricate double-team maneuvers, he can explain them within the realm of human anatomy and physics, because when doing absolutely nothing wrestling-related, he also happens to work as an operating room nurse.