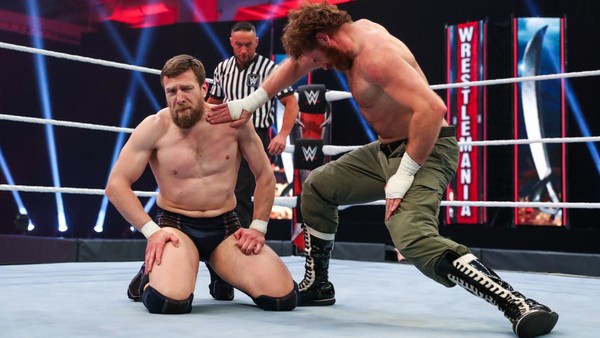 Welcome to the Grapevine! This section of
Smark Henry
is where we round up all the founded and unfounded rumors abound the pro wrestling scene that you may have missed. Remember to take everything with a grain of salt!
Sami Zayn is reportedly staying home due to concerns over COVID-19. The WWE Intercontinental Champion was supposed to appear on SmackDown last week but backed out at the last minute. He has not appeared on WWE TV since WrestleMania, and had also recently undergone surgery to remove his wisdom teeth.

In related news, NXT commentators Mauro Ranallo and Beth Phoenix have been calling the show from their respective homes after also choosing to not come to tapings at the WWE Performance Center. (Source: WON, Pro Wrestling Sheet)
We say: It's a little sad that not everybody has the choice to do this, and that only a select few are able to. If NXT UK can just get by on reruns and dark matches, surely there has to be a better way?
WWE has been filing their own trademark claims over the former Revival's catchphrases and intellectual property. The team now called the Revolt moved to file "No Flips, Just Fists" back in February, which the WWE opposed; they were granted a 90-day extension to file their opposition. The company also filed to oppose the Revolt's claims to "Say Yeah" and "#FTRKO." WWE also recently filed to oppose claims made by Cody Rhodes over WCW IPs "Slamboree" and "The Match Beyond" (the latter a reference to War Games), but did not oppose a claim to "Dusty Rhodes." (Source: Wrestling Inc)
We say: The WWE already won't spend money to keep its guys through a pandemic, but will willingly spend resources to go to court over IPs that everyone knows won't really affect the bottom line. These things, especially the Revolt's IPs, will make money for the smaller guys in this tough time. That's the company for you.
There are reportedly a lot of plans in place in AEW for Matt Hardy's Broken Universe soon. He will return to AEW TV on next week's live episode of Dynamite. (Source: PWInsider)
We say: We're looking forward to that, as the momentum on Hardy has (understandably) been derailed.
Let us know what you think of today's news in the comments!
Photo from WWE