Welcome to another edition of #FinisherFriday! This is Wreddit_Regal bringing to you a short analysis of a NICE-looking submission that brings NICE results.
Evan Carleaux, one of the founders of the Philippine Wrestling Revolution stable The Naughty Boys, has made a name for himself and his group. Initially known as a bunch of happy-go-lucky hooligans who made fun of other wrestlers, they built up their group to include an intern, a bodyguard-turned-traitor, and a driver who would turn out to be their saving grace in
Ubusan ng Lahi
last year at
Vendetta
.
Setting that storyline aside, he is also a noted tag team specialist, winning the PWR Tag Team Championship alongside Trian dela Torre on last 2018 on
Renaissance
:
And he currently is the #1 contender for the PWR Championship (the longest one according to our resident PWR historian Lance Tan Ong) after besting Mike Madrigal and Chino Guinto in a three-way match at
Love at First Fight
:
Evan Carleaux's arsenal consists of hard strikes, cool throws and suplexes, and a whole load of JoJo references, which fellow members of the said fandom would immediately spot upon taking a look at his matches. He also wields by far the most unique of finishers in the whole PWR roster: a submission move by the name of
Tech Noir.

Here's a quick step-by-step tutorial of this move:
The attacker approaches an opponent lying prone.
The attacker crawls towards the opponent's arse and proceeds to slide both of his legs under the opponent's arms.
From this position, the attacker then rolls over to his right, similar to how AJ Styles performs the pinfall attempt after executing the Styles Clash.
The attacker attempts to cross both of his legs together while pulling on the opponent's head, completing the submission maneuver.
If you're thinking that this move is familiar, it's because WWE's Naomi has used a no-frills version in the past, naming it the
Slay-o-mission
:
What makes this submission so effective is that it accomplishes two things:
1. Crossing both legs together immobilizes the opponent's arms like a normal double underhook does. Depending on how tight the attacker closes his/her legs, it may put excessive strain on the opponent's shoulders, like in the case of the Rings of Saturn submission move: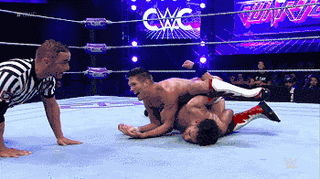 2. The process of pulling one's head forward while the top half of their body is immobilized is in fact, a rudimentary form of a neck crank. Technically named as a can opener, in this case, a neck crank can strain and tear the cervical vertebrae's capsules and/or damage the neck muscles when applied for an extended period of time.
Using my
Regal Rating
, I would give this a:
10/10 for aesthetics and practicality
. If you want to add that pizzazz to your arsenal, do Carleaux's version. If you want to eliminate all possibilities of being countered and go straight to the submission, do Naomi's version. Any way you choose gives the same result.
10/10 for damage
. The combined strain of making both of the opponent's shoulders meet and bending their neck more than 90 degrees should be more than enough to garner the much-awaited tap-out or verbal admittance of defeat.
And that's it chaps, Tech Noir deconstructed! Do you think Evan Carleaux has what it takes to strip Chris Panzer of the PWR Championship? Let us know in the comment section below!
Photo by Charlie Coralejo
*****
Wreddit_Regal is the resident sports kinesiologist of Reddit's wrestling forum, r/squaredcircle. From the most basic of punches to the most intricate double-team maneuvers, he can explain them within the realm of human anatomy and physics, because when doing absolutely nothing wrestling-related, he also happens to work as an operating room nurse.