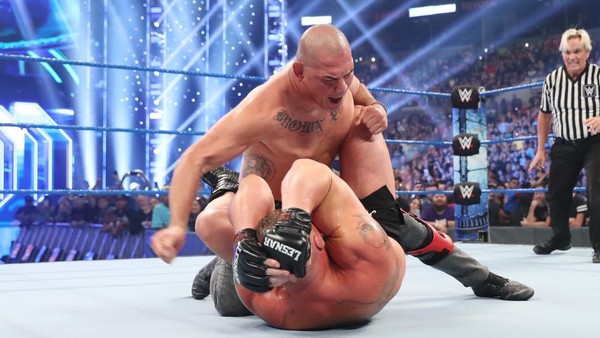 Welcome to the Grapevine! This section of
Smark Henry
is where we round up all the founded and unfounded rumors abound the pro wrestling scene that you may have missed. Remember to take everything with a grain of salt!
Cain Velasquez has reportedly been released by WWE. Velasquez—who was signed to what was reportedly a huge three-year contract but hadn't been used since his first televised match at Crown Jewel last October—is another victim of the COVID-related budget cuts. He was supposed to wrestle a live event in Mexico City last November, tagging with Humberto Carrillo against Luke Gallows and Karl Anderson, but had to withdraw due to nagging knee issues. (Source: Wrestling Observer Radio)
We say: This is one of the more understandable cuts, as Cain probably has enough to fall back on. Maybe they should've led with this instead of firing a lot of midcarders? (Or maybe, you know, just not fire anyone at all?)
Speaking of releases, WWE will apparently grant the release of anyone who requests it. This is obviously still part of their goal to save money. (Source: @Wrestlevotes on Twitter)
We say: This is pretty much obvious, but the question is obviously who's going to head into unemployment in a time like this? Very few, it's clear, so good luck with that.
WWE superstars are earning less now due to the lack of live events. Live events, which are usually part of talents' paycheck, have been completely suspended, leaving them to draw from TV bookings, if any. This is yet another way for the company to save on money, but wrestlers can still expect to be paid their downside guarantee every two weeks, which is the minimum amount they're guaranteed to get if other factors like live event bookings, merchandise, and royalties aren't factored in. (Source: Wrestling Observer Radio, F4WOnline)
We say: Between this lowered spending and the hundreds of millions of dollars they have in reserve, was it truly necessary to cut all that midcard talent, then?
Let us know what you think of today's news in the comments!
Photo from WWE