It's WrestleMania season! Or at least it would be if COVID-19 didn't
send the world to a screeching halt and force everyone to stay home. But why are we still talking about
WrestleMania
, you ask? Because its 36th iteration is still going down starting on Sunday (Manila Time) live in front of an empty arena for two nights. Doesn't it sound like a recipe for disaster?
But hey, it's happening, and no one can stop it, apparently. So yo boy #NitPickRick rattled the Smark Henry offices (from home) and gathered a bunch of opinionated people to talk about WrestleMania 36. We got the boss man Stan Sy, the inevitable Tito Enzo Tanos, the most must-see NXT reviewer The Migz, and newbloods Jacob Tambunting (SmackDown) and Steven Maxwell Tan (NJPW). Let's do this!
Welp, the crowdless WrestleMania 36 is indeed happening. Thoughts?
Stan: I'll give WWE credit for attempting to provide us with some entertainment despite the pandemic. That said, I can't help but also feel like it's all for the sake of the almighty dollar than any altruistic reason. And that's why I say it's a bad idea. WWE should have just canceled their events and shows when the lockdowns began because everyone from their talents, staff, and crew could be at risk just by merely traveling. Couple that with them having wrestlers like Roman Reigns, who had to (justifiably) pull out because of his medical history. It was just an unwise decision, and for what, a hastily-booked, over-bloated card spread across two days? Not worth it.
Tito E: In theory, it's a good idea to hold WrestleMania without any live fans, in order to keep everyone at home entertained amid these trying times. But I would have honestly preferred that the event be moved to a later date. The NBA paused its season indefinitely without outright canceling anything just yet, so why can't WWE do the same?
Jacob: There's a lot to be said about WWE deciding to pre-tape all their shows without a crowd and then airing it. For one thing, it's commendable for them to try to entertain us and give people their money's worth despite the cancellation of the actual physical event. However, from a moral decision and a booking decision, I don't see how this is a great call by the kings of sports entertainment.
Although their intentions may be good, the fact that they made wrestlers go to Florida when the pandemic had reached the U.S. is, in my opinion, bad business ethics. Secondly, from a booking decision, instead of moving the event to a later date, WWE has chosen to not allow the storylines to heal and build after the damage caused by a mix of previous bad booking decisions and difficult logistics due to the pandemic.
Steven: On one end, I am not a fan of WrestleMania continuing with the coronavirus in the back of everyone's minds. I understand why WWE is doing it though. They want to be the one company that entertains people during these hard times. Another part of me is interested to see how WWE will deliver on an empty arena show, most especially the Granddaddy Of Them All.
Migz: Not a fan of it as a whole but I still like how they're pushing for a show. Somehow, I wish they just switched PPVs instead. Couldn't this have been Backlash? Maybe something else? It feels weird that the Grandest Stage Of Them All will be in front an empty arena.
You know what would've been a crazy but better idea? Something like Total Nonstop Deletion. Would it be great? Maybe not totally, but it would've been different and it would've utilized this weird situation we have right now. God, I miss Matt Hardy. Carry on.
Ricky: I guess WWE has its reasons to push through with WrestleMania 36, but I really wanted them to just postpone it and wait for this whole COVID-19 business to blow over. Sure, the crowdless setup will definitely turn heads and create buzz, but at what cost? Technically, this year's WrestleMania will be historic for being the most unique one, but for all the wrong reasons. But hey, it's happening. So I suggest let's all just watch the trainwreck and hope for the best.
And it's also two nights?! How hyped (or un-hyped) are you?
Stan: If this means WrestleMania will get booked as a two-day extravaganza like NJPW's WrestleKingdom from here on end, I'll be fine with it. As it stands, we don't need to see at least six or seven matches on that 16-match card. I'm also royally pissed that WWE is pushing through with this WrestleMania, which means that Drew McIntyre will have his crowning in front of absolutely nobody and that a grand total of 0 people will go apeshit in person when Alter Bridge's "Metalingus" plays to signal Edge's arrival.
On another note, this could have been the perfect time for Edge to have brought Alter Bridge on—something he's always wanted to do but never could because he was almost always a heel during WrestleMania season. Fuck you, COVID-19.
Tito E: Quite frankly, I'm feeling meh about 'Mania in general. But as far as the two-night concept is concerned, it would be interesting if WWE switches to such a format going forward. It could potentially be effective as well, as watching 15 matches over six to seven hours can be quite tiring.
Jacob: The concept of a two-night 'Mania is one that I can see WWE utilizing well in the future. Considering NXT's position as a third brand alongside RAW and SmackDown, the number of matches you would need for the championship matches alone, there would be enough to fill two nights. Along with this, the added benefit of having longer, more well-thought out matches due to the adjusted schedule is an interesting prospect.
That being said, the last-minute booking of the card—something that is not entirely WWE's fault—and the lack of a live crowd to add to the spectacle does overshadow the novelty of a two-night event in my opinion. If you had six months of decent to stellar booking across all three shows, you'd have a completely different story.
Steven: I wish WrestleMania would be held over two nights more. There's too many matches to load up on one day. Fans end up becoming too exhausted to keep up with matches when you have sixteen of them in one day. So many people could have done other things.
Two-day events don't always work, though. NJPW's Kazuchika Okada wasn't a fan of WrestleKingdom's two-day version because it was so exhausting but, I think WrestleMania needs it. Seven hours for a wrestling show is just too much.
Migz: Right now, not really, but in reality, the last few WrestleManias have been too long. Even the Royal Rumble event is too long for my tastes. Personally, I would've kept WrestleMania 36 to just one night, kept the bigger matches, and just moved the lower tier matches elsewhere—maybe for a RAW or a SmackDown show? Do we really need Aleister Black vs. Bobby Lashley or Elias vs. King Corbin here?
Ricky: This two-night business sounds so foreign to me, but I'm pretty sure this isn't the reason why we're all un-hyped. If we were living in a COVID-free world then sure, I would gladly welcome two nights of 'Mania goodness. But at this point, it doesn't really matter. Even if they add another day in there somewhere, we all know why this WrestleMania still sucks ass.
Which match from the card are you most excited to see?
Stan: Call me a homer, but I can't wait to see what Sami Zayn, Daniel Bryan, and their respective cornermen come up with. Will Drew Gulak be the MJF to Daniel Bryan's Cody? How will the four Ring Of Honor alumni all stand out in this dream match? Can Sami Zayn finally have his WrestleMania moment? I understand this match won't have main event minutes, but with the talent involved, I'm sure they'll pull off something memorable nonetheless.
Tito E: As Stan mentioned above, it would have been so much better if Alter Bridge was out there playing "Metalingus" as Edge hits the ring in front of thousands of cheering fans. But it's still Edge vs. Randy Orton that I'm mostly looking forward to watching. The build and the promos leading up to this match have been excellent, and that's something I don't say too often about WWE's product.
Jacob: Surprisingly, the match I am excited to see the most has to be the NXT Women's Championship match. The premise alone has got me intrigued as NXT's past and present fight for NXT's future. Although the build might not be as consistent, what we did get was classic heel and face one-upmanship accompanied by quality promo work by both Superstars. I am anticipating what these two come up with as they light up the WrestleMania stage black and gold.
Steven: I'm most excited for The Undertaker vs. AJ Styles. I don't even care about what the heck this Boneyard Match is. Seeing the American Bad Ass return on RAW was more than enough for me to get hyped.
My friends and I were seriously hoping for the ABA to return vs. John Cena at WrestleMania 34. However, when I saw Triple H appear on that darn bike, I lost all hope for it. My first exposure to wrestling was in the early 2000s so ABA Undertaker was the first version I saw. That's why I'm excited for this match the most.
Migz: I'm still very much a Becky fan so it's Becky Lynch vs. Shayna Baszler for me. I'm sure Shayna will wipe the floor with Becky as she becomes the second coming of Brock Lesnar, in female form. However, I think this has the potential to be a show-stealer—just about enough to wow us but also short enough that it doesn't end up a stinker.
If I'm wrong with how that match ends up, know that I'm also looking forward to AJ Styles vs. The Undertaker. Sure, Taker's best years are behind him but, come on, it's AJ Styles. Remember, this is the guy who also had a good showing against Brock Lesnar a few years back. Let's go Phenomenal One!
Ricky: Give me Edge vs. Randy Orton all day, everyday! Screw it, let's have this match headline both nights. I don't care, let them figure it out! Also, Drew McIntyre's coronation will probably be dope as hell. I can't wait to see this guy take his claim as WWE's Chosen One.
What about the match that will most likely be a sleeper hit?
Stan: Despite all the ridiculousness of the Firefly Fun House, I'm sure this will be a hit. Cena and Wyatt are masterful storytellers, and with the cinematic element being part of this match, we could get something that could rival the Final—yes, not the Ultimate—Deletion in terms of how bizarre it can get!
Tito E: Hoping against hope that Bray Wyatt vs. John Cena becomes the sleeper hit. Bray's been hampered for way too long by subpar WrestleMania performances and results that leave him looking much worse for being on the Show of Shows.
Jacob: For the sake of Bray Wyatt's career, I pray that the Firefly Fun House match will be good. It is high time that the former Eater of Worlds and current Fiend get what's coming to him in what I'm hoping is a match that best reflects who the Fiend is supposed to be: creepy, strange, and entertaining.
Steven: I agree with everyone that Wyatt vs. Cena can be fun. John Cena hasn't been on our screens for a while so you know he'll give it his all. Working with someone like Bray Wyatt will give him the opportunity to use his acting chops as well.
Bray Wyatt's just so damn good with these vignettes so the Firefly Fun House match is an interesting venue for him to showcase more of his talent.
Migz: I'm agreeing with everyone. Bray Wyatt vs. John Cena definitely will be the sleeper hit unless they don't utilize camera cuts and weird-ass effects in this match to maximize the opportunity.
Give us Prototype John Cena. Give us Doctor of Thugonomics John Cena. Give us Husky Harris. Hell, just go all out and watch them all reference their previous characters as The Fiend calls on previous personas to make this match the most batshit crazy ever. Just make sure Wyatt wins this one, please.
Ricky: While I'm also in agreement with everyone, I also nominate Daniel Bryan vs. Sami Zayn. With the storyline they're working with and the amount of talent involved, this Intercontinental Championship match will steal the show, with or without the WWE Universe. Also, why isn't anyone rooting for the Otis vs. Dolph Ziggler match? It probably won't be a clinic, but aren't you guys hyped to see Otis get his hands on Ziggy?
Any matchup that you're not really feeling? C'mon, be honest.
Stan: I don't understand why Austin Theory gets to be Angel Garza's tag team partner in a title match. How are they connected? Why is Zelina Vega entrusting her talent's fate in this unknown? On another note, why do Aleister Black and Bobby Lashley deserve a WrestleMania match? Lashley never even knocked on the door and PICKED. A FIGHT. WITH HIM.
Tito E: Most of the card. I normally love watching Aleister Black, but with no build leading to his match against Bobby Lashley, it's the epitome of Vince McMahon booking a match just to fill time. Ditto the Universal Championship match, for reasons I'll explain in a bit.
Jacob: A good number of matches have close to no build. The worst flop is definitely the match between Aleister Black and Bobby Lashley, with both being portrayed as powerhouses yet both suffering from lackluster feuds. The match literally has no build except for a single promo on WWE's YouTube channel by Aleister Black.
Migz: Bobby Lashley vs. Aleister Black and Elias vs. King Corbin. Do these really need to be part of this show?
Steven: As much as people are getting hyped by Rhea vs. Charlotte, I'm actually worried. Every time WWE builds up a top female star, they somehow find a way to ruin them by feeding them to Charlotte. It's just not fair.
I'm being cynical with this match but, Charlotte's history at
WrestleMania
has me worried that Rhea Ripley will be another victim to The Queen of WWE.
Ricky: Literally any other match I didn't mention, except maybe for Becky Lynch vs. Shayna Baszler and Charlotte Flair vs. Rhea Ripley. The rest? My excitement ranges from "meh" to "urgh."
How excited are you to see Drew McIntyre become WWE Champion?
Stan: Not as excited as I would've been if COVID-19 didn't fuck the world up. Sayang talaga.
Tito E: It's a well-deserved moment, for sure, albeit one dulled by the lack of fans and the underlying tension this damned virus has caused.
Jacob: I am excited for Drew personally as someone who tried his best to follow his career on the indy circuit through the online space. It is well-deserved and a moment that I have personal investment in but the lack of a crowd to see it makes me sad that such a moment is going to be cheered by no one.
Migz: I'm looking forward to it although it'd be awkward with the non-existent crowd. Also, this will be ending the show, right? Please say yes.
Ricky: It sucks that he'll have to celebrate in an empty arena, but hey, it still counts. Drew McIntyre deserves to win this gold and a silly pandemic won't stop his rise to the top.
Roman Reigns actually backed out. Who should replace him?
Stan: I don't mind Braun Strowman as his replacement, as long as Goldberg squashes his ass. Strowman's comments about wrestlers who are losing money at a time like this needing to find another job were absolutely insensitive and indefensible.
Tito E: I would have preferred Daniel Bryan, had he not already been feuding with Sami Zayn & co. for the Intercontinental title. As for rumored replacement Strowman, the ship has long sailed on his monster (no pun intended) push. More importantly, the really stupid shit he's been saying on social media makes it absolutely puzzling why WWE is reportedly considering him as Reigns' replacement.
Jacob: I would love WWE put someone like Kofi Kingston or heck, even someone like Ricochet
in that position
. Or how about someone who's recently had a shot at a world title but never got their just due. The reported replacement of Strowman, in my opinion, is a waste of a perfectly good opportunity to put over
someone
who deserves it.
My ideal situation is if Strowman does come out but then gets blindsided by Zayn and company. Then Cesaro enters himself in the match and upsets Goldberg. What a moment that would be!
Migz: Shane McMahon. Kidding. It's looking more likely that it's Braun Strowman but, what if, just what if, The Fiend comes back out after dominating John Cena and then wins the title against old Billy boy. He deserves it and he does deserve to get his win back over Goldberg.
Ricky: You think Goldberg can carry Braun Strowman around? Because I'm a thinking man, I will reluctantly choose someone Goldberg can easily pick up. How about Ricochet or Johnny Gargano? How about Kofi Kingston? He deserves to be at the top again, goddamnit! And if all else fails, why not just go with Big freaking E? That would be nice.
What the hell is a Firefly Fun House match? Wrong answers only.
Stan: A match inside an inflatable house sponsored by the local lighting company Firefly.
Tito E: Title of Owl City's sex tape.
Jacob: A live match.
Migz: A match in an old funhouse where the goal is to set the house on fire—including the opponent, of course.
Steven: Ramblin' Rabbit gets killed on infinite loop.
Ricky: It's the House of Horrors Match but the house is the Blue's Clues house.
What the hell is a Boneyard Match? Wrong answers only.
Stan: A match in Krayzie Bone's yard.
Jacob: Another live match.
Migz: My answer is NSFW. It's where they bon… oh, nevermind.
Steven: Undertaker and AJ need to listen to Captain Raymond Holt shout "BONE" for an hour.
Ricky: They split a chicken bone and the one who gets the longer end wins.
Are you ready to see the Becky Lynch era end?
Stan: Yes. She was such a dominant champion for a year that her character has actually lost its edge. It hasn't been fun seeing Becky punch down because it's made her look like such a prick instead of someone worth rooting for. I need Shayna Baszler to tap Becky out in seconds so she can be the underdog with a chip on her shoulder once again. That's the best Becky Lynch.
Tito E: One year was probably too long for the era of The Man. As usual, WWE had something great fall into its lap, only for the company to fuck it up through repetitive, lazy booking and uninteresting feuds.
Jacob: I think she should lose her title, but I don't think Becky Lynch should lose her prominence on our screens. Her positioning as an Austin-type character with no-Fs-given is probably the most relatable character type out there and with Becky Lynch's talent, she could still be the centerpiece of a plethora of amazing stories. Let her redeem herself after a humiliating loss to Shayna. Let her earn back her title of The Man. That's something I would love to see.
Migz: As much as I love The Man. Yep. It's about damn time. In fact I'd love to see her tweak her character a bit. She needs a humbling experience as she works her way back to the top for a WrestleMania 37 showdown against Ronda Rousey. Yes, Rousey vs. Lynch but one-on-one this time.
Steven: As Daniel Bryan says..."YES." Becky needs to take a break and give the rest of the Women's roster a chance. She's done her part in putting the women on equal footing with the men.
Ricky: I mean, the Becky Lynch era will still live on even if they take away her title, so yes, I will welcome the day The Man isn't champion anymore. It's time to take her character back to her roots. And it's also time to see another woman claim the top spot. I'm so hyped to see Shayna Baszler do exactly that.
Who will walk out NXT Women's Champion in this historic defense?
Stan: As much as I'd hate to not give Rhea Ripley this moment, it makes sense to have Charlotte Flair beat her so that the latter can go to NXT, effectively taking Shayna's place as the big bad heel. After the Rhea/Charlotte program ends, the possibilities are endless. Imagine Charlotte against the likes of Candice LeRae and Tegan Nox—or even a feud with half-Filipina up-and-comers like Shotzi Blackheart and Kayden Carter!
Tito E: Charlotte Flair. Charlotte beats Rhea, moves to NXT, dominates the black-and-gold brand as a heel instead of meandering on RAW as a lukewarm tweener.
Jacob: Charlotte Flair is probably going to be the Finn Bálor of the women's division. The NXT veteran enters and dominates, staking claim to what was once theirs, elevating everyone else in the process. It would be the obvious booking decision by WWE to have Charlotte come out on top.
Migz: While I'd love to see Rhea Ripley establish the NXT division on the big stage—it's not a big stage anymore after all—so I don't mind seeing Charlotte Flair win. This way, Charlotte can go to NXT and face the likes of Io Shirai, Candice LeRae, and others (while serving as the female star of the brand) while Ripley can graduate and move on to either RAW or SmackDown. It's a win-win situation. Besides, imagine the money that Bianca Belair vs. Charlotte Flair can make on a TakeOver. It's Sasha Banks vs. Bayley all over again.
Steven: I really want Rhea to win but giving the title to Charlotte may be the right choice. Shayna Baszler's departure leaves a gaping hole in the villain side of the NXT women's division. Charlotte is the perfect person to take over the villain role and she has unfinished business with Bianca Belair.
Explain why you also love the Otis/Mandy Rose/Dolph Ziggler saga.
Stan: It's so relatable because we've all been every single character in this story—well, except Dolph Ziggler. I've never been blond and I've never had hair that looked that damn good. Okay, I've never been Mandy Rose either.
But I know what it feels to be like Tucker, the supportive friend watching your buddy obsess about a girl he wouldn't ever have a chance in hell of getting with. I also know what it feels to be like Otis—you just try to be a good, honest guy, shooting your shot at the hottest girl in the room. It's a cathartic storyline and it's hard not to root for Otis because he's goofy and silly, but he also looks like someone you wouldn't want to have a broken heart.
Tito E: For everyone who's been the unattractive (or average-looking) nerd with a crush on a girl who's way out of his league, this is OUR storyline, and Otis is our surrogate.
Jacob: As a fat nerd growing up, Otis makes me feel represented in the land of Adonises and Supermen.
Migz: Is it bad that I don't? (laughs) I loved the idea but it's too heartbreaking to watch.
Steven: I actually forgot that the story was still going. Never really cared for the story but I do want Otis to win just to give him a WrestleMania moment. The dude has worked hard to get to where he is now with Tucker.
Ricky: The bare minimum was to treat this storyline tastefully, but they went above and beyond to make the story more compelling. It also didn't hurt that Otis is one adorable protagonist and Dolph Ziggler is such a douchey prototype heel that it's not hard to relate to their story. I really hope Otis gets the girl at WrestleMania 36, but I'd be more impressed if Otis doesn't get the girl per se, but instead started an adorable courtship storyline that will last for months.
WrestleMania 36's closing image. Go!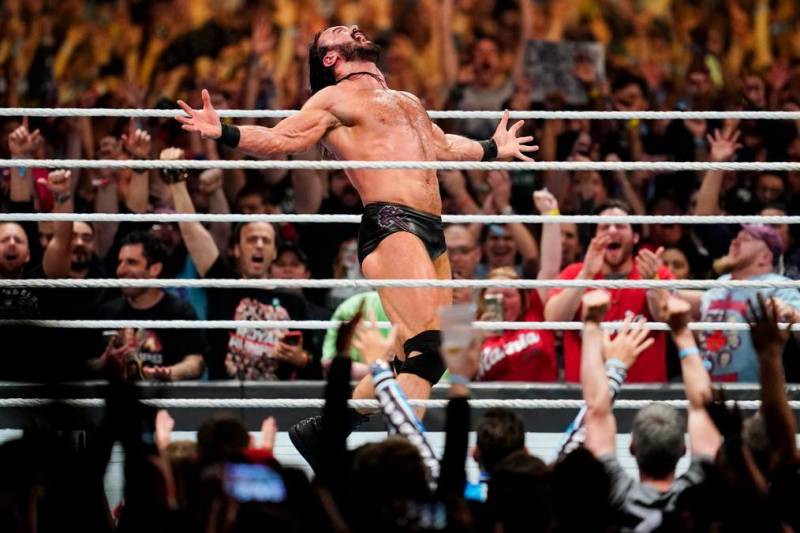 Stan: An interrupted telecast after WWE decides to pull the plug at the last minute. Kidding. Drew McIntyre standing tall over a fallen Brock Lesnar, holding up the WWE Championship and pointing at… the tron displaying the WrestleMania logo.
Tito E: Drew McIntyre holds the WWE Championship up high in front of an empty Performance Center, with an incredulous Paul Heyman screaming bloody murder as his client, Brock Lesnar, gets the rare opportunity to count the lights.
Jacob: Since this is a two-night event, why not have an ending similar to WrestleKingdom's closing image. Although it doesn't make a whole lot of sense, I would mark out if Ricochet came out to congratulate Drew McIntyre after his victory speech just to hit Drew with a lowblow. After which, Ricochet would hold up the championship over a fallen Drew and, at this point, everyone would be throwing their remotes at their television. I wouldn't mind seeing that. A heel, or even face, Ricochet disgruntled against the land of giants and big men after ruining Drew's moment. Instant heat.
Migz: The WWE roster flooding the stage (or the ring) to thank the people and to remind people to keep safe as Drew McIntyre cuts his first promo as champion. I know this is highly impossible due to social distancing but, hey, you never know.
Steven: McIntyre raises the belt with streamers popping out. That's it. I can't imagine a different ending.
Ricky: Whatever the closing image is, it's going to be dead silent. It doesn't really matter, but at least give us Drew McIntyre raising the WWE Championship in front of empty seats. That's the least they could do to make this WrestleMania watchable.
Photos from WWE.com
Ricky Publico (@TeetotaleRicky) is Smark Henry's former SmackDown reviewer and current PWR reviewer. A known lover of wrestling tournaments, he's a sucker for well-executed promos and fast-paced matches. While he enjoys nitpicking shows, he now prefers enjoying wrestling for what it is instead of stressing himself over things he can't control.