Photo from Copenhagen Championship Wrestling
Welcome, ladies and gentlemen, to
Smark Henry
's recurring series, a little something we call the
Smark Henry
Hip Toast—our happy place where we interview various personalities in pro wrestling, shoot from the hip, and raise them a toast. We will be looking at the men and women behind the personas and giving you an intimate look at the people who are helping build this wonderful sport and turning it into something really special in this country.

Before his return to the ring this Sunday at
PWR Mabuhay Ang Wrestling
, we catch up with "El Guapo" Carlos Zamora!
PWR's 2019 may very well have been the promotion's most successful year yet. And to be fair, you can argue that fans can attest to this given the growing promotion's dedication to long-term stories, continued elevation of in-ring performances and entertainment value, and providing pro wrestlers from around the world an avenue to show what they are capable of on Philippine soil. This initiative, dubbed #NeverMissAShow, is a promise from PWR that no show is skippable for one reason or another, and they lived up to the promise for most of 2019.
While this initiative did not become fully realized until after
Wrevolution X 2019
, the company was already planting seeds in making 2019 a must-see year, such as the surprise debuts of Jhemherlhynn and Jaye Sera. And on the very same year when the likes of Emi Sakura, Masa Takanashi, DJ Nira, The Foundation, AEW Women's Champion Riho, T-Hawk, Jeff Cobb, and TJ Perkins made their mark on the promotion, one relatively unknown wrestler of Filipino blood made his surprising debut in the pre-show of
PWR Live: New Year's Wrestle-ution
and immediately impressed the PWR faithful in his first outing against Kapitan PWR. And just as impressive as his in-ring explosiveness was, for many fans, his dashing good looks. Despite the quick pre-show match, he certainly got the attention of the fans.
His name? "El Guapo" Carlos Zamora.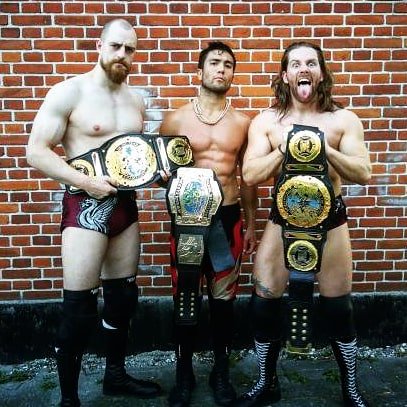 Before the aforementioned likes of the international stars who made their guest appearances in PWR in 2019, he set the tone for what kind of a year it would be with his fantastic matches. In the process, he contributed to legitimizing professional wrestling in the country despite his place on the card. That, as we know now, is about to change come
PWR: Mabuhay Ang Wrestling
, when he can finally show what he is capable of when given the ball as both the current Dansk Pro Wrestling Heavyweight Champion and the newest member of the Mr. Sy Group of Talents (MSG).
For a guy like Carlos Zamora, he certainly looks like a wrestler who has the tools to make an impact in his relatively young career. While having the tools to succeed is one thing, having a passion for professional wrestling is a huge difference-maker, something El Guapo has had since his childhood.
"It started when I was around eight years old," Carlos narrated. "I grew up in Denmark. For some reason, they showed wrestling from Mexico with big shredded guys bleeding. It was pretty dramatic and what caught my eye was that it reminded me of an action movie with drama involved."
To an extent, his upbringing and exposure to pro wrestling isn't any different with his fellow compatriots from the Philippines. He recalls Denmark, his country of origin, not exactly being a wrestling country at the time. But in recent years, professional wrestling has seen a spike of interest there, which he believes may have been influenced by
NXT UK
. All these factors went into his firm decision to finally jump into the scene and live out his dream of becoming a professional wrestler. With his experience in mixed martial arts and a ton of confidence, he immediately had an advantage.
"In 2016, I found the DPW (Danish Pro Wrestling) Facebook page," he recalls, "where I saw the Lightweight Champion. I commented that he didn't look like a credible champion because of his sloppy physique. The promoter texted me right away, knowing who I was, and asked if I wanted a free tryout. I took the one-week tryout where we finished the boot camp with a show."
Photo from Carlos Zamora
"It was here where I had a match against a serious trainer of the boot camp at the time named Kay Jutler from England," Zamora shares. "Funny story: fast forward three years later, we met again at a WWE tryout in London in November 2019. We both fought for that contract. We both didn't get it, but we both still have the desire to fight for it again."
When you consider that he only started his career in 2016, some two years after PWR became an early reality, it's impressive to see how well he has done for himself. Besides having this seemingly natural talent for the sport, he has learned from great trainers that have helped mold him into who he is now. When I asked who he credited for his pro wrestling education, the list of trainers he named was very surprising, especially one name in particular that fans might know today.
"I definitely credit Chaos (a.k.a. Kim Tinning from Denmark) for giving me the start, as well as Kay Jutler, Screwface Ahmed, and Lou King Sharp from the U.K. for the boot camp experience," El Guapo shared. "Lastly, I credit (one-half of the first-ever NXT U.K. Tag Team Champions) Zack Gibson for also training me, and even recommending me to the WWE last year.
"Man, the thing is, I don't have the luxury of having
NXT
trainers around like they have everywhere in the U.K. I make sure I absorb every bit of learning I can when I have the opportunity to do so with great trainers, and then train endlessly when they are gone."
With all the tools, the passion, the support, and the teachings he has gotten in his young wrestling career, it was impressive to see how far a talented wrestler of Filipino descent in Europe has been able to go. Since this is pro wrestling, however, having an identity or gimmick is a vital key to success. And that WWE tryout was a blessing in disguise in finally nailing down what he wanted to become in his career.
"Outside Denmark, different promoters bill me as a guy from Spain or Puerto Rico," he shares. "And when I was at the WWE tryout, I learned that I need to stand out, be original, and believe in it. This year, I want to focus more on 'El Guapo', from the Philippines. I need to stand out."
Speaking of the Philippines, it was a matter of time before he would get curious about professional wrestling in his motherland and getting in touch with his heritage. His curiosity would lead him to the growing scene here, one he never knew of until he made the initiative to connect. He said that he randomly checked out Philippine wrestling one day if it existed, and one thing led to another, noting how much he liked what he saw.
"My first memory of PWR was seeing Jake De Leon (JDL) and Chris Panzer," he recounted. "PWR's social media game was solid, and the Philippine crowd was passionate about wrestling. I was blown away after seeing it, and I knew that I needed to get in touch and work with them."
He took note of several names, citing JDL as the embodiment of the promotion, while giving props to Chris Panzer, Ken Warren, QUATRO, Mike Madrigal, and John Sebastian, who he says has always made him crack up.
Photo from Philippine Wrestling Revolution
When he finally joined PWR at training, the fledgling company made an immediate impression on him. "One year ago, a week before their first show of the year
(PWR Live: New Year's Wrestle-ution)
, I randomly showed up for training," Zamora remembers. "I showed them what I could do, and even got to teach the class! Even though they were fully booked and packed for their next show, they granted me a pre-show match."
The rest, as the old saying goes, is history. While only delegated to the pre-show spot during his first stay, he made every pre-show he was on must-see. If you need to see one match that would best demonstrate how good he is, look no further than one of the major highlights of 2019: a surprisingly fantastic bout between himself and Kapitan Juan Tutan. In the eyes of many fans, this was the match that helped validate Kapitan Tutan's spot in the company, and proved why Carlos Zamora was a star to watch out for. It seems like he has a knack for making major first impressions everywhere he goes.
Inevitably, I had to ask how it felt when he was continually relegated to the pre-show despite all the talent he has shown in his short time there. His answer to that question showed how hungry and humble he is, pointing out that everyone has to prove themselves to the company no matter how good one person is:
"I think that a guy coming from the outside must pay his dues regardless of his skills," he asserts, "
unless
he is a Jeff Cobb or a TJ Perkins, already having a name in the business. It was up to PWR management to determine my spot in the card. But this time around, it will be different."
His response made me realize how similar he is with a fellow Filipino compatriot: "Beautiful" Billy Suede. In a manner of speaking, they both had something to offer to PWR and to the Philippine wrestling scene and both were ready to do as much as they could for its betterment. But unfortunately, before anything else could materialize, life threw an unexpected curveball: Carlos had to go back to Denmark due to a family emergency. This explains why he was absent for the remainder of 2019, even though he had intentions to stay and make a career for himself in the Philippines.
Months have passed, and Philippine Wrestling Revolution has elevated its game since then with the launch of the #NeverMissAShow campaign. 2019 changed the game for PWR, especially after
Homecoming
. However, it was not like El Guapo did not make noise during his time away.
On May 10, 2019, in Denmark, he won the DPW Heavyweight Championship from Lou King Sharp and has since defended the title on multiple occasions. Talk about coming full circle: he's now the top dog in the promotion he debuted in over three years ago. And this Sunday, he will defend that very same championship against one of PWR's best, Mike Madrigal. Most importantly, he will finally get to showcase his skills on the main card, a year after his PWR debut.
Photo from Fight Sport Manila
"This time, I'm lucky to have an opportunity to not be called "The 5-Minute Man" again," El Guapo exclaims. "I will get to show my true potential in probably my most important match of the year. This
is
the point of no return. Madrigal is a tough S.O.B. and a great performer. I can't wait to chop his lungs out of his eyeballs, and that's the MSG Guarantee."
Being involved in MSG seemed like a random development, sure, but it certainly was an on-brand decision in his eyes. "MSG was a natural selection, a selection of champions," he explains. "We represent the best of the best. Either you love to hate us or you hate the fact that we are that damn good and can't stop cheering for us."
The current DPW Heavyweight Champion is hopeful for the new opportunities the Philippines is getting in the local and worldwide wrestling scene, and one of his big goals this year is to make the scene bigger than ever. As a Filipino, he intends to make a stamp in the country while making it better for the fans and the wrestlers who want to make it big.
Photo from Philippine Wrestling Revolution
"That's why I'm here, not to take over and benefit from it, but to take part," Carlos says with a passion. "I see the guys from PWR doing shows in Southeast Asia, getting opportunities and WWE tryouts. It is just a matter of time before we truly explode. Even my friends from Europe have noticed the rise of Philippine wrestling."
As for his other goal?
"Getting that big contract! That's the only reason I do this."
I could not have ended the conversation any better myself. And from the looks of things, I can't wait to see what Carlos Zamora can bring to the table this year.
*****
Photos from Carlos Zamora, Philippine Wrestling Revolution, Fight Sport Manila, Fighting Spirit Pro Wrestling
Disclosure: Smark Henry is independently managed and operated by a group of local wrestling fans, but includes members affiliated with the Philippine Wrestling Revolution.
PWR: Mabuhay Ang Wrestling takes place on Sunday, January 26, 2020, at 2 p.m., and will be held at the Power Mac Center Spotlight, Circuit Makati.
Tickets are at PhP 399 each and are also available at PhP 1,099 for a barkada bundle of three (3) until Saturday, January 25. Tickets will be at PhP 450 at the door on Sunday.