Welcome to another edition of #FinisherFriday! This is Wreddit_Regal giving my thoughts on The Kentucky Gentleman's prized finisher.
Before Orange Cassidy became a thing, Chuck Taylor was widely regarded as the pioneer of "no fucks given wrestling." From the way he talked, to his happy-go-lucky and borderline lazy acts inside the ring, one could easily deduce that Chuckie T was on a league (and on a world) of his own.
But when push comes to shove, he proves himself to be a formidable competitor, with moves that are on par with some of the best in the wrestling world.
With that said, the highlight of this article is his infamous finisher, the Awful Waffle (also known as the Omega Driver).
Sweet mother of everything that is good and pure, everything from that move outright spelled "it's the end" for his opponent.
If you are thinking that you've seen the move somewhere, your mind is right. Although the move is listed as a "leg hook belly-to-back suplex lifted and dropped into a piledriver," it's easier to think of it as a variation of the Michinoku Driver II: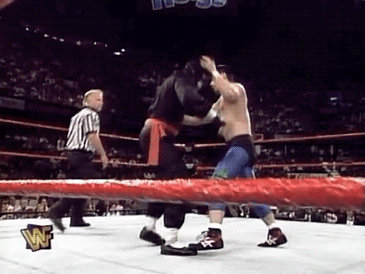 Let's say that Chuckie T took inspiration from Taka-
san
, and modified it to his liking. But is there any difference in terms of damage dealt and body mechanics between the two finishers?
The long-standing problem with the Michinoku Driver II is that most of the time, the performer "overshoots" the piledriver. Since the move is essentially a basic scoop slam, the momentum of the opponent's entire lower body going downwards makes it increasingly difficult for the performer to maintain a vertical position. This results in the move looking like just a sitout scoop slam instead of a piledriver.
Adding to the fact that all wrestlers are trained to tuck their chin close to the chest when being suplexed/slammed, the opponent's upper and mid-back receives the brunt of the impact, and their head receives little-to-no damage.
The Awful Waffle suffers from the same problem with momentum, but is at a greater advantage. Even if Chuck overshoots the scoop and the opponent has their chin tucked in, the opponent's head and neck will still receive 100% of the impact since the opponent's back is facing him.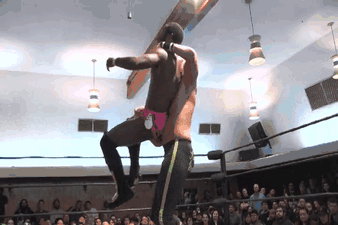 Minor fact: Chuck Taylor doesn't really overshoot his scoops, but sometimes you can spot him
undershooting
it (and it still looks like he murders his opponents with it):
Using my trusty
Regal Rating
, I'd give it a:
10/10 for aesthetics
. It's done fast, lands in a sitout position which adds more force to the slam, the opponent lands on their head - is there anything you could ask further from this move?
10/10 for damage and practicality
. Dropping an opponent on their head is easily one of the most damaging things a wrestler can do in the ring. Also, if a wrestler can perform a scoop slam, then they can also perform this move with no problem at all. (If you have difficulty lifting your opponent, you can just bribe them with money like Chuckie did with Colt Cabana)
And that's it chaps, my analysis of the Awful Waffle! Do you think Chuck Taylor and Trent Beretta can bag the AEW Tag Titles in a year's time? Let us know in the comment section below!
Photo from
IMPOSE Magazine
*****
Wreddit_Regal is the resident sports kinesiologist of Reddit's wrestling forum, r/squaredcircle. From the most basic of punches to the most intricate double-team maneuvers, he can explain them within the realm of human anatomy and physics, because when doing absolutely nothing wrestling-related, he also happens to work as an operating room nurse.