(from health.usnews.com)
Roman Reigns' announcement that his leukemia had returned was arguably the Fat Man to Japan of 2018 for the WWE Universe. It was unexpected and left us wrestling fans with a sick feeling in the stomach—thinking about what will happen to him in the days to come. The Big Dog finally got Universal gold after beating Brock Lesnar at this year's
SummerSlam
, and proved to fans around the world that he is a fighting champion. But the news of his leukemia relapsing forced him to relinquish the title and let it be fought between Lesnar and Braun Strowman on the upcoming
Crown Jewel
event.
It is surprising to note that Roman has had a silent battle with leukemia for eleven years. Over the years he was noted to go the extra mile in his in-ring performances, returned to action just a couple of months after having surgery on his hernia, and continued his workhorse ethic. Who would have thought that a hardworking and accomplished wrestler such as Reigns would fall victim to such an unsettling disease?
This leaves us with questions about the nature of leukemia; and it is my job on this article to provide concise information to you chaps:
What is leukemia?
Leukemia is a type of cancer that causes proliferation of high numbers of abnormal white blood cells.
Blood sample differences from a normal person, and a person with leukemia (via leukemia-research.org)
White blood cells? I thought that WBCs are good guys like in Hataraku Saibou; why would it be a bad thing to have too much of them?
It is true that WBCs help the body fight infections, but in leukemia's case, there are high numbers of
abnormal
WBCs. When I say abnormal, it's either (1) the mass-produced WBCs are dysfunctional, which means they can't take on the normal disease-fighting process, or (2) the mass-produced WBCs attack healthy body cells instead. This leaves the human body with a severely-suppressed immune system, which paves the way for frequent infections.
Neutrophil-san, please don't do this! (via knowyourmeme.com)
Sounds scary. Where does leukemia start?
Leukemia happens when the bone marrow (the "
bulalo
" in your soup) fails to produce the right amount of normal WBCs. The exact cause of what really causes the bone marrow to malfunction is currently unknown, but scientists and researchers believe that it's a combination of genetics (which means it runs in the family) and environmental factors (smoking, radiation, barbecued food, etc).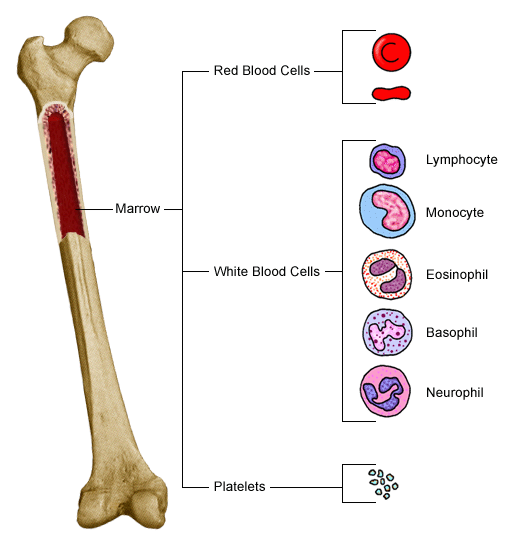 The bone marrow is where the RBCs and WBCs are made (via standforchildrens.org)
Is leukemia just one disease, or are there other kinds of leukemia?
There are many types of leukemia, but we'll just discuss the main types:
The first division is between acute and chronic:
Acute leukemia is an increased number of immature WBCs
Chronic leukemia means you have an increased number of mature, abnormal WBCs
via slideplayer.com
The second division is between what kind of blood cells are affected:
Lymphocytic leukemia is the cancerous change of a specific type of bone marrow cell that produces the lymphocyte group (B cell, T cell, NK cell)
Myelogenous leukemia is the cancerous change of a specific type of bone marrow cell that produces the red blood cells, megakaryocytes, mast cells, and myeloblasts
Family tree of cell genesis in the bone marrow (via wikipedia.org)
Quick note: As of this writing, there is no available information about what type of leukemia Reigns has.

I'm getting goosebumps here. What are the signs and symptoms of leukemia?
Signs and symptoms include
Frequent infections and fever (due to the faulty immune function)
Easy bruising or pinprick bleeds (since an abnormally high amount of WBCs are produced, there is consequently a low amount of platelets produced, which are important for the blood clotting process)
Shortness of breath and pale skin (producing high amounts of WBCs also affects RBC production, which are responsible for oxygen transport in the human body)
Feeling of fullness in the stomach (defective WBCs infiltrate the spleen, which causes it to grow in size)
Bone pain (the increased number of WBCs produced in the bone marrow produce immense pressure in the bone cavity, causing pain)
Loss of appetite and weight loss (as a subsequent result of symptom #4)
Headaches (if the abnormal WBCs attack the central nervous system)
via wikipedia.org
How is leukemia diagnosed?
The main tests to diagnose leukemia are repeated complete blood counts (CBC) and bone marrow biopsies.
via lalpathlabs.com
via myhealth.alberta.ca
How is leukemia treated?
It is treated by either standalone therapy or a combination of radiation therapy, chemotherapy, bone marrow transplantation, and stem cell transplantation.
Radiation therapy (via azureedge.net)
Illustration of stem cell therapy and chemotherapy (via cancer.gov)
Harvesting bone marrow donor samples (via netdna.com)
What is the survival rate for leukemia?
To answer this question this, I will take facts from the
Leukemia and Lymphoma Society website
:
New Cases
In 2018, 60,300 people from the U.S. are expected to be diagnosed with leukemia.
Prevalence
There are an estimated 381,774 people living with or are in remission from leukemia in the U.S.
Survival
The overall five-year relative survival rate for leukemia has more than quadrupled since 1960. From 1960 to 1963, the five-year relative survival rate among Caucasians (only data available) with leukemia was 14 percent.
From 1975 to 1977, the five-year relative survival rate for the total population with leukemia was 34.1 percent, and from 2007 to 2013, the overall relative survival rate was 63.7 percent.
From 2007 to 2013, the five-year relative survival rates overall were:
Chronic Mylogenous Leukemia - 68 percent
Chronic Lymphocytic Leukemia - 86.2 percent
Acute Mylogenous Leukemia - 27.4 percent overall and 66.4 percent for children and adolescents younger than 15 years
Acute Lymphocytic Leukemia - 71.0 percent overall, 91.8 percent for children and adolescents younger than 15 years, and 94 percent for children younger than 5 years.

Deaths
In 2018, 24,370 people are expected to die from leukemia (14,270 males and 10,100 females).
From 2010 to 2014, leukemia was the sixth most common cause of cancer deaths in both men and women.
So that's it for a basic understanding of the disease. Roman Reigns was brave to disclose his battle to the public eye in order to raise awareness. As I see it, he is not doing this to gain publicity, but for all afflicted people to keep on fighting to live no matter what. And on behalf of all people who wish Reigns and all leukemia warriors around the globe, we will #BelieveThat.
*****
Wreddit_Regal is the resident sports kinesiologist of Reddit's wrestling forum, r/squaredcircle. From the most basic of punches to the most intricate double-team maneuvers, he can explain them within the realm of human anatomy and physics, because when doing absolutely nothing wrestling-related, he also happens to work as an operating room nurse.