Hey, I'm JP, one of the new guys on Smark Henry. I will be responsible in delivering to you recaps, as well as my thoughts, on the most recent Impact Wrestling episode.
But first, a brief background about me and Impact. I have been following pro wrestling since I was a kid, back when it was shown late at night every Wednesday, then later every Saturday in another station. This was before cable TV, so this goes a long way back. Proof of this is that I was able to watch WrestleMania VI on free TV (back then, spoilers were not a thing, so it is all right if PPV events were aired on tape delay), and the first thing me and my school busmates talked about the following morning was the classic Hulk Hogan versus Ultimate Warrior match.
As for Impact, let us fast forward to the 2000s. WWE's contract on pay TV ended. What took over the timeslot was this upstart promotion called Total Nonstop Action Wrestling, or TNA for short, and its unique six-sided ring. I was in this pro wrestling hiatus during that period, so it took me some time to get acclimated with this new product.
Getting to follow the show more regularly, I got introduced to characters like AJ Styles, Shark Boy, Samoa Joe, Abyss, and Jay Lethal. Aside from promotion owner Jeff Jarrett, familiar faces littered the roster such as Kurt Angle, Christian Cage, Dusty Rhodes, and Team 3D. They made the transition easier for me.
And then, our cable TV provider had a channel lineup reshuffle and the next time I encountered TNA was when I actively looked for it. It was a new decade and the promotion was a lot different from the last time saw it. Eric Bischoff, along with a geriatric Hulk Hogan, was at the helm in both shoot and kayfabe capacities, while an out-of-place Dixie Carter as the smarmy on-screen authority figure was the subject of most major storylines, echoing what the WWE has been doing since Vince McMahon the chairman became a character. Add to that, the six-sided ring was replaced by a traditional four-sided squared circle. It was a period in the promotion's history that I dubbed "WCW lite." I say that with a lot of derision.
All the good juju it accumulated the previous decade quickly eroded as TNA underwent numerous management and roster changes with reports that the promotion is in the red. Then came the Broken Hardys in 2016, and a for a brief moment, all was right in their part of the world. However, this was not sustained as another set of ownership issues rocked the boat.
This is what most wrestling fans' impression of Impact Wrestling was before this year: a mess of a promotion with an identity crisis (it rebranded/renamed thrice in 2017). But with 2018 turning into a good year for pro wrestling in general, the promotion made sure it was not left behind. With Don Callis and Scott D'Amore taking over, they managed to turn the promotion around to what it is today, picking up the pieces to hopefully once again reclaim the tag as the premier alternative to mainstream sports entertainment.
With the history lesson done, let us get down to work.
Major Impacts
Impact's main storylines took a backseat as the episode highlighted the debuts of Rich Swann and stable Desi Hit Squad. Swann made his entrance with a theme that has elements of his WWE theme. He also pulled off his trademark moves and taunts, reintroducing himself to the audience that missed his presence for more than half a year.
Curiously, the Cult of Lee was just a cult of one as Trevor Lee made the trip Toronto by his lonesome self. With no ringside distractions, Swann was able to score a win, although his Phoenix Splash from the second rope looked botch-y as he landed on Lee's knees instead of his torso.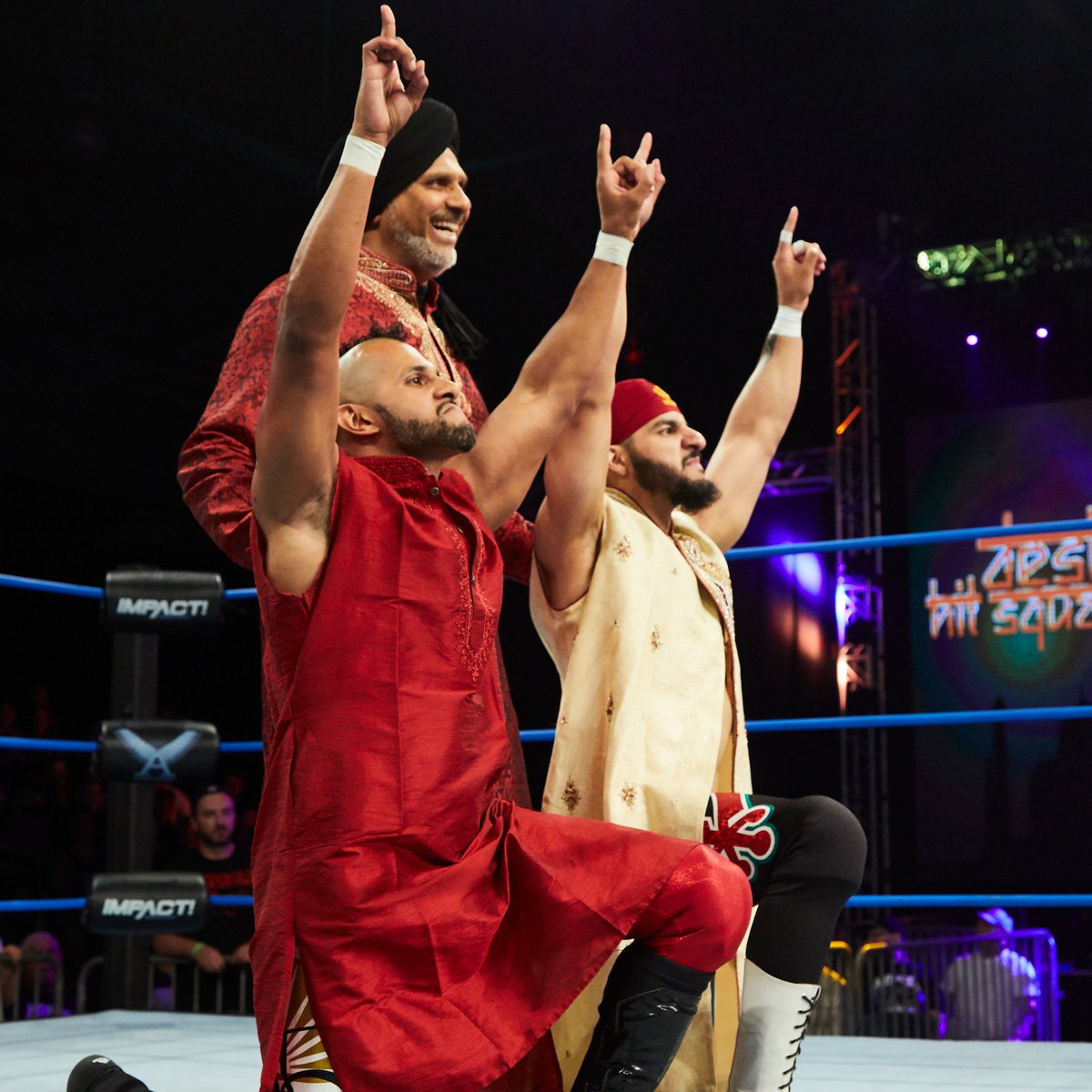 Meanwhile, the Punjab-based team led by Gama Singh had to use every heel trick on the book to outsmart Z&E, who just last week lost the Impact tag belts to LAX and now relegated to a gatekeeper role. Sure, the Desi Hit Squad had to win via dirty finish to establish the fact that they are heels, but that they had to work hard for their first win might have made them unintentionally look weak.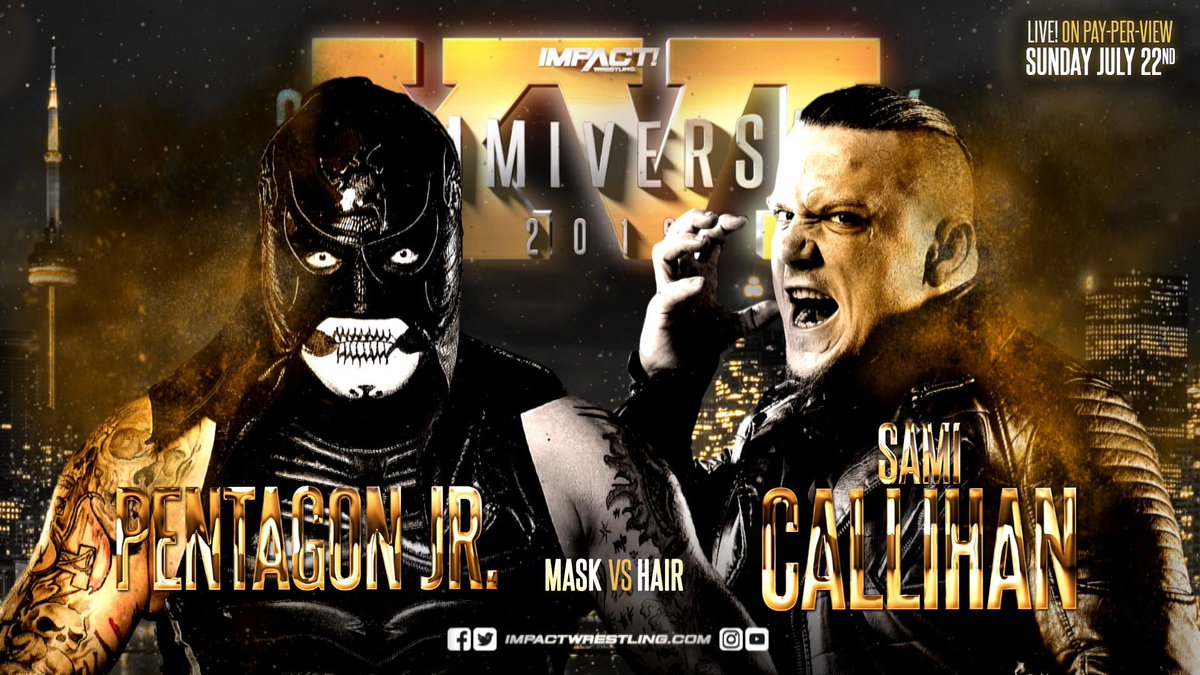 After showing highlights of Ohio Versus Everything assaulting and unmasking Pentagón Jr in California, the former Impact champion from Mexico challenged Sami Callihan to a mask versus hair match, to which the latter accepted. With this development, I guess Callihan's feud with Eddie Edwards is now heading towards another direction (we will get there later).
To keep Madison Rayne and Su Yung busy before their bout for the Knockouts championship at Slammiversary, Tessa Blanchard inserted herself in Rayne's promo at the start of the show to set up a main event match between the two. The match felt dragging, which is compounded by Blanchard's deliberate pace, a contrast to the more athletic and acrobatic matches in the card.
After Rayne secured the W with a crucifix, Blanchard, and later Su Yung and her undead bridesmaids, made a go on the victor. Out came Allie with the save, and now, we have a ready-made angle that can be stretched for the remaining weeks prior to Slammiversary.
Also announced during the show that there will be a four-way match involving Johnny Impact, Taiji Ishimori, Fénix, and Rich Swann slated at Impact's next big event. Color me interested.
Other Impactful Moments
- It is now official. Eddie Edwards has fully turned, attacking Tommy Dreamer during a show in Philadelphia. We have to thank Callihan for this, as he served as the catalyst for dark Edwards, passing on his mayhem to the former Wolves member like a virus.
- The Moose video package is the Bobby Lashley "sisters" promo done right. There, I said it.
- These LAX segments have proven to be a show of their own.
Not-so-Deep Impact Moments
- Taped boos during Austin Aries' interview. What was that for?
- Am I the only one who finds it weird that Josh Matthews has forgotten that he served as Matt Sydal's guru just a few months ago?
Collating everything, Impact had better episodes this year. But comparing to their output from years back, this is a marked improvement. As this would serve as the barometer of my future reviews, I would give this one a middle-of-the-road B-.
What to expect next week:
Fénix vs Rich Swann
Brian Cage vs Kongo Kong
Killer Kross's in-ring debut
Katarina in a match
Tommy Dreamer addresses Eddie Edwards's attack
Images and video courtesy of Impact Wrestling
JP Abcede, CIS, has an ongoing love-hate relationship with the WWE, depending on what Bret Hart's mood for the day is. A financial adviser and Certified Investment Solicitor (that is what the CIS stands for after his name) by profession, he catches up on his weekly dose of pro wrestling by streaming shows and using them as background noise while he is doing something else. This way, he is able to zone out the boring parts while remaining productive.